Solution is Larger Component in Key Management as a Service Market
Valuing $511.9 million in 2019, the global key management as a service market is expected to witness considerable growth, at a CAGR of 25.9% during the forecast period (2020–2030). The major reasons behind the robust industry advance are the increasing need to meet regulatory compliance and rising number of data breach cases.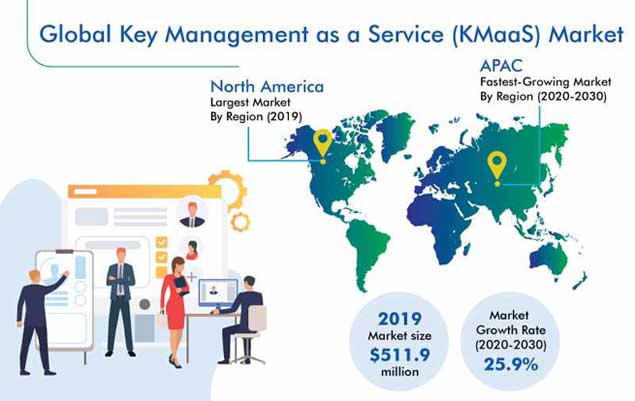 Key Management as a Service Market Segmentation Analysis
The solution bifurcation held larger share in the key management as a service market in 2019, based on component, due to the shift to a multi-cloud environment, rising compliance requirements, and increasing need for encrypting the data. This is why companies across industries are purchasing key management solutions to guard their data from cyber criminals.
During the forecast period, the small and medium enterprises (SME) bifurcation is expected to observe faster growth in the key management as a service market, under segmentation by enterprise. This is attributed to the rapid adoption of cloud computing by SMEs, their shift toward digitization, increasing awareness about cybercrimes and protecting their confidential data, and mandatory regulatory compliance requirements.
The file/folder encryption division, under the application segment, would continue dominating the key management as a service market till 2030, as individual files and folders are transferred among numerous devices in a company, which creates a strong need for encrypting them. This way, companies achieve enhanced protection for their confidential data, are able to guard personal files on shared devices, and get the added benefit of avoiding business disruption.
Healthcare is predicted to be the fastest growing classification in the coming years, on the basis of industry. This is ascribed to the rising focus of healthcare firms on an enhanced patient experience, use of the cloud computing, internet of things (IoT), machine learning (ML), and artificial intelligence (AI) technologies, complying with regulations, utilizing cloud-based software, and offering remote patient monitoring and care.
During the historical period (2014–2019), North America was the most productive key management as a service market, owing to the rapid adoption of advanced technology to counter cyber attacks, usage of data center services and analytical tools, presence of numerous cloud service providers, and shift to multi-cloud. Other reasons for the dominance of this region on the market are the integration of digital medical records, focus on digitization of the economy, and high download rate of numerous mobile applications.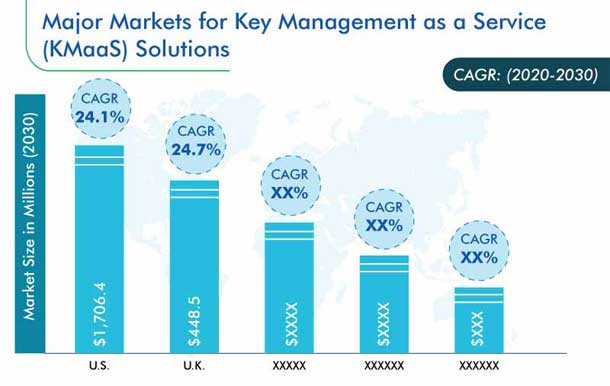 Increasing Demand for Cloud Encryption is Key Market Trend
One of the most prominent trends being witnessed in the key management as a service market is the rising demand for the encryption of the cloud. This is because cloud encryption offers a number of benefits, such as data privacy, regulatory compliance, capability to store and manage complex data, and lower IT expenditure. Additionally, cloud encryption protects the account details, company financials, and intellectual property data stored within the cloud. Another reason for the surging demand for encrypting the cloud is the rapid shift of companies to a multi-cloud environment, with the aim to reduce the downtime and better distribute their computing resources.
Rising Data Breach Cases are Most Important Market Driver
The key factor driving the growth of the key management as a service market is the rising number of data breach incidents. In such cases, people without authorization access confidential information, such as credit card details and social security numbers (SSN). Weak passwords, improper configuration, complex access permissions, and malware attacks are some factors which can aid cybercriminals in accessing confidential data. IBM Security says in the 2019 Cost of a Data Breach Report, co-published with Ponemon Institute, that the average number of documents accessed during a data breach in the world is 25,575, and every data breach ends up costing around $3.92 million on an average. Additionally, the chances of data breach are rising, with companies shifting to cloud computing.

Enterprise Messaging Applications are a Key Opportunity Area
key management as a service market players can leverage the opportunities being created by the surging usage of enterprise instant messaging applications. Secure messaging applications encrypt messages, which contain critical information, including login credentials, bank account details, and passwords, and make them unreadable for people with malicious intentions. This gives industry players the opportunity to offer cyber security solutions which would encourage end users to interact via secured communication network with protected information. For instance, the MirrorFly enterprise messaging solution offers end-to-end encryption for video and voice calls, which are initiated through sessional initiation protocol (SIP) or voice over internet protocol (VoIP), to ensure security.
Key Management as a Service Market Report Coverage

| | |
| --- | --- |
| Report Attribute | Details |
| Historical Years | 2014-2019 |
| Forecast Years | 2020-2030 |
| Market Size by Segments | Component, Enterprise, Application, Industry |
| Market Size of Geographies | U.S., Canada, Germany, France, U.K., Spain, Japan, China, India, South Korea, Australia, Saudi Arabia, U.A.E., Turkey, South Africa, Brazil, Mexico |
Explore more about this report - Request free sample pages
Market Players Engaging in Mergers and Acquisition for Prolonged Growth
In recent years, several companies in the key management as a service market have undertaken mergers and acquisitions to eliminate the competition and give themselves the best chance at success.
For instance, in March 2020, NetApp Inc., which offers cloud data services, acquired Talon Storage, a software-defined storage solution provider. The move was aimed at merging NetApp's Cloud Volume products and Talon's Fast software, to offer end users a centralized solution for the management of their cloud data. Further, NetApp hopes to enhance its cloud data service portfolio and support its customers' efforts to transfer file across remote branch offices, in a multi-cloud environment.
On similar lines, Thales SA acquired Gemalto NV for $5,376 million in April 2019. With this acquisition, Thales has integrated Gemalto NV's advanced technologies, to develop solutions for air traffic management, data and network cyber security, financial transaction security, and airport security. Additionally, this move is allowing Thales to leverage enhanced technologies for its data protection, biometric, and cyber security products.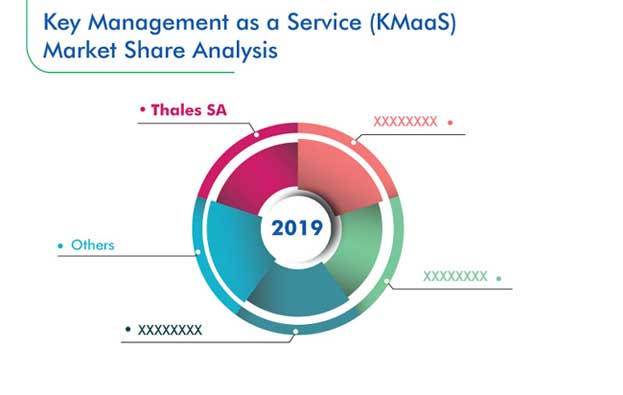 The major players in the global key management as a service market are Box Inc., NetApp Inc., Amazon Web Services (AWS) Inc., Google LLC, Microsoft Corporation, Oracle Corporation, CipherCloud Inc., Egnyte Inc., International Business Machines (IBM) Corporation, Thales SA, Kapalya Inc., Unbound Tech Ltd., StorMagic Ltd., Sepior ApS, McAfee LLC, HyTrust Inc., Secomba GmbH, Fortanix Inc., Bitglass Inc., Sookasa Inc., WinMagic, Atos SE, Netskope Inc., Sophos Group PLC, ESET spol. s ro, SYPRUS Inc., Zettaset Inc., Druva Inc., and ServiceNow Inc.
Market Size Breakdown by Segment
The key management as a service market report offers comprehensive market segmentation analysis along with market estimation for the period 2014–2030.
Based on Component
Based on Enterprise
Large Enterprises
Small and Medium Enterprises (SMEs)
Based on Application
Disk Encryption
Cloud Encryption
File/Folder Encryption
Database Encryption

Database-level encryption
Application-level encryption

Communication Encryption

Voice encryption
Email encryption
Instant messaging encryption
Based on Industry
Banking, Financial Services, and Insurance (BFSI)
Retail and E-Commerce
Information Technology (IT) and Telecom
Government
Healthcare
Aerospace and Defense
Geographical Analysis
North America
Europe

Germany
France
U.K.
Spain

Asia-Pacific (APAC)

Japan
China
India
South Korea
Australia

Middle East and Africa (MEA)

Saudi Arabia
U.A.E.
Turkey
South Africa

Latin America (LATAM)