Valued at $1.6 billion in 2016, the global in vitro fertilization (IVF) devices and consumables market is projected to reach $5.0 billion by 2023, growing at a CAGR of 17.9% during the forecast period (2017–2023). IVF instruments are projected to be the fastest-growing product category, driven primarily by technological advancements and rising demand for time-efficient procedures and easy-handling equipment.
Advancements in Technology to Drive IVF Devices and Consumables Market
Advancements in technology drive the IVF devices and consumables market, as they come with higher success rates, depending on the IVF procedure used. The advancements include the use of imaging systems and software to check the growth and development of embryos on the monitor, without the need for removing them from incubators, thus helping in selecting the healthy embryos. Another result of advancements is the pre-implantation genetic diagnosis (PGD) technology, which helps in the diagnosis of diseases and disorders in the embryos, to ensure that the child does not inherit any disorder. Thus, advancements help in the improvement of IVF procedures and make performing the procedures easy.
Segmentation Analysis of IVF Devices and Consumables Market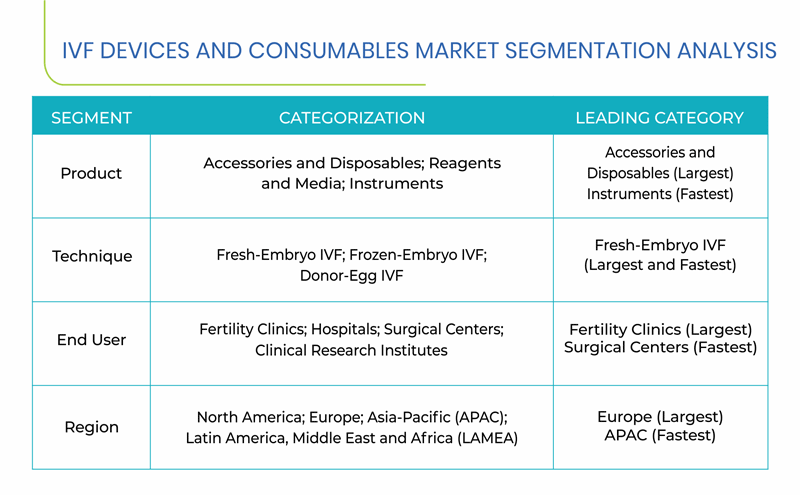 Accessories and disposables occupied the largest share in the IVF devices and consumables market in 2016, based on product.
The fresh-embryo IVF technique is expected to be the fastest-growing category, based on technique, during the forecast period. The market growth in this category is attributed to the increasing frequency of delayed pregnancies and growing infertility rate.
Fertility clinics, as an end user, were the largest shareholder in the market, in 2016. This is attributable to the fact that these are specifically designed for IVF procedures and have all the facilities and expertise required to perform such procedures, which leads to greater trust of IVF service seekers on such establishments.
Geographical Analysis of IVF Devices and Consumables Market
Europe accounted for the largest share, of 37.4%, of the global IVF devices and consumables market in 2016. According to the European Society of Human Reproduction and Embryology (ESHRE)'s database, approximately 55% of the global assisted reproductive technology (ART) cycles were conducted in Europe, in 2013. ESHRE also stated that the number of cycles performed in European countries grew up by 5–10% per annum, during the last few years. The factors driving the market in the region include supportive government regulations for manufacturing IVF devices.
The APAC region is projected to witness fastest growth during the forecast period, led by the low manufacturing costs of IVF devices and rising adoption of IVF procedures, owing to the expanding fertility tourism industry. Furthermore, the increasing healthcare awareness and availability of a skilled workforce would provide stellar growth opportunities to the APAC IVF devices and consumables market.
In 2016, India held the largest share in the APAC market, on account of the high population and growing infertility rate in the country. Approximately 15–20% of married couples in India suffer from infertility, due to urbanization and its consequences, such as pollution, mental stress, and abnormal lifestyle.
Brazil is expected to hold the largest share in the LAMEA IVF devices and consumables market throughout the forecast period. There is no specific legislation streamlining and regulating assisted conception in Brazil. The country has also witnessed a significant rise in the demand for assisted conception services, such as in vitro fertilization, which are mainly offered by private clinics.
Competitive Landscape of IVF Devices and Consumables Market
The IVF devices and consumables market is consolidated in nature. The major players operating in the market include The Cooper Companies Inc., JXTG Holdings Inc., OvaScience Inc., Progyny Inc., Vitrolife AB, Cook Medical LLC, Genea Biomedx, EMD Serono Inc., Oxford Gene Technology, and Thermo Fisher Scientific Inc.
Access Report Summary with Detailed TOC on "IVF Devices and Consumables Market by Product (Accessories and Disposables, Reagents and Media [Cryopreservation, Embryo Culture, Ovum Processing, Semen Processing], Instruments [Cabinets, Micromanipulator, Imaging System, Ovum Aspiration Pump, Sperm Separation System, Incubators, Cryosystem]), by Technique (Fresh Embryo IVF, Frozen Embryo IVF, Donor Egg IVF), by End User (Fertility Clinics, Hospitals, Surgical Centers, Clinical Research Institutes), by Geography (Germany, U.K., France, U.S., Canada, Mexico, India, China, Japan, Australia, Brazil, Saudi Arabia) – Global Market Size, Share, Development, Growth, and Demand Forecast to 2023" at: https://www.psmarketresearch.com/market-analysis/ivf-devices-and-consumables-market
In recent years, these players have taken several strategic measures, such as mergers and acquisitions, to expand their consumer base. For instance, in March 2018, JXTG Nippon Oil & Energy Corporation, a subsidiary of JXTG Holdings Inc., announced the sale of Irvine Scientific Sales Company Inc. and IS Japan Co. Ltd. to FUJIFILM Corporation. Irvine Scientific provided cell culture media to biopharmaceutical, ART, and regenerative-medicine customers.