The global in vitro fertilization (IVF) devices and consumables market was valued at $1.6 billion in 2016, which is expected to reach $5.0 billion by 2023, progressing at a CAGR of 17.9% during the forecast period (2017–2023).
The market is expected to witness the fastest growth in the Asia-Pacific (APAC) region, registering a CAGR of 20.4%. Several country-level markets in the APAC region have a huge potential for growth, owing to the less technological advancements, which are providing opportunities to the key market players to expand their business.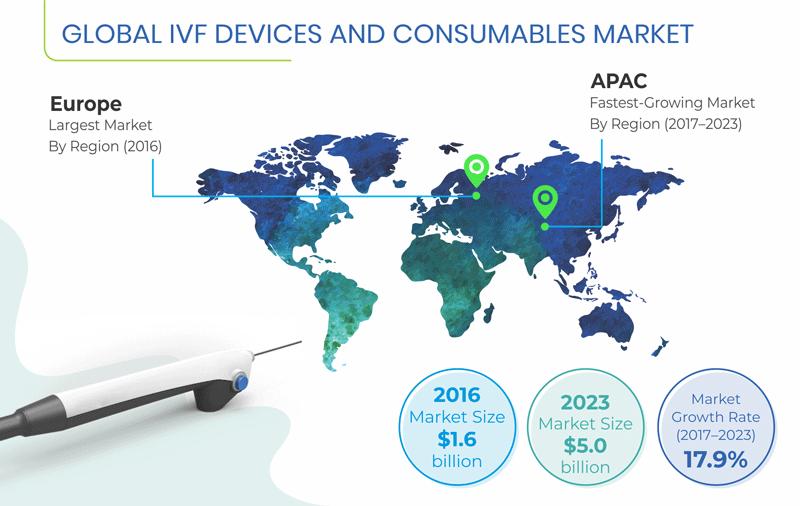 Factors Governing IVF Devices and Consumables Market
The trend of delaying the pregnancy has steadily increased globally, thus driving the IVF devices and consumables market forward. In women aged 40 years and above, the reproductive eggs are less suitable for fertilization with male spermatozoa, which can increase the risk of genetic disorders in the fertilized egg. As the age of women increases, the ability of their reproductive system to produce healthy eggs declines, and this can result in an increased risk of genetic disorders. According to the Centers for Disease Control and Prevention (CDC), the rate of first pregnancy in the age group of 35–39 has increased for all races and Hispanic-origin groups from 1990 to 2000. Moreover, the first birth rate for women aged 35–39 rose 40% or more in eight states and federal districts of the U.S., such as Columbia, New York, and North Dakota, from 2000 to 2012. During this same time period, the first birth rate of women aged 35–39 increased from 30% to 39.9% in 9 states and from 20% to 29.9% in 21 states.
Further, the growing infertility rate drives the IVF devices and consumables market, as it affects one in four couples in developing nations. Statistics by the World Bank suggest that the total fertility rate has reduced over the years, from 4.7 in 1970 to nearly 2.4 in 2015. This increasing infertility rate can be attributed to numerous lifestyle habits that have an effect on an individual's reproductive health. For instance, smoking reduces the chances of pregnancy by 50% in women. The rise of infertility rates is not only due to lifestyle changes, but also various diseases, such as sexually transmitted diseases (STD) and certain fertility-related diseases.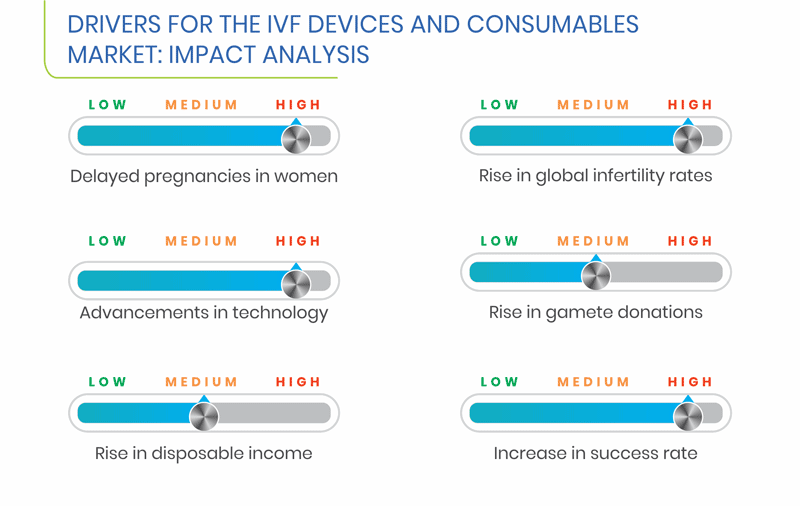 Fertility tourism provides steady prospects for the growth of the IVF devices and consumables market. Such activities have a positive impact on the economy of developing countries and also benefit the patients, as treatment prices are lower here as compared to developed countries. For instance, the cost of one IVF cycle in North America is $10,000–$15,000, and in Thailand, the treatment costs roughly $6,059; hence, patients opt for the low-cost-fertility-treatment destinations, which boosts the market in regions such as APAC.
IVF Devices and Consumables Market Segmentation Analysis
Instruments are expected to be the fastest-growing product category, mainly driven by technological advancements and increasing demand for time-efficient procedures and easy-to-use equipment. Further, among these instruments, cabinets are projected to be the highest shareholder throughout the analysis period (2016–2023).
The fresh-embryo IVF technique category acquired the largest share in the IVF devices and consumables market in 2016, attributable to the trend of delayed pregnancies and growing infertility rate.
The market in the surgical centers end-user category is projected to grow with the highest CAGR, of 24.3%, during the forecast period.
IVF Devices and Consumables Market Report Coverage

| | |
| --- | --- |
| Report Attribute | Details |
| Historical Years | 2016-0 |
| Forecast Years | 2017-2023 |
| Market Size by Segments | Product, Technique, End User |
| Market Size of Geographies | U.S., Canada, Mexico, Germany, U.K., France, Japan, China, India, Australia, Brazil, Saudi Arabia |
Explore more about this report - Request free sample pages
Geographical Analysis of IVF Devices and Consumables Market
Globally, Europe was the largest market for IVF devices and consumables, in 2016. The market growth in the region is attributable to the swift adoption of advanced technologies, increasing healthcare awareness, and high reimbursement ratios for IVF treatment. Furthermore, legal permission for pre-implantation genetic diagnosis (PGD) and three-parent IVF techniques have boosted the growth of the European IVF devices and consumables market.
The APAC region is likely to grow at the highest rate, cumulatively led by low fertility rates, low manufacturing costs of IVF devices, and the rising adoption of IVF procedures, owing to the increasing fertility tourism activities.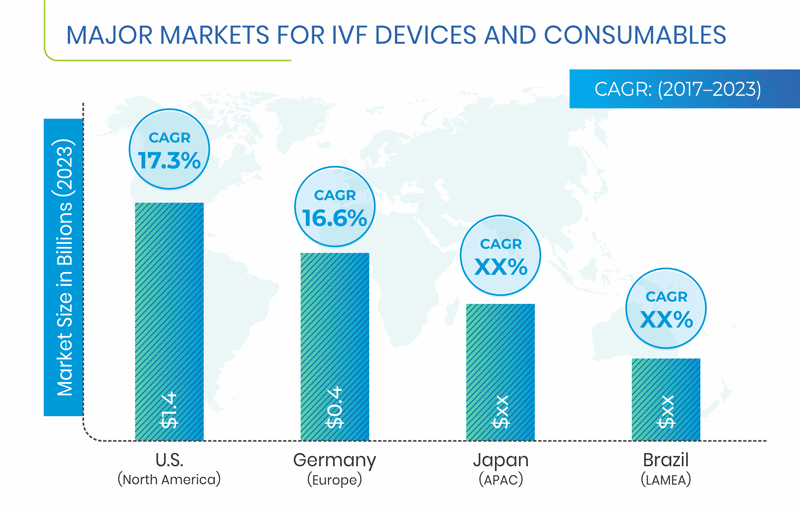 Competitive Landscape of IVF Devices and Consumables Market
The IVF devices and consumables market is consolidated in nature. Some of the major players operating in the market are Cook Medical LLC, The Cooper Companies Inc., Genea Biomedx, JXTG Holdings Inc., EMD Serono Inc., OvaScience Inc., Oxford Gene Technology, Progyny Inc., Thermo Fisher Scientific Inc., and Vitrolife AB.
Recent Strategic Developments of IVF Devices and Consumables Market Players
In recent years, the major players operating in the global IVF devices and consumables market have taken several strategic measures, including product approvals and launches, to attain a significant share in the market. For instance, in February 2018, Vitrolife AB received the regulatory approval for its EmbryoScope in China, which is a time-lapsed system used in assisted reproduction, for undisturbed culture and improved selection of embryos.
Similarly, in October 2017, Irvine Scientific, a member of JXTG Holdings Inc., announced the launch of Arctic Sperm Cryopreservation Medium, formulated to improve the post-thaw performance of frozen sperm samples and reduce the cost of sperm cryopreservation.
IVF Devices and Consumables Market Size Breakdown by Segment
The IVF devices and consumables market report offer comprehensive market segmentation analysis along with market estimation for the period 2016–2023.
Based on Product
Accessories and Disposables
Reagents and Media
Instruments
Based on Technique
Fresh Embryo IVF
Frozen Embryo IVF
Donor Egg IVF
Based on End User
Fertility Clinics
Hospitals
Surgical Centers
Clinical Research Institutes
Geographical Analysis
North America
Europe

Germany
U.K.
France
Italy

Asia-Pacific (APAC)

Japan
China
Australia
India

Latin America and Middle East & Africa (LAMEA)