Interventional radiology market is anticipated to generate $27.3 billion revenue by 2024, registering a CAGR of 6.4% during the forecast period, according to P&S Intelligence.
The market is predominantly driven by growing prevalence of chronic diseases, increasing aging population, technological advancements, and rising reimbursement rate for interventional radiology procedures.
Insights into the Market Segments
Different types of products available in the interventional radiology market are ultrasound, computed tomography (CT), magnetic resonance imaging (MRI), angiography systems and others. The market for ultrasound systems is expected to grow substantially, witnessing a CAGR of 6.2% during the forecast period. Rising number of chronic diseases and birth disorders are some key factors leading to the high demand of ultrasound systems globally.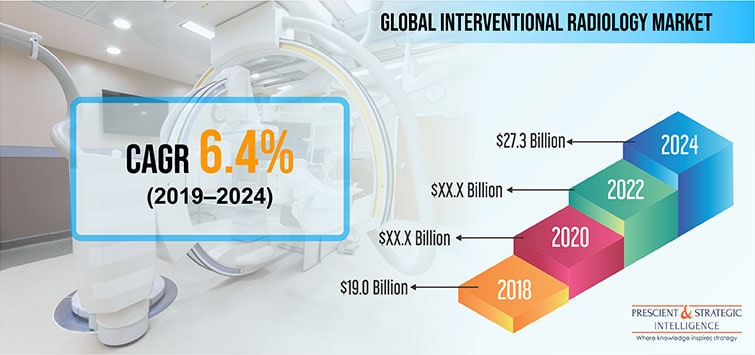 The interventional radiology systems are utilized in various therapeutic areas, such as cardiology, urology and nephrology, oncology, and gastroenterology. Among these, oncology is expected to hold significant share in the interventional radiology market during the forecast period. The market for this segment is estimated to generate $5.1 billion in 2018, and is anticipated to reach $7.3 billion by 2024. This rise can be ascribed to the increasing prevalence of cancer across the globe. Additionally, the market for gastroenterology segment is also forecasted to witness significant growth, registering a CAGR of 5.9% during the period of analysis.
Geographically, North America holds the largest share in the interventional radiology market, with an estimated contribution of around 36% share to the global interventional radiology market in 2018 and is projected to generate $9.3 billion revenue by 2024. Advanced healthcare facilities, and increased healthcare spending are some of the key factors driving the growth of this region.
Interventional Radiology Market in Asia-Pacific (APAC)
During the forecast period, the interventional radiology market in APAC is expected to witness the fastest growth, observing a CAGR of 7.9%. The growth in the market is mainly led by rising prevalence of chronic diseases, growing geriatric population, improving healthcare infrastructure, and rising healthcare expenditure. Additionally, training programs and scientific meetings are being conducted for interventional radiology in this region which is also playing pivotal role in the growth of market. For instance, the Asia-Pacific Society of Cardiovascular and Interventional Radiology (APSCVIR), is going to conduct 14th Annual Scientific Meeting to exchange knowledge of cardiovascular and interventional radiology based latest techniques and applications among medical doctors and radiologists in different geographies of the region. The meeting is expected to held on February 21st to 24th, 2019 at the Bali Interventional Convention Center, Indonesia.
Moreover, the increasing healthcare expenditure in developing economies, such as China and India, for the improvement of healthcare infrastructure, is creating huge revenue generation opportunities for companies to invest in the region. According to the World Bank, the healthcare expenditure of China was 4.3% of its total gross domestic product (GDP) in 2005, which increased to 5.3% in 2015.
Browse report overview with 191 tables and 62 figures spread through 244 pages and detailed TOC on "Interventional Radiology Market by Product (MRI Systems, CT Systems, Ultrasound Systems, Angiography Systems), by Procedure (Angioplasty, Biopsy and Drainage, Embolization, Catheter-directed Thrombolysis, Vertebroplasty, Nephrostomy), by Application (Cardiology, Oncology, Urology and Nephrology, Gastroenterology, Obstetrics and Gynaecology), by End User (Hospitals, ASCs), by Geography (U.S., Canada, Germany, France, U.K., Italy, Spain, Japan, China, India, Australia, Brazil, Mexico, Saudi Arabia, South Africa) – Global Market Size, Share, Development, Growth and Demand Forecast, 2014–2024" at:https://www.psmarketresearch.com/market-analysis/interventional-radiology-market
Increasing Number of Product Launches in the Interventional Radiology Market
Globally, the interventional radiology market is witnessing rapid evolution with substantial number of new products being launched by prominent players in the market. For instance, in January 2019, Canon Medical Systems Corporation introduced illumination rendering technology within its Vitrea platform. This technology will enable physicians to interact in real-time with photorealistic images and visualize patient anatomy in all dimensions. Around the same time, the company also launched Aquilion Start CT system in Dubai.
Additionally, In January 2018, Hologic Inc. launched Fluoroscan InSight FD mini C-arm -comprises an enhanced interface and a 24" HD touchscreen interface for extremities imaging procedures. This product is equipped with various improved features designed to arm orthopaedists, podiatrists and clinicians with diversified imaging options, flexible storage and transport, and an enhanced interface.
Interventional Radiology Market Competitive Landscape
The acquisitions and collaborations among prominent players are key strategies noted in the global interventional radiology market. For instance, in January 2019, Koninklijke Philips N.V. collaborated with MIM Software Inc., aim to streamline approach for the treatment by using advanced radiation therapy treatment techniques. Moreover, in July 2018, Hologic Inc. announced the acquisition of Faxitron Bioptics, a privately-held company, dealing in digital specimen radiography, in $85 million cash. This acquisition was aimed to expand Hologic Inc.'s breast health product portfolio.
The global interventional radiology market is marked with the presence of key players such as Siemens AG, Koninklijke Philips N.V., General Electric Company, Canon Medical Systems Corporation, Hitachi Ltd. and Samsung Healthcare. Some other players include Carestream Health Inc., Esaote S.p.A, Hologic Inc., and Shimadzu Corporation.
INTERVENTIONAL RADIOLOGY MARKET SEGMENTATION
Market Segmentation by Product
MRI Systems
CT Systems
Ultrasound Systems
Angiography Systems
Others
Market Segmentation by Procedure
Angioplasty
Biopsy and Drainage
Embolization
Catheter-Directed Thrombolysis
Vertebroplasty
Nephrostomy
Others
Market Segmentation by Application
Cardiology
Oncology
Urology and Nephrology
Gastroenterology
Obstetrics and Gynecology
Others
Market Segmentation by End User
Hospitals
Ambulatory Surgical Centers (ASCs)
Market Segmentation by Geography
North America Interventional Radiology Market

By product
By procedure
By application
By end user
By country – U.S. and Canada

U.S. interventional radiology market

By product
By procedure
By application
By end user

Canada interventional radiology market

By product
By procedure
By application
By end user

Europe Interventional Radiology Market

By product
By procedure
By application
By end user
By country – Germany, France, U.K., Spain, Italy, and Rest of Europe

Germany interventional radiology market

By product
By procedure
By application
By end user

France interventional radiology market

By product
By procedure
By application
By end user

U.K. interventional radiology market

By product
By procedure
By application
By end user

Spain interventional radiology market

By product
By procedure
By application
By end user

Italy interventional radiology market

By product
By procedure
By application
By end user

Asia-Pacific (APAC) Interventional Radiology Market

By product
By procedure
By application
By end user
By country – Japan, China, India, Australia, and Rest of APAC

Japan interventional radiology market

By product
By procedure
By application
By end user

China interventional radiology market

By product
By procedure
By application
By end user

India interventional radiology market

By product
By procedure
By application
By end user

Australia interventional radiology market

By product
By procedure
By application
By end user

Latin America (LATAM) Interventional Radiology Market

By product
By procedure
By application
By end user
By country – Brazil, Mexico, and Rest of LATAM

Brazil interventional radiology market

By product
By procedure
By application
By end user

Mexico interventional radiology market

By product
By procedure
By application
By end user

Middle East & Africa (MEA) Interventional Radiology Market

By product
By procedure
By application
By end user
By country – Saudi Arabia, South Africa, and Rest of MEA