Valued at $198.9 million in 2019, the Indian metal bonding adhesives market is projected to reach $343.6 million by 2030, progressing at a CAGR of 5.2% during the forecast period (2020–2030). Among various resin adhesives, epoxy adhesives held the largest share in the market during the historical period. The market in this category is mainly driven by the high usage of epoxy metal bonding adhesives in automotive, consumer appliances, construction, and various industrial applications owing to the several advantages associated with these adhesives, including resistance to extreme temperatures and high compatibility with various metals.
Shift from Traditional Fasteners to Metal Bonding Adhesives
The Indian transportation industry has witnessed an increase in the adoption of metal bonding adhesives, when compared to traditional fasteners such as nuts and bolts, as these adhesives help reduce the weight of the final product besides increasing its structural strength. The growing consumer shift toward these adhesives can also be attributed to their low cost, light weight, fuel economy, and eco-friendliness. These advantages have propelled the adoption of these adhesives, especially for airplanes, automobiles, and ships, in recent years.
Growth in Manufacturing Sector
Growing domestic demand, increasing population, and rapid urbanization continue to boost the manufacturing sector in the country. Besides, foreign and domestic investments, which registered 10.4% growth in the country from 2016 to 2018, have facilitated growth in the sector. These factors have created growth opportunities in the manufacturing domain and supported the adoption of advanced industrial machines, further pushing the demand for metal bonding adhesives in the country. Thus, growth in the manufacturing sector can be viewed as a major factor driving the Indian metal bonding adhesives market.
Segmentation Analysis of India Metal Bonding Adhesives Market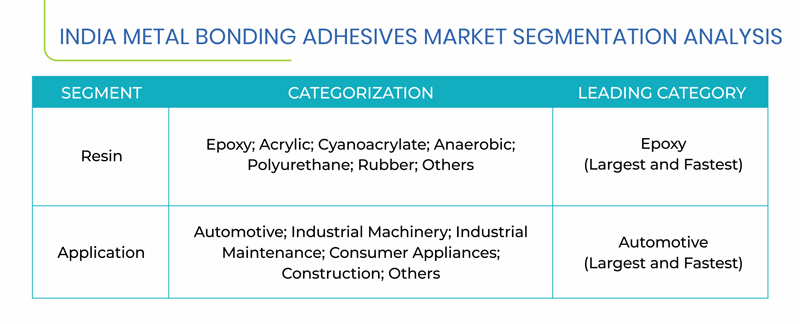 During the forecast period, the epoxy category is expected to register the fastest growth in the Indian metal bonding adhesives market. This can be mainly ascribed to the increasing adoption of epoxy adhesives for bonding metal sheets used in vehicles such as trains, buses, and cars. Owing to their features such as resistance to extreme temperatures, chemicals, moisture, stress, oil, and other solvents and high compatibility with metals, epoxy adhesives are witnessing a high demand in the market.
The automotive category held the largest revenue share in the Indian metal bonding adhesives market in 2019. This can be mainly attributed to the high demand for metal bonding adhesives in the automotive industry. The automotive industry in India is being positively affected by the increase in foreign direct investments and growth in government initiatives to boost the adoption of electric vehicles, which, in turn, is supporting the demand for these adhesives in this category.
Competitive Landscape of India Metal Bonding Adhesives Market
The Indian metal bonding adhesives market is consolidated in nature. Pidilite Industries Limited, Henkel AG & Co. KGaA, Huntsman Corporation, Arkema Group, H.B. Fuller Company, DuPont de Nemours Inc., Sika AG, and The 3M Company are some of the major players operating in the market, offering products that find application in various industries.
Browse report overview with detailed TOC on "India Metal Bonding Adhesives Market Research Report: By Resin (Epoxy, Acrylic, Cyanoacrylate, Anaerobic, Polyurethane, Rubber), Application (Automotive, Industrial Machinery, Industrial Maintenance, Consumer Appliances, Construction)- Industry Size, Share, Trends and Growth Forecast to 2030" at:https://www.psmarketresearch.com/market-analysis/india-metal-bonding-adhesives-market
In October 2019, Berger Paints India Ltd. announced its plans to acquire STP Limited, a manufacturer and supplier of a wide range of construction chemicals, concrete admixtures, waterproofing chemicals, flooring compounds, bitumen, coal tar-based products, sealants and adhesives, and protective and anti-corrosive coatings, for an enterprise value of $24 million, accounting for 95.5% share in STP Limited.
Some other important players in the Indian metal bonding adhesives market are ITW (Illinois Tool Works) India Private Limited and Parker Hannifin Corporation.