The global hybrid electric car market was valued at $57.2 billion in 2017, and it is projected to generate revenue of $138.0 billion in 2023, registering a 16.7% CAGR during 2018–2023. Considering the level of hybridization, the full hybrid electric car category held the largest volume share in 2017, in the market.
The full hybrid car category had the first mover advantage in the hybrid electric car market during the historical period. In 1997, Toyota Motor Corporation first introduced a full hybrid electric car, Toyota Prius, in Japan, which was made available at four Toyota Japan dealership chains, making it the first mass-produced hybrid vehicle. The vehicle was subsequently introduced across the world, in 2000.
Increasing Demand for Mild Hybrid Electric Cars is a Key Trend in the Market
The demand for mild hybrid electric cars is increasing significantly, especially in emerging economies, such as India and China. This is majorly due to the low cost of these cars, when compared to full hybrid cars. Even though a full hybrid electric car offers more fuel efficiency than a mild one, the latter provides a better cost-to-benefit ratio, owing to its comparatively low upfront cost. Other factors boosting the demand for mild hybrid cars over full hybrid cars include the easier mechanical integration of powertrains and components, the time-saving aspect for manufacturers and cost-saving aspect for customers, and higher power-to-weight ratio due to lower battery weight. Hence, the increasing demand for mild hybrid electric cars is an emerging trend in the hybrid electric car market.
Stringent Emission Norms are the Major Factor Boosting the Market Growth
Stringent emission norms are one of the major factors propelling the growth of the hybrid electric car market, globally. Several steps are being taken by the European Commission to ensure a cleaner environment. For example, it targets to reduce carbon dioxide (CO2) emissions by 20% by 2020, from the emission levels recorded in the year 2008. Similarly, many countries in Europe, as well as other regions, have also proposed motor vehicle fuel efficiency or carbon emission policies. The growing concern about CO2 emissions around the world is leading to a gradual phasing out of conventional vehicles. These stringent emission norms will ultimately increase the price of conventional cars and encourage customers and automobile companies to adopt low-emission cars, such as hybrid electric cars. Many countries have increased the taxes on conventional fuel cars and are offering incentives, such as high-occupancy vehicle lane exemption and emission inspection exemption, to hybrid electric car customers.
Segmentation Analysis of Hybrid Electric Car Market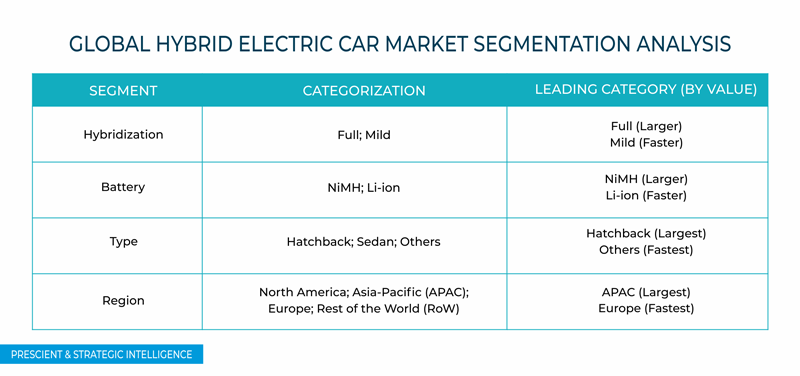 Full hybrid electric cars dominated the hybrid electric car market during the historical period, owing to their earlier introduction. Mild hybrid electric cars are expected to witness faster growth during the forecast period, mainly due to their low price compared to full hybrid electric cars. Other factors propelling the mild hybrid cars' sales are easy mechanical integration of components and powertrains and features, such as electric supercharger/turbocharger, electric power steering, and air conditioning, at a low cost.
The lithium-ion (Li-ion) battery category is expected to grow at the faster rate in the hybrid electric car market during the forecast period. The falling prices of Li-ion batteries, coupled with their inherent advantages, such as low weight, small size, high energy density, low maintenance cost, and low rate of self-discharge, are expected to increase their demand in the coming years.
Geographical Analysis of Hybrid Electric Car Market
Geographically, Europe is predicted to attain the fastest growth in the hybrid electric car market during the forecast period. The growth in the market revenues in Europe will be driven by governments' financial and non-financial incentives, such as subsidies for hybrid electric vehicles, road tax exemption, congestion charge waiver, and free parking. In addition, environmental awareness among customers will further fuel the growth of the hybrid electric car industry.
Competitive Landscape of Hybrid Electric Car Market
The global hybrid electric car market is highly consolidated, with the leading player accounting for nearly 70.0% of the total 2017 sales. Major players included Toyota Motor Corporation and Honda Motor Company Ltd. Other significant players in the market are Ford Motor Company, Nissan Motor Co. Ltd., Hyundai Motor Company, General Motors Company, and Volkswagen AG.
Browse report overview with 93 tables and 41 figures spread through 121 pages and detailed TOC on "Hybrid Electric Car Market by Hybridization (Full, Mild), by Type (Hatchback, Sedan), by Battery (NiMH, Li-ion), by Geography (U.S., Canada, China, Japan, South Korea, Germany, France, U.K.) – Global Market Size, Share, Development, Growth, and Demand Forecast, 2013–2023" at:https://www.psmarketresearch.com/market-analysis/hybrid-electric-car-market
In recent years, the players in the hybrid electric car market have taken several strategic measures, such as partnerships and product launches, to gain a competitive edge in the industry. For instance, in December 2017, Toyota Motor Corporation and Panasonic Corporation announced their agreement to begin the development and production of batteries for Toyota's hybrid electric vehicles and electric vehicle models.
GLOBAL HYBRID ELECTRIC CAR MARKET SEGMENTATION
By Hybridization
By Battery
By Type
Hatchback
Sedan
Others (Include sport utility vehicles (SUVs), multi-purpose vehicles (MPVs), and Crossovers)
By Region
North America Hybrid Electric Car Market

By Hybridization
By Battery
By Type
By Country – U.S., Canada, and Rest of North America

Asia-Pacific Hybrid Electric Car Market

By Hybridization
By Battery
By Type
By Country – Japan, South Korea, China, and Rest of Asia-Pacific

Europe Hybrid Electric Car Market

By Hybridization
By Battery
By Type
By Country – U.K., Germany, France, and Rest of Europe

Rest of the World (RoW) Hybrid Electric Car Market

By Hybridization
By Battery
By Type