Around the world, the number of people suffering from neurological disorders is increasing. Additionally, rehabilitation centers are rapidly using exoskeletons to help physically disabled people live a better life. Driven by these factors, the global human enhancement market is predicted to grow to $271.6 billion by 2030, from $64.8 billion in 2019, witnessing a 14.7% CAGR during 2020–2030 (forecast period).
Human Enhancement Market Segmentation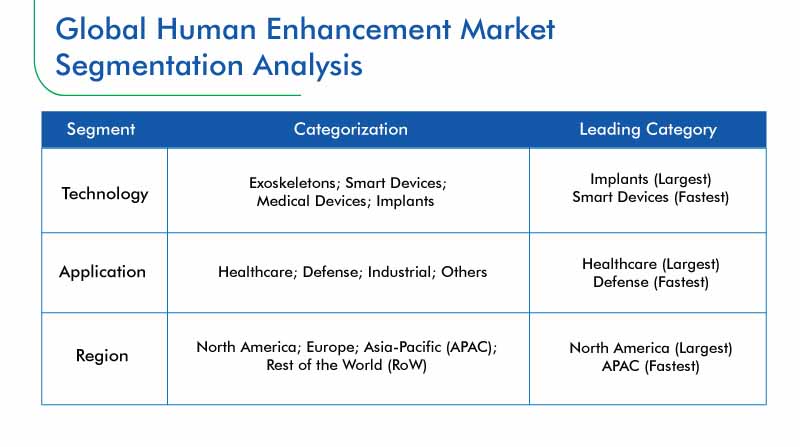 In 2019, implants dominated the human enhancement market, as their usage for medical purposes is rising, with the booming geriatric population and increasing prevalence of chronic diseases and neurological issues. The growing geriatric population is resulting in a surging requirement for active implants, which are integrated with sensors, while the increasing number of youths suffering from bone injuries is creating a high demand for passive implants.
The defense category is expected to witness the highest CAGR in the human enhancement market during the forecast period. This is attributed to the fact that human enhancement devices offer endurance, mobility, safety, and strength to soldiers. Additionally, the military is using virtual tools and machinery for training applications, in an effort to reduce their infrastructure costs. Further, the adoption of exoskeletons for tending to wounded soldiers at military rehabilitation facilities is also growing.
Till 2030, Asia-Pacific (APAC) is projected to witness the most rapid human enhancement market growth, on account of the burgeoning sales of connected wearable devices, which is itself a result of a reduction in their prices and rise in the number of people with internet access.
Product Launches are Strongest Strategic Measures in Market
Key companies in the human enhancement market have unveiled a slew of products in the recent years to augment their revenue. For instance, Garmin Ltd. introduced its Garmin Swim 2 GPS-based swimming smart watch in October 2019. While in an open pool, swimmers can use this watch to track distance, heart rate, stroke count, pace, and distance per stroke.
Moreover, in May–June 2019, the U.S. Food and Drug Administration (FDA) granted the marketing approval and CE mark to the ReStore Soft Exo Suite developed by ReWalk Robotics Ltd., for sale to rehabilitation centers in the U.S. The device helps those suffering from lower limb disability with mobility support and aids in gait training. Additionally, it also offers therapists real-time feedback and personalized adjustments levels, so the healthcare professionals can monitor the progress of individual patients and optimize sessions.
Browse report overview with detailed TOC on "Human Enhancement Market Research Report: By Technology (Exoskeletons, Smart Devices, Medical Devices, Implants), Application (Healthcare, Defense, Industrial) - Industry Size, Share, and Growth Analysis Forecast to 2030" at:https://www.psmarketresearch.com/market-analysis/human-enhancement-market
Vuzix Corporation, Google LLC, Magic Leap Inc., B-Temia Inc., BrainGate Company, Ekso Bionics Holdings Inc., ReWalk Robotics Ltd., Second Sight Medical Products Inc., Samsung Electronics Co. Ltd., Raytheon Company, Naked Prosthetics, Bionik Laboratories Corp., Solar Ear, eSight Corp., Waverly Labs Inc., Cochlear Ltd., Apple Inc., Microsoft Corporation, Steeper Group, Parker Hannifin Corporation, TRS Inc., Access Prosthetics, Boston Scientific Corporation, Advanced Arm Dynamics Inc., Ortho Europe Limited, Johnson & Johnson, Garmin Ltd., Xiaomi Corporation, Cyberdyne Inc., Sony Corporation, Stryker Corporation, Sarcos Corp., Fitbit Inc., Zimmer Biomet Holdings Inc., Omron Corporation, Ekso Bionics Holdings Inc., and Medtronic plc are the major players in the global human enhancement market.