The extension of the government support for energy-efficient products, legalization of medical marijuana, and increase in the demand for food are the key reasons behind the adoption of artificial lights for agriculture. This is why compared to $3.2 billion in 2019, the global horticulture lighting market is projected to generate $20.3 billion revenue in 2030. Between 2020 and 2030 (forecast period), the market is predicted to grow at an 18.1% CAGR.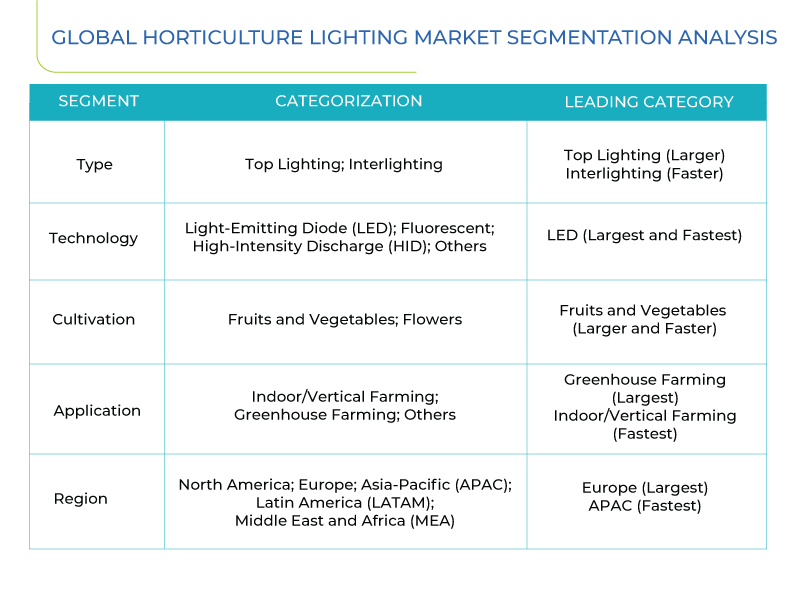 Horticulture Lighting Market Segmentation
During the forecast period, the interlighting bifurcation is expected to witness the faster horticulture lighting market growth. This is attributed to the quick adoption of light-emitting diodes (LED) in agriculture, which make interlighting effective. Due to their low energy coefficient, LEDs offer the optimal environment for plant growth, without damaging them. Such type of illumination distributes lighting to all parts of the crops, and not just their top.
In 2019, LED held the largest revenue share in the industry, as this technology is quite cost-effective, which is why its use in indoor and greenhouse agriculture is rising. The intensity of these lights is ideal for the growth of plants, which helps in enhancing the quality of the produce. Additionally, as they consume considerably less energy than high-intensity discharge (HID), fluorescent, and incandescent bulbs, the government support for LEDs is quite high.
During the forecast period, Europe will continue dominating the horticulture lighting market, owing to the fact that its flower, fruit, and vegetable production and exports are the highest of any region. Further, numerous companies offering horticulture lights, including Signify N.V., Osram Licht AG, and Heliospectra AB, are headquartered here.
Product Launch the Strongest Strategic Measure Taken by Key Players
In a bid to augment their revenue, by attracting more customers than before, the major horticulture lighting market players have introduced a large number of products in the last few years. For instance, a top-light hybrid smart fixture was brought to the market by LumiGrow Inc. in August 2019. It complies to the IP67 standard, can be wirelessly controlled via the smartPAR software, and offers the fully dimmable feature.
In the same vein, in April 2019, Samsung Electronics Co. Ltd. introduced a mid-power white LED package, named LM301H. It is designed for vertical farming, greenhouse farming, and several other horticulture applications. It offers a photon efficiency of around 3.10 μmol/J, which is significantly higher than other similar products.
Lumileds Holding B.V., Cree Inc., Samsung Electronics Co. Ltd., Osram Licht AG, EPISTAR Corporation, Everlight Electronics Co. Ltd., Hubbell Incorporated, Broadcom Inc., Signify N.V., General Electric Company, Hortilux Schréder B.V., LumiGrow Inc., Illumitex Inc., and Heliospectra AB, are among the major players operating in the global horticulture lighting market.