The global automotive telematics market valued at $27.7 billion in 2019, which is projected to reach $149.9 billion by 2030, with a CAGR of 16.6% during 2020–2030. The passenger car category dominated the market throughout the historical period, owing to the growing adoption and integration of telematics systems by passenger car manufacturers, globally.
Increasing Number of Partnership and Collaborations
One of the significant trends observed in the automotive telematics market is increasing number of partnerships and collaborations. These partnerships and collaborations are aimed at helping companies to gain access to the existing technological knowledge of the acquired companies and enhance their portfolio with the addition of an attractive suite of products and services. For instance, in October 2019, TomTom Inc. entered into a strategic partnership with Verizon Communications Inc., to introduce an innovative fifth-generation (5G) project for creating a safer intersection for emergency vehicles. Thus, the growing intensity of collaborations and partnerships among different stakeholders is boosting the market growth.
Growing Adoption of Connected Vehicles
Connected cars offer advantages to users, such as vehicle-to-vehicle (V2V) and vehicle-to-infrastructure (V2I) interfaces. Further, integration of telematics solutions into connected cars is highly crucial, as these cars are equipped with V2V and V2I connectivity, which are two of the primary components of telematics solutions. Moreover, features, such as smartphone connectivity within the vehicle, roadside assistance, traffic and collision warnings, automobile diagnostics, and real-time traffic monitoring, offered by connected cars, are further propelling the automotive telematics market growth.
Segmentation Analysis of Automotive Telematics Market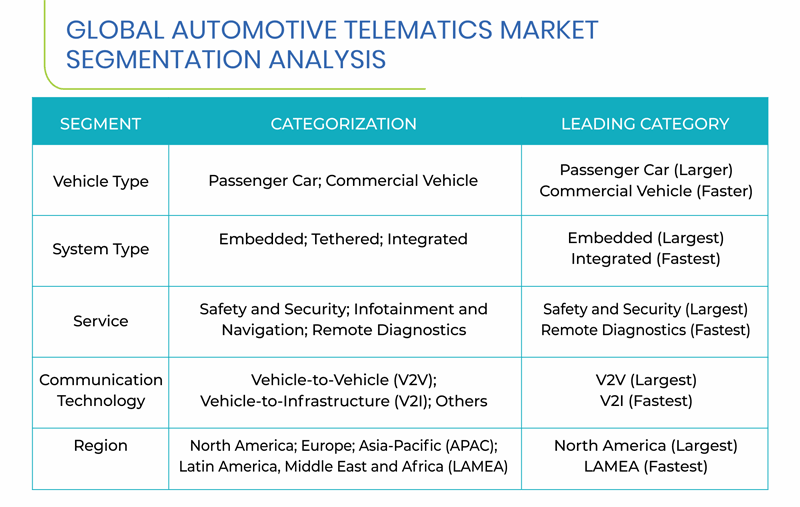 The demand for integrated systems is projected to grow at a faster rate in the automotive telematics market during the forecast period. This can be mainly due to the increasing sales of electric vehicles and growing demand for internet connected infotainment units in mid-range and premium passenger vehicles.
The safety and security category dominated the automotive telematics market during the historical period. This service category enables drivers to avail benefits, such as remote locking and unlocking of their vehicles and roadside assistance. In addition, it offers fleet management service, which includes a range of functions, such as vehicle financing, vehicle maintenance, and vehicle telematics (tracking and others).
The V2V category held the largest share in the automotive telematics market in 2019, due to stringent government regulations. According to a notice of proposed rulemaking (NPRM), 100% of all new cars will have dedicated short-range communication (DSRC) technology installed by 2023 in the U.S., increasing from 75% in 2022 and 50% in 2021.
Geographical Analysis of Automotive Telematics Market
In 2019, North America and Europe held the cumulative share of over 65%, in terms of value, in the automotive telematics market. Globally, North America generated the highest revenue in the market in 2019. This is majorly due to the high adoption of in-vehicle connected technology in the region. Whereas, the LAMEA market is expected to witness the fastest growth during the forecast period. This can be attributed to the fact that the market in developing countries of the region, such as Brazil and Mexico, is still at a nascent stage and depends largely on government policies and infrastructure development.
However, it is expected that by 2030, APAC will become the second-largest market for automotive telematics. Changing customer preference is increasing the demand for fleet telematics, connected vehicle technologies, and integration of safety features into vehicles, which are expected to drive the regional market in coming years.
Competitive Landscape of Automotive Telematics Market
The global automotive telematics market is fragmented in nature, with major players, including Teletrac Navman US Ltd., MiX Telematics Ltd., Verizon Communications Inc., Robert Bosch GmbH, Valeo SA, and HARMAN International Industries Inc., are operating independently in the different countries and cities across the world.
Browse report overview with detailed TOC on "Automotive Telematics Market Research Report: By Vehicle Type (Passenger Car, Commercial Vehicle), System Type (Embedded, Tethered, Integrated), Services (Safety and Security, Infotainment and Navigation, Remote Diagnostics), Communication Technology (V2V, V2I) - Industry Size, Share, Development and Demand Forecast to 2030" at:https://www.psmarketresearch.com/market-analysis/global-telematics-market
In recent years, the key players in the automotive telematics market have taken several strategic measures, such as product launches, partnerships, and client wins. For instance, in October 2019, Jaguar Land Rover Ltd. entered into an agreement with Fleetonomy Ltd., a car fleet management startup. Under the contract, Fleetonomy Ltd. would offer Jaguar Land Rover Ltd. with technology to launch and operate Havn, the company's premium electric chauffeur service. Also, in the same month, Geotab Inc. entered into a contract with Volvo AB, to offer connected vehicle technology to Volvo AB. Under this strategic development, Volvo AB would intend to introduce a fully integrated electronic logging device (ELD) for its trucks.
Other significant players in the market include Inseego Corp., Visteon Corp., DENSO CORP., General Motors Co., Telefonica SA, TomTom NV, Trimble Inc., and Masternaut Ltd.