According to a new market research report "Global Automotive Elastomers Market Size, Share, Development, Growth and Demand Forecast to 2022 – Industry Insights by Type (Synthetic Elastomers, Thermoplastic Elastomers) by Application (Interior, Exterior, Under Hood, Weather Seal, Molded Parts)" published by P&S Intelligence, the global automotive elastomers market was valued at $10,015.2 million in 2015, and it is expected to grow at a CAGR of 5.9% during 2016 - 2022.
Browse Detailed Report Description at: https://www.psmarketresearch.com/market-analysis/automotive-elastomers-market
Global automotive elastomers market worth $10,015.2 million in 2015
According to the study, the global automotive elastomers market was worth $10,015.2 million in 2015 and it is likely to grow at a CAGR of 5.9% during the forecast period (2016 – 2022). Stringent emission regulations, increasing demand for high-efficiency vehicles, and growth in automotive industry are driving the global automotive elastomers market. The market is further expected to gain revenue due to the high emphasis on lightweight materials. The global automotive industry is transforming towards implementing lightweight materials for improving fuel efficiency. This would create ample opportunities for the global automotive elastomers manufacturers.
GLOBAL AUTOMOTIVE ELASTOMERS MARKET, BY TYPE, $M (2012 – 2022)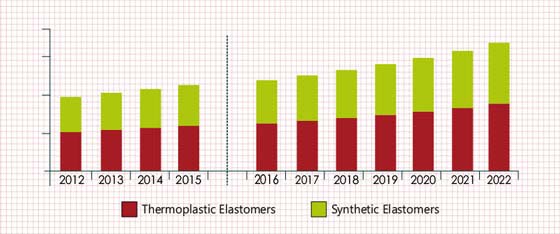 Insights on market segments
As per the findings of research, the consumption of synthetic elastomers was higher than thermoplastic elastomers in 2016, however, in terms of value, the thermoplastic elastomers held larger share in the global automotive elastomers market. Thermoplastic elastomers market is expected to witness higher growth than synthetic elastomers during the forecast period in terms of volume and value. The higher growth of thermoplastic elastomers is attributed to its unique properties such as excellent physical properties and exceptional durability.
Asia-Pacific stands as the largest automotive elastomers market
Geographically, Asia-Pacific has been the largest and the fastest growing market for automotive elastomers during 2012 - 2015. Some of the factors driving the growth of the automotive elastomers market in the region include high growth in automotive industry and increasing compliance for lightweight materials. The automotive industry in the region is expected to witness high growth, due to the growing population and increasing income level. Globally, China was the largest market for automotive elastomers in 2015 in terms of volume. The automotive elastomers market in North America and Europe is anticipated to witness considerable growth, owing to the well-established automotive industry, stringent emission norms and consumer's preference for high performance vehicles. In terms of value, the U.S. was the largest contributor to the North American and the global automotive elastomers market in 2015.
Increasing demand for high efficiency vehicles to have significant impact on the automotive elastomers market
Concerns pertaining to environmental pollution have cropped up due to industrial emission and automotive emission that include carbon monoxide and Sulphur Dioxide emitted by vehicles. Increasing extraction and use of conventional fuels such as petroleum products is pushing the demand for vehicles with better fuel efficiency and lower emission. In several countries, the governments have imposed stringent emission control norms to reduce the greenhouse gas emissions from the vehicles. In 2011, global CO2 emission stood at 31.6 gigatons including 23% emissions from all transport sectors worldwide. According to the Corporate Average Fuel Economy regulations, all vehicles plying in the U.S. will be required to have an average fuel efficiency of 54.5 miles per gallon by 2025. As per the CO2 emission regulation provided by the European government, the total CO2 emission from new passenger cars should be decreased from 130g per Km travel in 2013 to 95g per Km travel by 2020. Thus, increased craving for high fuel-efficient vehicles has boosted the demand for automotive elastomers.
Key players are increasing their capacity to manufacture high performance elastomers
The global automotive elastomers manufacturers are increasing their capacity to manufacture high performance elastomers. In April 2015, LANXESS AG successfully started their new ethylene propylene diene rubber (EPDM) plant in Changzhou (Jiangsu Province), China. The new plant would manufacture total ten premium grades of EPDM tailored to Chinese and Asian customer needs. Similarly, in July 2016, Exxon Mobil Corporation announced plans to expand its specialty elastomers plant in Newport, Wales. The project is expected to be completed by late 2017 and would result in a 25% increase in its global capacity to manufacture Santoprene thermoplastic vulcanizate, high-performance elastomers used for automotive, industrial and consumer applications.
Some of the other key players in the market include BASF SE, LANXESS AG, E. I. du Pont de Nemours and Company, LyondellBasell Industries N.V., The Dow Chemical Company, Huntsman International LLC, 3M Company, China Petrochemical Corporation, and Kuraray Co. Ltd.
GLOBAL AUTOMOTIVE ELASTOMERS MARKET
By Type
Thermoplastic Elastomers

Thermoplastic polyolefin (TPO)
Thermoplastic vulcanizates (TPV)
Styrene block co-polymer (SBC)
Thermoplastic polyurethanes (TPU)
Co-polyester ether (COPE)
Polyether block amide (PEBA)

Synthetic Elastomers

Styrene butadiene rubber (SBR)
Ethylene propylene diene monomer (EPDM)
Nitrile butadiene rubber (NBR)
Fluoroelastomers
Chloroprene rubber (CR)
Silicone rubber
By Application
Exterior
Interior
Under hood
Weather seal
Molded parts
By Geography
Asia-Pacific

China
Japan
India
South Korea
Rest of Asia-Pacific

North America

U.S.
Canada
Rest of North America

Europe

Germany
France
U.K.
Italy
Rest of Europe

Rest of the World (RoW)

Brazil
Mexico
Rest of RoW