Automotive Elastomers Market Overview
The global automotive elastomers market valued $10,015.2 million in 2015, and it is predicted to witness a CAGR of 5.9% during the forecast period (2016–2022). Strong emphasis of automotive manufacturers on using lightweight material in vehicles, stringent emission regulations, rising demand for high-efficiency vehicles, and developments in the automotive industry are the key factors behind the growth of the market.
Elastomers are materials made of polymers that are joined by chemical bonds, with the resulting material acquiring a slightly cross-linked structure. These are rubber-like materials, comprising long, chainlike molecules or polymers that recover their original form after being stretched. The name "elastomer" is, thus, is a portmanteau formed by combining "elastic" and "polymer." The elastomers that are used in the manufacturing of automotive parts are referred to as automotive elastomers. The expanding automotive industry and the rising demand for energy-efficient vehicles are predicted to drive the automotive elastomers market growth, globally.
GLOBAL AUTOMOTIVE ELASTOMERS MARKET SPLIT BASED ON VOLUME, BY TYPE (2015)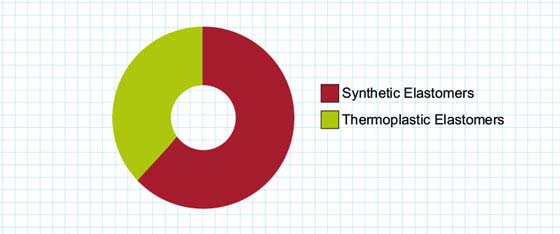 Ideally, the long molecules that make up an elastomer are irregularly coiled, but when force is applied, the molecules straighten in the direction of the pull. Upon being released, the molecules automatically return to their original state. Five to ten ingredients can go into the making of elastomeric rubber compounds, wherein each ingredient plays a specific role.
Polymer, which is the main component, gives elastomers optimum heat and chemical resistance as well as the ability to perform well under low temperatures. Carbon black is integrated into an elastomer as a reinforcing filler to provide strength, whereas plasticizers are added to improve its low-temperature performance. Release packages, anti-oxidants, curatives, scorch retarders, and accelerators are among the other ingredients used in the elastomer manufacturing process.
On the basis on type, the automotive elastomers market is bifurcated into thermoplastic and synthetic elastomers, of which the category of thermoplastic elastomers held the larger revenue share in 2015. However, the synthetic automotive elastomers category led the market in 2015 in terms of sales volume. Artificial in nature, synthetic elastomers are made from petroleum by-products. Synthetic elastomers can withstand high and low temperatures, contact with various types of fluids even at high pressures, and corrosive environments.
Automotive Elastomers Market Dynamics
Growth Drivers
Strict environmental regulations across the world are propelling the need for reducing carbon dioxide (CO2) emissions, which, in turn, is positively affecting the demand for automotive elastomers globally. Stringent guidelines for curbing greenhouse gas emissions are being formulated by numerous international organizations. For example, several organizations in North America and Europe are mandating the development and adoption of lightweight materials in order to reduce CO2 emissions and achieve the preset emission level targets by 2025. Similar legislations have been implemented in Asia-Pacific (APAC).
China, which is responsible for the emission of the largest amount of greenhouse gases, is contemplating the introduction of policies to control its emission levels. Other APAC nations, including Australia, India, and Indonesia, are also implementing norms to decrease the effects of climate change by reducing carbon emissions. The implementation of such policies across the globe is projected to offer ample growth opportunities to the automotive elastomers market players.
Several European and North American countries are religiously adhering to emission norms by focusing on fuel economy, which is necessitating the adoption of durable, lightweight, and high-precision automotive elastomers for hoses, gaskets, and weather seals in vehicles. In North America, the Environmental Protection Agency (EPA) has formulated emission standards for light trucks and cars. The standards for 2016 have set the maximum permissible emission limit from a passenger car at 225 grams per miles (g/mi). The targeted permissible emission limit for a passenger car for 2025 has been set at 143 g/mi. Similarly, the permissible combined fuel economy for cars and trucks for 2016 is 35.5 miles per gallon (mpg), which is to be increased up to 54.5 mpg by 2025.
The improving standard of living in developing countries, including India and China, is resulting in increased sales of automotive elastomers. The application of elastomers in APAC-manufactured cars is less compared to Europe and North America, but the high production volume in APAC has made it an attractive automotive elastomers market. The increasing rate of industrialization has raised the overall purchasing power of consumers in the region.
As per the National Bureau of Statistics of China, the yearly per capita disposable income of urban households in the country grew to $4,692.9 in 2014 from $2,818.6 in 2010. Similarly, the per capita GDP of India, which was $1,432.3 in 2010, increased to $1,500.8 in 2012, and is expected to grow further. The rise in disposable income or per capita GDP corresponds to the growing consumer affordability for high-performance vehicles in these nations, which is further expected to back the growth of the automotive elastomers market.
Restraints
The growth of the automotive elastomers market is being hampered by the volatility in oil prices and incongruity between the performance and cost of automotive elastomers. Several elastomer products, including styrene butadiene rubber, butadiene rubber, ethylene propylene diene monomers, and polyolefins, are derived from petroleum products. The volatility in the prices of crude oil, thus, affects the cost of automotive elastomer production, directly or indirectly.
The desire to transform the automotive industry by using lightweight materials for the production of energy-efficient vehicles can incur heavy expenses, thereby affecting the purchasing power of consumers. Elastomers that offer superior temperature resistance and sealing are expensive, and their use in automobiles increases the vehicle cost, which results in customers having to bear an additional expense. This, in turn, impedes the growth of the automotive elastomers market to some extent.
Automotive Elastomers Market Competitive Landscape
The global automotive elastomers market players are focusing on improving their high-performance-elastomer manufacturing capacity to strengthen their market position. For instance, LANXESS AG established a new plant for the production of ethylene propylene diene rubber (EPDM) in Changzhou, Jiangsu Province, China, in April 2015. The new plant manufactures ten premium grades of EPDM, tailored to the needs of Asian customers.
Similarly, Exxon Mobil Corporation announced plans in July 2016 to expand its specialty elastomers plant in Newport, Wales. The project was aimed at increasing the company's Santoprene thermoplastic vulcanizate manufacturing capacity by 25.0%, globally. Santoprene thermoplastic vulcanizate is a high-performance elastomer with numerous industrial, automotive, and consumer applications.
Some of the other key players in the automotive elastomers market are BASF SE, LyondellBasell Industries N.V., E. I. du Pont de Nemours and Company, Huntsman International LLC, The Dow Chemical Company, China Petrochemical Corporation, 3M Company, and Kuraray Co. Ltd.