The global 3D printing market was valued at $8.5 billion in 2017, which is projected to reach $31.8 billion by 2023, at a CAGR of 24.6% during the forecast period (2018–2023).
The stereolithography category accounted for the largest market share, in terms of revenue, in 2017. This was due to the various benefits associated with this technology, such as lower cost, high precision, and lesser manufacturing time.
Shift Toward 3D Printing from Traditional Manufacturing a Major Market Trend
The major trend in the 3D printing market is the shift to this technology from conventional ways of product manufacturing. 3D printing offers high speed, better quality, high surface finish as well as better geometrical and dimensional accuracy, due to which organizations are rapidly shifting toward 3D printing from traditional manufacturing methods. The biggest advantage of 3D printing over traditional manufacturing techniques is that in 3D printing, there is no requirement for any special tooling. Due to this reason, a large number of companies are actively adopting the technology, to pursue cost savings, by reducing unnecessary inventories in the production process. Further, 3D printing helps transform the products from just a design to an actual prototype, quickly.
Growing Demand for Mass Customization Driving the Market
Mass customization refers to the manufacturing of products on the basis of the specific demands of consumers. Nowadays, consumers want products that match their individuality, which is fueled by customizable gadgets, which drives the 3D printing market. For instance, while launching Fabia, a new car model, SKODA AUTO a.s. offered its users customized 3D car models. A prototype of the car would be delivered to the consumer with their name on the underbelly. Nowadays, mass customization is also being extended to the fashion and lifestyle niches. For instance, today, customized shoes are being manufactured via 3D printers. Such shoes can be tailored according to the needs and the comfort of the user and accurate fit of the shoes is of high importance.
Segmentation Analysis of 3D Printing Market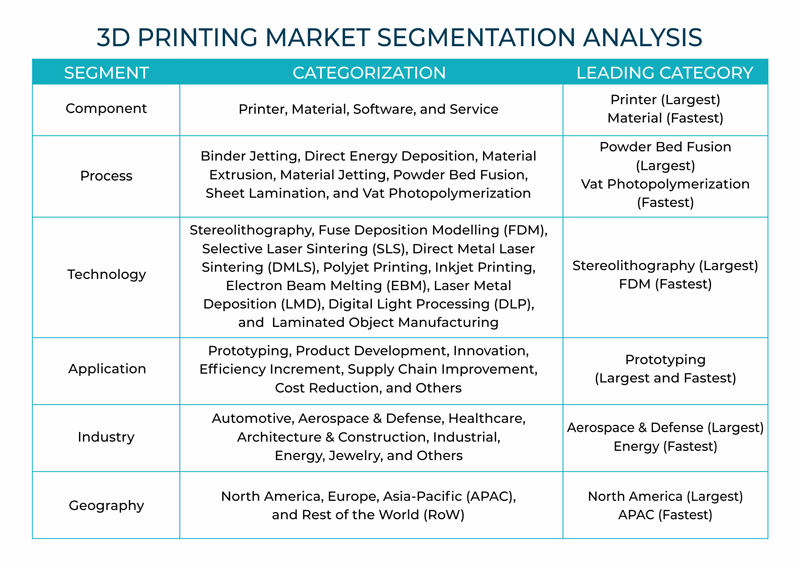 The powder bed fusion category held the largest revenue share in the 3D printing market in 2017. Owing to the ability of this process to manufacture complex shapes in various industries, such as aerospace & defense, automotive, and architecture & construction, the demand for this process is increasing globally.
The stereolithography category accounted for the largest revenue share in the market in 2017, due to the various benefits associated with this technology, including lower cost, high precision, and lesser production time.
The polymers subcategory is expected to register the fastest growth during the forecast period. This can be attributed to the heavy usage of this material type in lightweight engineering, and optics.
Geographical Analysis of 3D Printing Market
Together, North America and Europe are expected to account for over 65.0% share in the 3D printing market by 2023. This can be mainly attributed to the increasing development of complex customized products, increasing R&D investments, and surging penetration of 3D printing, particularly in small and medium enterprises (SME) that require reliable, low-cost, and high-speed prototyping of products.
Other regions, which include Asia-Pacific (APAC) and Rest of the World (RoW), also hold considerable shares in the global 3D printing market, on account of the large industrial base, favorable government policies, and trade agreements here.
Among the major APAC countries, China held the largest share, followed by India and Japan. Due to the low cost of the raw materials, rising government support, and ease of customizing the goods, China is leading the market in the region. Moreover, in the forecast period, rapid gains in the 3D printing market are expected in the country, due to the increasing focus on sample testing, designing, and prototyping.
Competitive Landscape of 3D Printing Market
3D Systems Corporation, SLM Solutions Group AG, Voxeljet AG, The ExOne Company, Autodesk Inc., Materialise NV, Stratasys Ltd., Arcam AB, Concept Laser GmbH, and EnvisionTEC GmbH are some of the major players in the 3D printing market.
Browse report overview with detailed TOC on "3D Printing Market by Components (Printer [Industrial Printer, Desktop 3D Printer], Material [Metals, Polymers, Ceramics], Software [Design Software, Printer Software, Scanning Software, Inspection Software], Service [Custom Design & Manufacturing, After-Sales Services], by Process (Powder Bed Fusion, Binder Jetting, Direct Energy Deposition, Sheet Lamination, Vat Photopolymerization, Material Extrusion, Material Jetting), by Technology, by Application, by Industry, by Geography (U.S., Canada, Germany, U.K., Italy, Spain, Japan, China, India, South Africa, Mexico, Brazil) – Global Market Size, Share, Development, Growth, and Demand Forecast, 2013–2023" at:https://www.psmarketresearch.com/market-analysis/3d-printing-market
In November 2017, 3D Systems Corporation launched the virtual reality (VR) software, which helps physicians in uploading the patient scan data to D2P, thereby visualizing the medical database in virtually, where pre-processing time consumption will be reduced.