Around the world, the adoption of geographic information system (GIS) solutions is increasing for mobile and broadband services, while the demand for network installation is also surging. Driven by these factors, the global GIS in telecom market is expected to grow to $4.6 billion by 2030, from $1.3 billion in 2019, at a CAGR of 12.2% during 2020–2030 (forecast period).
GIS in Telecom Market Segmentation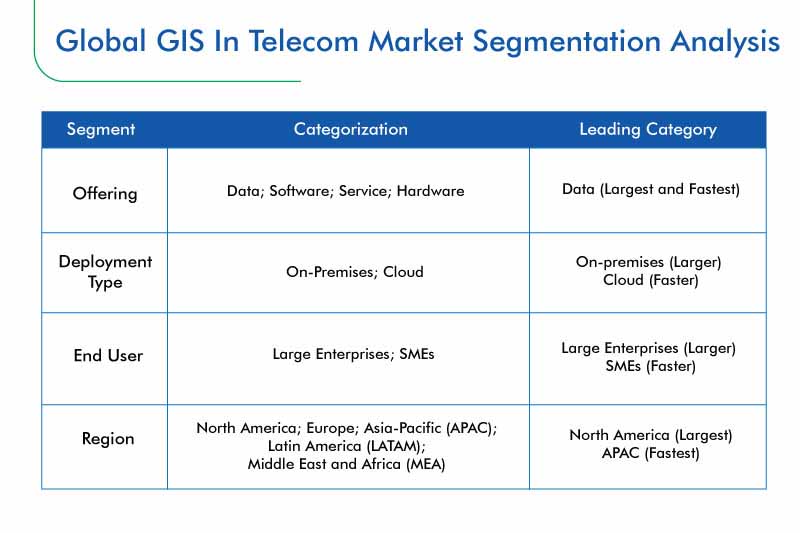 During the forecast period, the data category is projected to experience the highest GIS in telecom market CAGR, on account of the increasing investments on information technology (IT), especially in the U.S and other developed countries.
The on-premises division held the larger share in the market, in 2019, as this deployment mode offers more security and safety to the GIS data, compared to the solutions deployed on the cloud.
Till 2030, Asia-Pacific (APAC) would witness the fastest growth in the GIS in telecom market, majorly due to the high internet penetration in China, South Korea, and India. Additionally, with a strong focus on improving the network connectivity and speed, the government in several regional nations is raising its investments in 5G. For instance, the Chinese government is robustly funding efforts to install fiber-to-the-home (FTTH) and 5G networks. Similarly, in South Korea, the government has planned a total investment of $1.5 billion to make the 5G network operational by December 2020. Thus, with the increasing focus on this technology, GIS solutions are being implemented for understanding consumers' data consumption patterns and improving telecommunication services.
Market Players Pursuing Mergers and Acquisitions to Consolidate their Position
Key players in the GIS in telecom market have merged with or acquired numerous companies in the recent past to consolidate their hold on the industry. For instance, in May 2019, Bentley Systems Incorporated acquired Keynetix, which offers cloud-based software for modeling, capturing, sharing, and visualizing geotechnical data. The aim of Bentley Systems behind this move was to augment its geotechnical offerings and provide subsurface digital twin services for assets and infrastructure projects.
Browse report overview with detailed TOC on "GIS in Telecom Market Research Report: By Offering (Hardware, Software, Data, Service ), Deployment Type (On-premises, Cloud), End user (SMEs, Large enterprises)- Industry Share Analysis and Demand Forecast to 2030" at:https://www.psmarketresearch.com/market-analysis/gis-in-telecom-market
Hexagon AB, Environmental Systems Research Institute (Esri) Inc., Pitney Bowes Inc., Trimble Inc., Autodesk Inc., Bentley Systems Incorporated, General Electric Company, Schneider Electric SE, Cyient Limited, RMSI Private Limited, and L3Harris Technologies Inc. are the major global GIS in telecom market players.