The clinical trials which have yielded positive results, increasing research and development (R&D), and surging chronic disease burden are resulting in a rising demand for gene therapy. As a result, the global gene therapy market, which valued $3,407.5 million in 2019, would witness a 31.1% CAGR during 2020–2030 (forecast period).
Gene Therapy Market Segmentation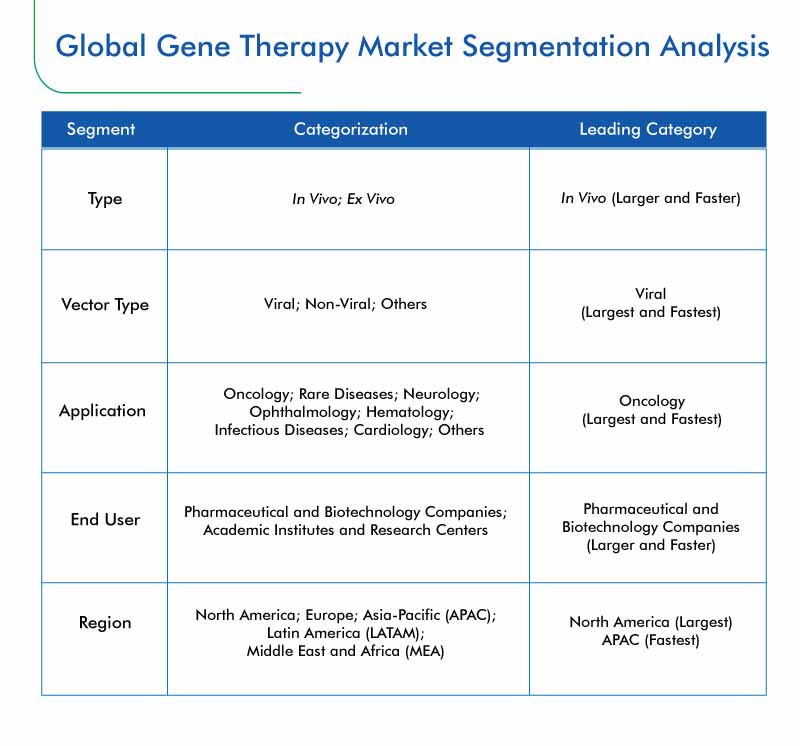 During the historical period (2014­–2019), the gene therapy market was dominated by the in vivo bifurcation, as this technique is less complicated than the ex vivo approach. In ex vivo therapy, the cells have to be first taken out of the body, manipulated artificially, and then put back inside the body, which makes the in vivo approach the preferred one. Additionally, the in vivo approach does not compromise the functioning of the host cell, which further raises the preference for it.
The viral category would hold the largest share in the gene therapy market in 2030, as such vectors display higher expression and genomic incorporation levels during clinical trials, and they are more efficient in comparison to non-viral vectors.
Asia-Pacific (APAC) is expected to experience the fastest growth in the gene therapy market during the forecast period, on account of cost-effective labor, increasing activities of major industry players, and advent of group investors. Additionally, regional countries are implementing regulations to regulate the development and approval processes of gene therapy products.
Collaborations and Partnerships are Shaping Market Competition
Collaborations and partnerships are shaping the competition in the gene therapy market, as companies are joining forces for mutual growth.
For instance, in November 2019, Lonza Group Ltd. entered into a partnership with DiNAQOR AG to advance the latter's pre-clinical program, which revolves around the treatment of cardiac myosin-binding protein-C (MYBPC3) cardiomyopathies. Under the terms, Lonza will offer pre-clinical, clinical, and commercial production support for DiNA-001, a gene therapy program initiated by DiNAQOR for people with this condition. The product supply for DiNA-001 will be carried out at Lonza's manufacturing facility in Houston, Texas, thereby giving DiNAQOR access to Lonza's teams and labs engaged in the process development of viral vectors.
Browse report overview with detailed TOC on "Gene Therapy Market Research Report: By Type (In vivo, Ex vivo), Vector Type (Viral, Non-Viral), Application (Oncology, Rare Diseases, Neurology, Ophthalmology, Hematology, Infectious Diseases, Cardiology), End User (Pharmaceutical and Biotechnology Companies, Academic Institutes and Research Centers) - Global Industry Outlook and Growth Forecast to 2030" at:https://www.psmarketresearch.com/market-analysis/gene-therapy-market
In the same vein, Spark Therapeutics Inc. and Novartis AG entered into a licensing agreement in January 2018, which gives the latter company exclusive rights to develop and market the currently under-investigation voretigene neparvovec therapy outside the U.S. Additionally, Spark will continue to market Luxturna (voretigene neparvovec-ryzl) in the U.S. Furthermore, under the terms, Spark will be responsible for obtaining the regulatory approval for voretigene neparvovec from the European Medicines Agency (EMA).
bluebird bio Inc., Spark Therapeutics Inc., Amgen Inc., Orchard Therapeutics plc, Thermo Fisher Scientific Inc., REGENXBIO Inc., Pfizer Inc., Applied Genetic Technologies Corporation, Novartis AG, and Adverum Biotechnologies Inc. are the major global gene therapy market players.