The global fire extinguishers market was valued at $4,487.0 million in 2017 and is expected to reach $6,452.3 million by 2023, advancing at a CAGR of 6.2%% during the forecast period (2018–2023). Dry-chemical-&-dry-powder fire extinguishers are witnessing rapid industry growth, based on product type, owing to their high efficiency.
On the basis of end user, the residential category is expected to witness the fastest revenue growth in the coming years, owing to the increasing awareness about fire safety, along with construction of new residential complexes in developing countries, such as China, India, and Brazil. In addition, governments of these countries are setting targets to provide housing facilities to the underprivileged, which, in turn, is expected to create a high demand for fire extinguishers.
Development of New Solutions for Fire Fighting Practices is Trending in Market
The development of new solutions, such as sound-based fire extinguishers, is one of the latest trends in the market. In sound-based fire extinguishers, acoustic waves are produced, which increase the air velocity, thereby ultimately leading to the reduction of the boundary layer of the combustion source. The market demand for such extinguishers is expected to increase from the aerospace sector, for usage in enclosed spaces such as cockpits, in the coming years.
Implementation of Stringent Fire Safety Norms to Drive the Demand for Fire Extinguishers
In recent times, there has been a rapid increase in the awareness about fire hazards in commercial spaces with large circuits, having a low load bearing capacity. Owing to this, developed countries in North America and Europe have implemented stringent fire safety norms. Such norms require the installation of fire safety equipment such as fire extinguishers mandatorily in commercial, residential, and industrial facilities. In addition, developing nations, such as China, India, and Brazil, are expected to implement strict fire safety regulations in the coming years, in order to avoid mishaps, which would drive the fire extinguishers market.
Segmentation Analysis of Fire Extinguishers Market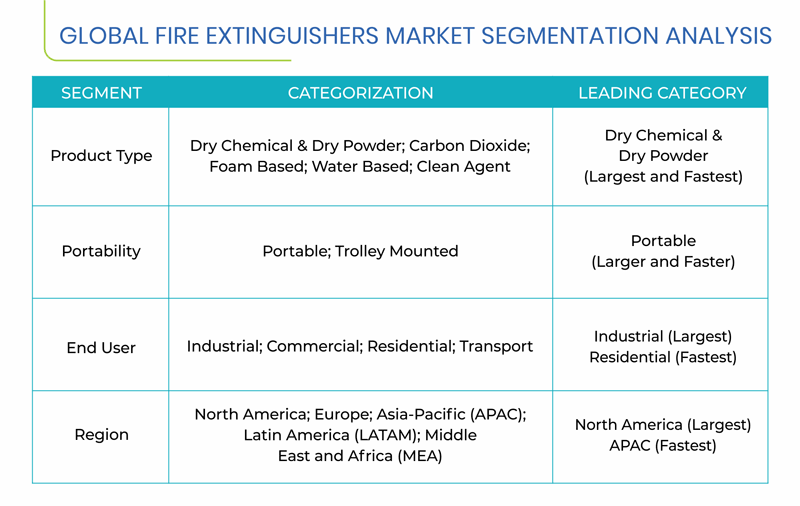 Portable fire extinguishers dominated the market, on the basis of portability, owing to their advantages of being easily taken to the hazard spot in an emergency. This market category is also expected to witness faster growth during the forecast period.
The industrial category held the largest fire extinguishers market revenue share, of over 50%, in 2017, on the basis of end user, and it is expected to witness significant growth during the forecast period. This can be attributed to the adoption of fire extinguishers in new industrial units in emerging economies, such as India, China, and Brazil.
Geographical Analysis of Fire Extinguishers Market
North America held the largest share in the fire extinguishers market in 2017. This can be ascribed to the stringent fire safety regulations in Canada and the U.S. Along with the increasing fire safety concerns in these countries, the adoption of fire extinguishers is expected to increase with the rise in the modernization rate of existing commercial projects.
Competitive Landscape of Fire Extinguishers Market
The leading players in the global fire extinguishers market include Britannia Fire Ltd., First Alert Inc., Ceasefire Industries Pvt. Ltd., Desautel, and Feuerschutz Jockel GmbH & Co. KG.
Browse report overview with detailed TOC on "Fire Extinguishers Market by Product Type (Dry Chemical & Dry Powder, Carbon Dioxide, Foam Based, Water Based, Clean Agent), by Portability (Portable, Trolley Mounted), by End User (Industrial, Commercial, Residential, Transport) by Geography (U.S., Canada, Germany, France, U.K., Italy, China, Japan, India, South Korea, Brazil, Mexico, Saudi Arabia, U.A.E., South Africa, Egypt) – Global Market Size, Share, Development, Growth, and Demand Forecast, 2016–2023" at:https://www.psmarketresearch.com/market-analysis/fire-extinguishers-market
The players in the global market are involved in several strategic developments, in order to gain a larger market share. For instance, in November 2017, Frontier Fire became an authorized distributor of Ansul, a brand of fire extinguishers by Tyco Fire Protection Products. With this agreement, Tyco Fire Protection Products aims to cater to a higher number of customers.
GLOBAL FIRE EXTINGUISHERS MARKET SEGMENTATION
By Product Type
Dry Chemical and Dry Powder
Carbon Dioxide
Foam Based
Water Based
Clean Agent
By Portability
By End User
Industrial
Commercial
Residential
Transport
By Region
North America
Europe

Germany
France
U.K.
Italy
Rest of Europe

Asia-Pacific (APAC)

China
Japan
India
South Korea
Rest of APAC

Latin America (LATAM)

Brazil
Mexico
Rest of LATAM

Middle East and Africa (MEA)

Saudi Arabia
U.A.E.
South Africa
Egypt
Rest of MEA