Around the world, the integration of fingerprint sensing functionalities is not only rising in smartphones, but also among government organizations. Both these factors are together expected to propel the global fingerprint sensors market, which had reached $3.8 billion in 2019, at a 13.6% CAGR from 2020 to 2030. Such instruments like biometric sensors are used to scan the fingerprint of people and then convert the patterns to a digital form. During identity authentication, the fingerprint scan of the user taken at that moment is matched with the image already stored on a computer.
Fingerprint Sensors Market Segmentation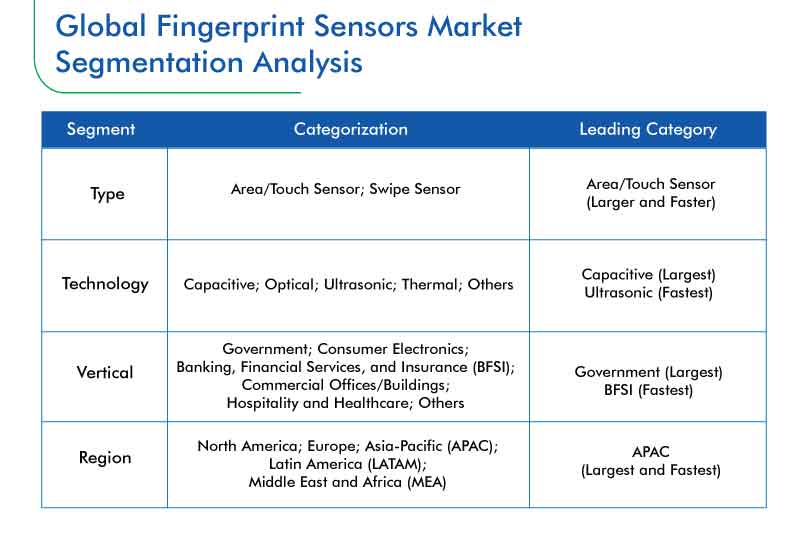 Up till now, area/touch sensors have witnessed higher demand, due to the preference for them for use in smartphones and many other consumer electronics, because their sensing capability is better than the swipe variants.
The ultrasonic category is predicted to grow the fastest in the industry in the coming years. This would be a result of the high accuracy of this technology in capturing the prints from wet, dry, and dirty fingers. This is why capacitive and optical fingerprint sensors are rapidly being replaced with ultrasonic variants.
Browse report overview with detailed TOC on "Fingerprint Sensors Market Research Report: By Type (Area/Touch Sensors, Swipe Sensors), Technology (Capacitive, Optical, Thermal, Ultrasonic), Vertical (Consumer Electronics, Government, BFSI, Commercial Offices/Buildings, Hospitality and Healthcare)-Global Industry Analysis and Growth Forecast to 2030" at:https://www.psmarketresearch.com/market-analysis/fingerprint-sensors-market-outlook
Till 2030, the highest sale of fingerprint sensing devices will be seen in Asia-Pacific (APAC), as the government of China, Indonesia, and India are rapidly integrating biometric sensors for verifying people's identity. In addition, with the rising disposable income, the regional population, which is itself on an upward growth spiral, is quickly buying smartphones integrated with such instruments.
Partnerships Steering Market Players Toward Bright Future
Partnerships are being seen by fingerprint sensors manufacturing firms as the key strategic measure to increase their profits.
For instance, in December 2019, Fingerprint Cards AB and a payment technology provider company, named Valid S.A., began a collaboration to offer contactless biometric payment cards. Fingerprint Cards AB's aim behind this move was to capture a larger share of the fingerprint sensors domain in the U.S. and Latin America (LATAM).
On similar lines, Integrated Biometrics LLC entered into a technical partnership with Securiport LLC in December 2019, wherein the latter company is using the fingerprint scanners supplied by Integrated Biometrics in its border management, civil aviation security, threat assessment, and advanced identification systems.
Fingerprint Cards AB, Synaptics Incorporated, Apple Inc., Egis Technology Inc., Integrated Biometrics LLC, Qualcomm Incorporated, id3 Technologies, Shenzhen Goodix Technology Co. Ltd., IDEX Biometrics ASA, and Next Biometrics Group ASA are the major companies operating in the global fingerprint sensors market.