Global emotion analytics market was valued at $164.7 million in 2018, and is further expected to generate $1,419.2 million revenue by 2024, exhibiting a CAGR of 46.8% during the forecast period. On the basis of application, the customer experience management category held the largest share in the market in 2018, and is further expected to witness the fastest growth, with a CAGR of over 48% during the forecast period. This can be attributed to the increasing need to evaluate the overall customer experience, and then predict customer satisfaction score which helps companies to increase sales effectiveness.
Use of Emotion Analytics in Marketing Applications
In this customer-centric business environment, understanding emotional feelings of customers help marketers to retain their customer base. Multiple companies are using emotion analytics as a tool to compare between the expected and real emotion of customers toward a particular product or service. This enables marketers to analyze the reactions and emotions of customers on certain advertisements and change or improve their marketing strategies accordingly.
Increasing Demand from Retail Industry
An increasing demand for emotion analytics from retailers is driving the market across the globe. With increasing market competition, customer expectations are changing, and retailers have engaged in new initiatives and investments that are designed to meet the evolving needs of their customers. Emotion analytics can help retailers and brands understand how shoppers feel about what they are purchasing or not purchasing, and helps them to manage their inventory as per their preferences that results in repeat store visits. In addition, emotion analytics also measures consumers' feelings throughout in-store experience and help companies to make smarter decisions for their businesses.
Segmentation Analysis of Emotion Analytics Market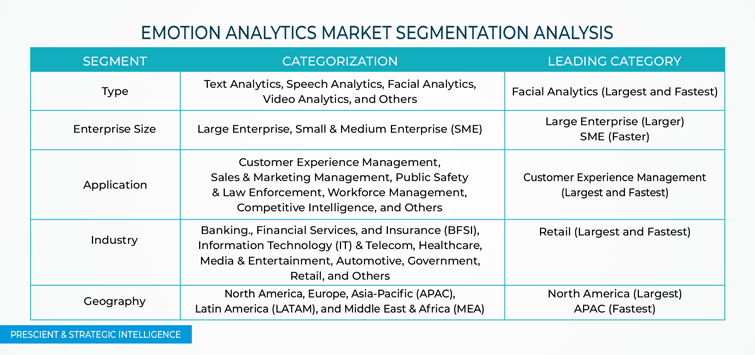 Based on type, facial analytics category held the largest market share in 2018, and is expected to witness fastest growth during the forecast period as well. As the facial expressions are strongly linked with emotion, a large number of organizations are increasingly using facial analytics to assess facial expressions and gauge customers' feelings toward products and services.
On the basis of enterprise size, large enterprise category held the largest share in the market in 2018. This is owing to the capacity of large enterprises to make considerable IT investments in order to deploy emotion analytics. However, SME category is expected to exhibit faster growth during the forecast period; owing to the easy availability and scalability of cloud-based emotion analytics solution.
On the basis of industry, retail segment held the largest share in 2018. Due to the availability of varieties of goods from numerous brands, customers are hesitant toward any particular brand, which is making the industry highly dynamic and challenging. Retailers are increasingly adopting emotion analytics solution to meet the needs of their existing customers and maintain a competitive edge over its competitors.
Geographical Analysis of Emotion Analytics Market
Together, North America and Europe are expected to account for over 60% share in the global emotion analytics market by 2024, owing to the huge presence of large enterprises and SMEs, surging IT spending, and growing services industry in the region. Other geographies, which include APAC, LATAM, and MEA, also hold considerable shares in the global emotion analytics market. Among these, APAC is expected to witness the fastest growth in the market during the forecast period. This can be attributed to the surging digital services in the region.
Browse report overview with detailed TOC on "Emotion Analytics Market Research Report: By Analytics Type (Text, Speech, Facial, Video), Enterprise Size (Large Enterprise, SME), Application (Customer Experiences Management, Sales and Marketing management, Public Safety & Law Enforcement, Workforce Management, Competitive Intelligence), Industry (BFSI, IT & Telecom, Healthcare, Media & Entertainment, Automotive, Government, Retail), Geographical Outlook (U.S., Canada, Germany, U.K., France, Italy, Russia, China, Japan, India, South Korea, Brazil, Mexico, Turkey, U.A.E., South Africa, Saudi Arabia) – Global Industry Analysis and Forecast to 2024" at:https://www.psmarketresearch.com/market-analysis/emotion-analytics-market
Competitive Landscape of Emotion Analytics Market
The market for emotion analytics is demonstrating a fragmented landscape with the presence of a large number of market players. Some of the prominent market players include Apple Inc., Eyeris Technologies Inc., Kairos AR Inc., Noldus Information Technology, Beyond Verbal Communication Ltd., Affectiva Inc., Cogito Corporation, and NVISIO SA.
In recent years, major players in the emotion analytics market have taken several strategic measures such as mergers & acquisitions, partnerships, product launches and geographical expansions to gain a competitive edge in the industry. For instance, in January 2019, Aptiv Plc. partnered with Affectiva Inc. to deliver accessible and innovative software solution integrated with deep learning in order to improve the perception capabilities in advance safety solutions and change the in-cabin experience. The integration of Affectiva's software into Aptiv's connected vehicle platform would allow fleet management companies to develop intelligent vehicles that could understand human experiences well.
Moreover, in December 2018, Cogito Corporation acquired Tenacity Solutions Inc., provider of employee engagement tool for contact center for an undisclosed amount. This acquisition would help Cogito Corporation to gain insights about behavioral methodologies.
Apart from the aforementioned companies, other players offering emotion analytics solutions, across the globe include, Lexalytics Inc., IBM Corporation, Sightcorp B.V., iMotions A/S, Sensum Co., and Google Inc., Sensum Co., NetBase Solutions Inc., SentiMetrix, Inc., Deloitte LLP, Microsoft Corporation, and Alpha Modus Corporation.
Emotion Analytics Market Segmentation
Market Segmentation by Type
Text Analytics
Speech Analytics
Facial Analytics
Video Analytics
Others (Electromyography, Eye Tracking, and Electrocardiogram)
Market Segmentation by Enterprise Size
Large Enterprise
Small and Medium Enterprise (SME)
Market Segmentation by Application
Customer Experiences Management
Sales and Marketing management
Public Safety & Law Enforcement
Workforce Management
Competitive Intelligence
Others (Market Research and Driver Monitoring)
Market Segmentation by Industry
Banking, Financial Services, and Insurance (BFSI)
Information Technology (IT) & Telecom
Healthcare
Media & Entertainment
Automotive
Government
Retail
Others (Hospitality, Manufacturing, and Gaming)
Market Segmentation by Region
North America Emotion Analytics Market

By type
By enterprise size
By application
By industry
By country–U.S. and Canada

Europe Emotion Analytics Market

By type
By enterprise size
By application
By industry
By country–Germany, U.K., France, Italy, Russia, and Rest of Europe

Asia-Pacific (APAC) Emotion Analytics Market

By type
By enterprise size
By application
By industry
By country–China, Japan, India, South Korea, and Rest of APAC

Latin America (LATAM) Emotion Analytics Market

By type
By enterprise size
By application
By industry
By country–Brazil, Mexico, and Rest of LATAM

Middle East & Africa (MEA) Emotion Analytics market

By type
By enterprise size
By application
By industry
By country–Turkey, U.A.E., South Africa, Saudi Arabia, and Rest of MEA