Electroceramics market is projected to reach $12,084.4 million by 2023, according to P&S Intelligence.
The market growth is expected to be driven by high-volume demand for these ceramics in end-use industries such as semiconductor and electronics, automotive, and medical. Furthermore, growth in these industries is likely to translate into increasing demand for ceramics into devices and components, thereby ascribing the growth of the market in the forthcoming period.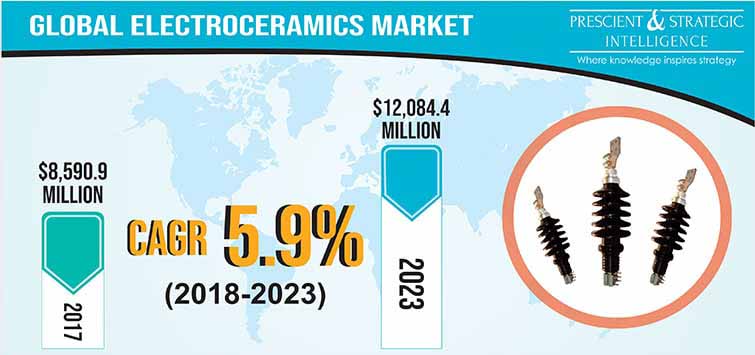 Insights into market segments
In the following report, the electroceramics market is segmented on basis of type, material, application, and region. On the basis of type, the market is categorized into dielectric ceramics, conductive ceramics, piezoelectric ceramics, magnetic ceramics, and others (fast ion and ferroelectric ceramics). Among these, dielectric ceramics accounted for the largest market share during the historical period, owing to their adoption in consumer and industrial devices and components.
Based on material, the electroceramics market is classified into titanate, zirconate, alumina, and others (silicate, niobite, and stannate). Alumina-based electroceramics accounted for the largest revenue share of over 40% in 2017. This is attributable to traditionally favorability of the products, owing to high hardness, substantial wear and heat resistance, better thermal conductivity, and high electrical insulation at high temperature ranges.
Based on application, the electroceramics market is categorized into capacitors, data storage devices, optoelectronic devices, actuators and sensors, powder distribution devices, and others (radio frequency devices and resonators). Capacitors are critical components in electronic circuits for the purpose of restricting direct current while simultaneously aiding alternating current to pass. This along with their ability to regulate power transmission in electronic circuits spearheaded the demand for ceramics and contributed in generating the largest revenue share in the market during the historical period.
Browse report overview with 115 tables and 47 figures spread through 155 pages and detailed TOC on "Electroceramics Market by Type (Dielectric Ceramics, Conductive Ceramics, Piezoelectric Ceramics, Magnetic Ceramics), by Material (Titanate, Zirconate, Alumina), by Application (Capacitors, Data Storage Devices, Optoelectronic Devices, Actuators & Sensors, Power Distribution Devices), by Geography (U.S., Canada, Germany, U.K., France, Italy, Spain, Netherlands, China, Japan, South Korea, India, Taiwan, Australia, Brazil, Mexico, Argentina, Saudi Arabia, South Africa, Israel, U.A.E.) – Global Market Size, Share, Development, Growth, and Demand Forecast, 2013–2023" at:https://www.psmarketresearch.com/market-analysis/electroceramics-market
Asia-Pacific (APAC) is expected to be the fastest electroceramics market
Globally, the APAC electroceramics market is expected to witness the fastest revenue growth, demonstrating a CAGR of 7.1%, during the forecast period. This is attributable to high-volume demand for these ceramics in consumer electronics and automotive manufacturing industries in the region. Furthermore, growth in other end-use industries such as medical are also expected to warrant adoption of these ceramics, thereby driving the growth of the market, during the forecast period.
Countries such as China, Japan, India, South Korea, and Taiwan are the regional hubs for the production of different consumer electronic products. Large industrial bases for the production of information and communications technology (ICT) goods in the region, particularly in China, meet the demand for electronic products throughout the world. Furthermore, the large-scale production of ICT goods involves the production of electronic components, consumer electronics, communication equipment, and computers and peripheral equipment. Capacitors and data storage devices form a critical component of the aforementioned goods. Since, ceramics are widely used in the production of capacitors and data storage devices, the electroceramics market in the region will continue to grow at a significant pace in the near future.
Electroceramics Market Competitive Landscape
Some of the major players operating in the global electroceramics market are Kyocera Corporation, CoorsTek Inc., CeramTec GmbH, Morgan Advanced Materials plc, Maruwa Co. Ltd., APC International Ltd., PI Ceramic GmbH, Sensor Technology Limited, Murata Manufacturing Co. Ltd., and Central Electronics Limited.
In recent years, the electroceramics market activities have been directed toward expansion of existing facilities, acquisitions, and product launches in the market. For instance, in March 2017, CeramTec GmbH announced the acquisition of the U.K.-based electroceramics business of Morgan Advanced Materials plc for a value of $60.2 million. The acquisition is aimed to assist CeramTec in expansion of its product portfolio by gaining technological capabilities for the production of piezoelectric and dielectric ceramics.
GLOBAL ELECTROCERAMICS MARKET SEGMENTATION
By Type
Dielectric Ceramics
Conductive Ceramics
Piezoelectric Ceramics
Magnetic Ceramics
Others
By Material
Titanate
Zirconate
Alumina
Others
By Application
Capacitors
Data Storage Devices
Optoelectronic Devices
Actuators and Sensors
Power Distribution Devices
Others
By Geography
North America Electroceramics Market

By type
By material
By application
By country – U.S. and Canada

Europe Electroceramics Market

By type
By material
By application
By country – Germany, U.K., France, Italy, Spain, Netherlands, and Rest of Europe

Asia-Pacific (APAC) Electroceramics Market

By type
By material
By application
By country – China, Japan, South Korea, India, Taiwan, Australia, and Rest of APAC

Latin America (LATAM) Electroceramics Market

By type
By material
By application
By country – Brazil, Mexico, Argentina, and Rest of LATAM

Middle East and Africa (MEA) Electroceramics Market

By type
By material
By application
By country – South Africa, Saudi Arabia, Israel, U.A.E., and Rest of MEA