Electroceramics Market Overview
The global electroceramics market was valued at $8,590.9 million in 2017 and is projected to reach $12,084.4 million by 2023, demonstrating a CAGR of 5.9% during the forecast period. This is due to high consumption of these ceramics in manufacturing of electronic and automotive components and devices, electrical systems, medical sensors and implants.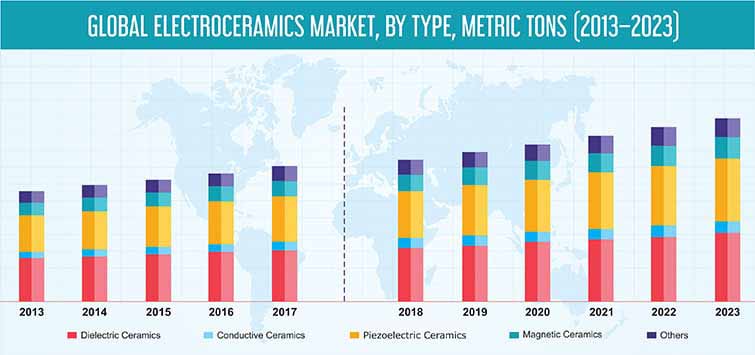 Electroceramics are a type of ceramic-based materials that possess an ability to exhibit favorable electrical properties. Furthermore, these materials also impart high thermal, mechanical, and chemical stability to products upon integration. The materials also have unique optical and magnetic properties, which encourage their usage in communication, energy storage, automation, and electronics components and devices.
On the basis of type, the electroceramics market is categorized into dielectric ceramics, conductive ceramics, piezoelectric ceramics, magnetic ceramics, and others (fast ion and ferroelectric ceramics). In 2017, dielectric ceramics accounted for a share of over 35% in the market. This was attributable to the demand for these ceramics in insulators and capacitors, which form key components in consumer and industrial electronic devices.
Based on material, the electroceramics market is classified into titanate, zirconate, alumina, and others (silicate, niobite, and stannate). Globally, alumina-based electroceramics held the largest share in the market, accounting for more than 40% share, in terms of value, in 2017. Alumina-based ceramics demonstrate high hardness and significant wear and heat resistance, improved thermal conductivity, and high-value electrical insulation at elevated temperature ranges. These properties encourage differentiated adoption of ceramics in lever collars, thread guides, and wire feeders.
The electroceramics market is classified on basis of application into capacitors, data storage devices, optoelectronic devices, actuators and sensors, powder distribution devices, and others (radio frequency devices and resonators). Capacitors accounted for the largest share, owing to high demand for these products in electric power transmission and storage components in consumer devices, appliances, and industrial grade electronic devices.
Globally, Asia-Pacific (APAC) held the largest revenue share, in terms of value, in the electroceramics market, in 2017. Additionally, the regional market is forecasted to display the fastest growth, advancing at a CAGR of 7.1% during the forecast period. This growth is likely to be exhibited owing to high-volume demand from consumer electronics manufacturing facilities in countries such as China, India, South Korea, Japan, and Taiwan.
Electroceramics Market Dynamics
Trend
The global transition toward high-volume data storage and high-speed data transfer is identified as a key trend impacting the electroceramics market. In recent years, digitalization across several countries, improving network infrastructure, and increasing data creation and application has compounded the adoption of electronic components and devices. Electroceramics, which make an integral part of telecommunication devices, are implied to handle this added demand and pressure to cater high-volume and high-speed requirements without compromising the economies of scale and technological feasibility of a telecommunication network. This is also expected to incentivize investments in research and development (R&D) for production of novel and improved substrates in the near future.
Drivers
The market factors such as growth in end-user industries such as semiconductor and electronics, automotive, aerospace, and medical; and increase in demand for ceramics in automotive components and devices, and sensors and implants are likely to propel the growth of the electroceramics market in the coming years.
The growth in semiconductor and electronics industry and a coherent high-volume demand for these products are the key areas, which are likely to propel the electroceramics market in the near future. Electroceramics are widely used in manufacturing semiconductors and electronic devices, which include capacitors, data storage devices, actuators and sensors, and power distribution devices. Furthermore, the products are highly-favored due to their ability to maintain economic viability, technological feasibility, and optimize space and size constraints in the final products such as laptops, computers, smartphones, and other consumer appliances.
The growing demand for vehicles across several countries such as Russia, Argentina, India, Brazil, and Thailand have created a high-volume demand for the ceramics due to their adoption in devices and sensors in vehicles. The ceramics are employed in combustion sensors, oxygen sensors, knock sensors, and spark plugs in automobiles. Furthermore, automobiles which operate on internal-combustion engines including cars, commercial vehicles, motorcycles, boats/ships, and low-engine power vehicles use these sensors for monitoring key performance and qualitative indicators in vehicles.
The rising spending on healthcare, increasing demand for healthcare services, and recent capital allocation by public and private partnerships in the healthcare sector have offered traction to the demand for ceramics, which are employed in cochlear implants, sensors, femoral heads, and feedthroughs. Furthermore, these materials are also likely to replace traditionally used metal-based products due to their ability to show inertness, excellent wear characteristics, biocompatibility, high compressive strength, and maintain stability in high temperature areas, which in turn, are likely to ascribe growth to the electroceramics market.
Restraints
High cost and technical complexity in manufacturing and deposition of the ceramics are likely to negatively affect the electroceramics market. Certain physical vapor deposition processes of these ceramics are performed at high temperature that employ additional equipment, thereby adding costs and causing technical limitations to morphology, which restrict widespread adoption of these products in high performance areas such as fuels cells and certain energy storage devices.
Electroceramics Market Competitive Landscape
Some of the major players operating in the global electroceramics market are Kyocera Corporation, CoorsTek Inc., CeramTec GmbH, Morgan Advanced Materials plc, Maruwa Co. Ltd., APC International Ltd., PI Ceramic GmbH, Sensor Technology Limited, Murata Manufacturing Co. Ltd., and Central Electronics Limited.
In recent years, the electroceramics market activities have been concentrated toward capital allocation and expansion of existing facilities, acquisitions, and product launches in the market. For instance, in December 2017, Kyocera Corporation developed the smallest multilayer ceramic capacitors, especially designed for mobile devices. The capacitors measure 0.25 mm x 0.125 mm x 0.125 mm and are commercially available in the market served by the company.