Drug of abuse testing market forecasted to cross $9.1 billion by 2023, P&S Intelligence.
Drug of abuse testing (DOA) market to reap considerable growth in the future
Various samples such as urine, hair and saliva are used for the testing of drug of abuse. The drug of abuse testing market is growing due to technological advancements taking place that increase sensitivity, reduce consumption of time, and facilitate detection of newly developed designer drugs. The increased use of drug of abuse tests for legal and medical purposes has made it imperative to produce results with high confidence levels. As a result, improvement can be observed in various facets such as chemistry, materials, device and equipment.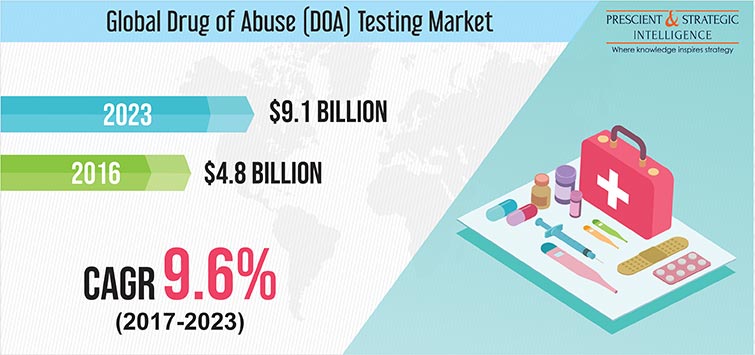 ue to increasing consumption of illicit drugs and consecutive initiatives taken by government and other organizations for reducing drug abuse levels are making the organizations aware regarding the need for drug of abuse testing. Other than that, the rise in road accidents and death rates, increased use of drug of abuse testing at organizational level and increased production and trade of illicit drugs worldwide are also the driving the demand for drug of abuse testing products.
Access Report Summary with Detailed TOC on "Drug of Abuse (DOA) Testing Market by Product (Consumable, Equipment) by Sample Type (Urine, Saliva, Hair) by End User (Hospitals, Laboratories, Workplace, At Home), by Geography (U.S., U.K., Germany, France, Italy, Japan, China, India, Brazil) - Global Market Size, Share, Development, Growth and Demand Forecast, 2013-2023" at https://www.psmarketresearch.com/market-analysis/drug-of-abuse-testing
Insights on market segments
As per the findings of the research, consumables held the larger share in the drug of abuse testing market in 2016, since consumable are easily available for use and provide rapid test results when compared to equipment. Rapid test kits are used at a large scale and its consumption is expected to increase at faster rate during the forecast period, since they are easy to use and provide result in a short span of time, as compared to assay kits & reagents.
The key players in the drug of abuse testing industry provide equipment such as immunoassay analyzers, chromatographic analyzers and breath analyzers. Among all the equipment, breath analyzers market size is projected to grow at the fastest rate, with a CAGR of 9.5% during the forecast period since they can detect the presence of drugs and alcohol in the breath easily in a short span of time, and are less expensive than other analyzers.
North America stands as the largest drug of abuse testing market
Geographically, North America has been the largest market for drug of abuse testing market, with the U.S. being the larger contributor to the regional market, as compared to rest of North America. The leading position of the North American market is mainly due to the increased availability of illicit drugs, rising workplace monitoring for consumption of illicit drugs and increased drug trafficking in the region.
According to National Institute on Drug Abuse (NIDA), in 2013, an estimated 24.6 million Americans aged 12 years or above, constituting approximately 9.4% of the total population, had used an illicit drug, which was an increase of 8.3% from 2002. The increase was mainly due to rise in the use of marijuana, the most commonly used illicit drug.
Key players in the market are acquiring other firms to gain a larger market share
Globally, the key players in the drug of abuse testing market are acquiring other companies to gain a larger market share in the industry. For instance, in January 2017, Sonic Healthcare Limited acquired Medical Laboratory Bremen, a laboratory in the North-West of Germany. The acquisition was aimed at expanding the former's presence in Germany and strengthen the company's commitment to medical leadership in laboratory medicine. The purchase price of $66.8 million (cash and debt free) was funded in Euro from Sonic Healthcare Limited's existing cash and debt facilities.
GLOBAL DRUG OF ABUSE TESTING MARKET SEGMENTATION
By Product
Consumable

Rapid Test Kits
Assay kits & reagents
Others

Equipment

Immunoassay analyzers
Chromatography instruments
Breath analyzers
By Sample Type
By End User
Hospitals
Laboratories
Workplace
At home
Others
By Region
North America

U.S.
Rest of North America

Europe

U.K.
Germany
France
Italy
Rest of Europe

Asia-Pacific

Japan
China
India
Rest of Asia-Pacific

Rest of World (RoW)