The increasing focus on real-time data analysis and rising adoption of cloud computing are helping the data warehouse as a service (DWaaS) market advance. By 2030, the market is predicted to be worth $23.8 billion, compared to its value of $1.4 billion in 2019. During the forecast period (2020–2030), the industry would observe a CAGR of 29.2%.
Data Warehouse as a Service Market Segmentation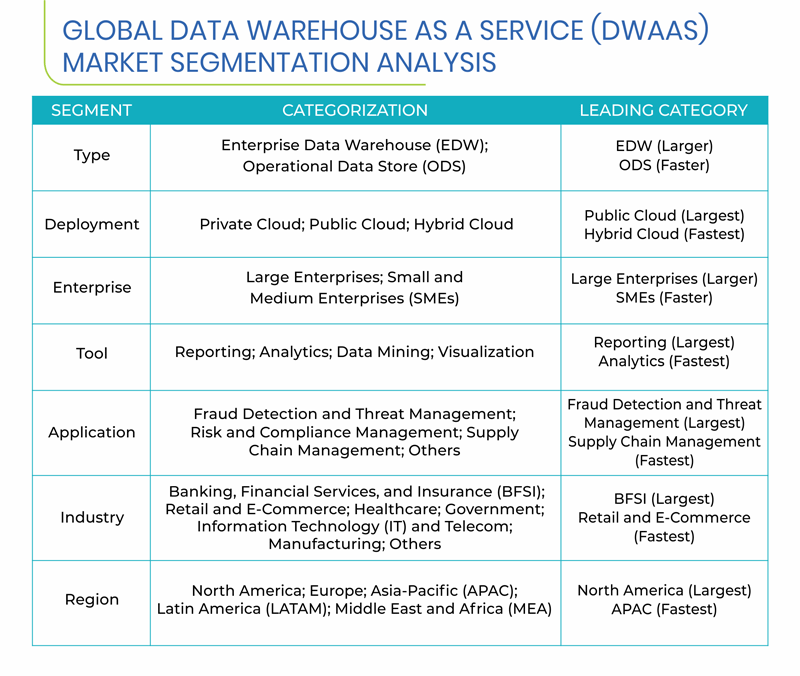 During the forecast period, the operational data store (ODS) bifurcation would witness higher CAGR in the market for DWaaS, as with these solutions, data from different sources can be integrated on a single platform, thereby making operational reporting easier. Further, ODS uses business intelligence (BI) tools to derive useful inferences from the latest data.
In 2019, the public cloud category dominated the data warehouse as a service market, as the preference of businesses on this type of application deployment is high. Public cloud lets firms optimize their information technology (IT) spending, without the requirement for hiring IT professionals and installing and maintaining servers.
Geographically, Asia-Pacific (APAC) would witness the fastest data warehouse as a service market growth, as a result of the increasing adoption of cloud-based data warehousing solutions by banks, financial institutions, and insurance companies in the region. Additionally, countries including Singapore, India, Australia, and Hong Kong are witnessing rapid digital transformation, which is pushing the demand for DWaaS solutions.
Market Players Launching New Products to Increase their Profits
In recent years, the major data warehouse as a service market players have looked at product launches to edge out their competitors and gain new customers. For instance, SAP E, in October 2019, introduced Data Warehouse Cloud, a solution which integrates all the data sources of an organization. With a single tool, users can manage data, develop and integrate applications, perform analytics, and receive related services.
Browse report overview with detailed TOC on "Data Warehouse as a Service Market Research Report: By Type (Enterprise Data Warehouse, Operational Data Store), Deployment (Public Cloud, Private Cloud, Hybrid Cloud), Enterprise (Large Enterprises, SMEs), Tool (Data Mining, Reporting, Analytics, Visualization), Application (Fraud Detection and Threat Management, Supply Chain Management, Risk and Compliance Management), Industry (BFSI, Retail and E-Commerce, IT and Telecom, Healthcare, Government, Manufacturing) – Global Industry Analysis and Growth Forecast to 2030" at:https://www.psmarketresearch.com/market-analysis/data-warehouse-as-a-service-market
Furthermore, in September 2019, a cloud-native data warehousing service — Cloudera Data Warehouse — was launched by Cloudera Inc. on its Cloudera data platform (CDP). Some of its features are self-service data repairing, auto-scaling, cloud optimization, auto-provisioning, and workload management. Additionally, this solution allows businesses to retrieve any form of data, from anywhere, thereby simplifying the lifecycle of data warehousing.
The key players operating in the data warehouse as a service market are Google LLC, International Business Machines (IBM) Corporation, Teradata Corporation, Microsoft Corporation, SAP SE, Snowflake Inc., AWS Inc., Micro Focus International plc, Cloudera Inc., Oracle Corporation, 1010data Inc., Actian Corporation, Solver Inc., Pivotal Software Inc., Panoply Ltd., Yellowbrick Data Inc., MemSQL Inc., MarkLogic Corporation, LUX Fund Technology & Solutions Inc., Netavis Software GmbH, Accur8 Software, Transwarp Technology (Shanghai) Co. Ltd., Informatica LLC, Veeva Systems Inc., PHEMI Systems Corporation, Cazena Inc., Huawei Technologies Co. Ltd., Alibaba Group Holding Ltd., and Neo4j Inc.