Enterprise Data Warehouse (EDW) to be Larger Type in Data Warehouse as a Service (DWaaS) Market
From $1.4 billion in 2019, the global data warehouse as a service (DWaaS) market is expected to reach $23.8 billion by 2030, witnessing a CAGR of 29.2% during the forecast period (2020–2030). The primary reasons behind the rising adoption of such solutions are the surging popularity of cloud computing and growing need for the analysis of data in real time.
Structural Analysis of Data Warehouse as a Service Market
The enterprise data warehouse (EDW) bifurcation is projected to hold the larger revenue share in the forecast period, based on type. This is because these type of DWaaS solutions allow companies to sort data and access it from a variety of sources, so that important decisions related to business processes can be easily taken.
During the forecast period, the hybrid cloud category, by deployment, would witness the fastest growth in the data warehouse as a service market, as such an infrastructure offers the flexibility of ownership, maintenance, control and updation, and data storage and access, by combining the public and private cloud models.
Large enterprises, on the basis of enterprise, led the market during the historical period (2014–2019). This is because the need of such companies to manage huge volumes of data, created from different sources, is quite dire. Additionally, many large enterprises are investing heavily in artificial intelligence (AI), the fruitful utilization of which mandates effective data storage and analysis.
Analytics is expected to be the fastest-growing division in the data warehouse as a service market throughout the forecast period, under the tool segment, as a result of the heavy investments in data analytics and AI, with organizations looking to predict consumer preference and behavior, to offer a better experience.
Fraud detection and management would dominate the data warehouse as a service market throughout the forecast period, on the basis of application. This is attributed to the rise in the incidents of online fraud, volume of data, and focus of businesses on using AI for data analysis.
The retail and e-commerce category, under the industry segment of the data warehouse as a service market, is expected to witness the fastest growth during the forecast period. Around the world, the online retail sector is growing, and companies are increasing adopting AI to predict consumer behavior via data analytics.
North America was the largest market for data warehousing solutions in 2019, and the situation would be the same in the coming years, due to the rising usage of data analytics in the banking, financial services, and insurance (BFSI), healthcare, retail and e-commerce, and government sectors and consumers' increasing demand for personalized services.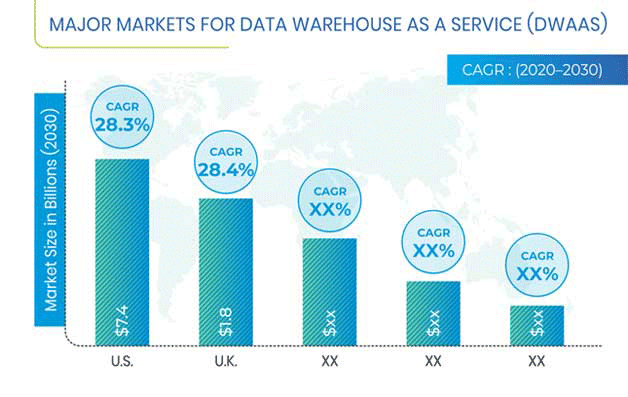 Use of Hybrid Cloud Trending in Market
One of the major trends in the data warehouse as a service market is the usage of hybrid cloud. Apart from operational flexibility, hybrid cloud also offers more options for deployment. With this technology, businesses can shift their on-premises infrastructure on public cloud, without the requirement for a third-party service provider. Additionally, hybrid cloud lets companies decide what information they want on their on-site infrastructure and what data they want to store on the cloud, thereby providing better customization control as well as secure access to critical information, at lower server costs.
Need for Real-Time Data Analysis Driving Market
The increasing focus on analyzing the data in real time is one of the most prominent data warehouse as a service market growth drivers. With quick digitization, a large volume of unstructured, semi-structured, and structured data is being generated. By leveraging this information, organizations can improve their productivity, gain and retain customers, reduce future risks, and augment their profits. Owing to all such advantages, the usage of big data storing, analyzing, and managing solutions is increasing. With DWaaS, third-party business intelligence (BI) applications can be easily deployed and query results swiftly received.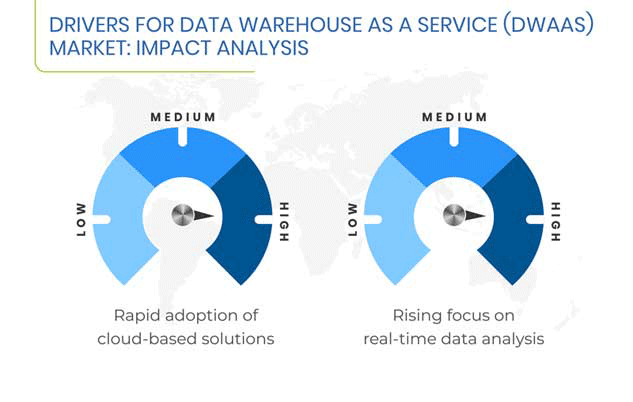 Increasing E-Commerce Sales a Key Opportunity Area for Market Players
The players in the data warehouse as a service market can look at the expanding e-commerce sector as a potential area for growth. Seeing that the smartphone penetration is rising and already 3.47 billion people are using the internet, companies are increasing offering their products and services on online sales channels. Better deals, greater product variety, easy price comparison, 24X7 hassle-free shopping experience, and home delivery are attracting people toward online retail. Therefore, to offer a personalized experience, retailers are leveraging BI tools on data warehousing solutions, as they help in the study of consumer behavior and preferences.
Product Launch the Strongest Strategic Measure in Market
To dominate the competition, the major players in the data warehouse as a service market are launching improved and novel solutions. For instance, in October 2019, the Actian Avalanche cloud data warehouse was launched by Actian Corporation on Microsoft Azure. The solution comes with many additional features, including the option to independently scale the computing and storage resources and simultaneously look after various processes, such as ad-hoc querying, data discovery, real-time data updates, and batch reporting, without reconfiguration.
Similarly, in March 2018, Oracle Corporation unveiled its Autonomous Data Warehouse. This DWaaS solution, working on the self-securing, self-driving, and self-repairing technologies, automatically patches, tunes, monitors, upgrades, and secures the database, without any human intervention, by leveraging machine learning.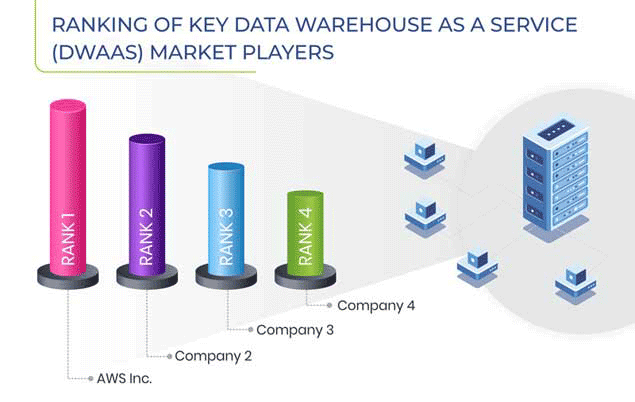 The major data warehouse as a service market players include International Business Machines (IBM) Corporation, Google LLC, Microsoft Corporation, Teradata Corporation, Snowflake Inc., SAP SE, Micro Focus International plc, AWS Inc., Oracle Corporation, Cloudera Inc., Actian Corporation, 1010data Inc., Pivotal Software Inc., Solver Inc., Yellowbrick Data Inc., Panoply Ltd., MarkLogic Corporation, MemSQL Inc., Netavis Software GmbH, LUX Fund Technology & Solutions Inc., Transwarp Technology (Shanghai) Co. Ltd., Accur8 Software, Veeva Systems Inc., Informatica LLC, Cazena Inc., PHEMI Systems Corporation, Alibaba Group Holding Ltd., Huawei Technologies Co. Ltd., and Neo4j Inc.
Market Size Breakdown by Segment
The data warehouse as a service market report offers comprehensive market segmentation analysis along with market estimates for the period 2014–2030.
Based on Type
Enterprise Data Warehouse (EDW)
Operational Data Store (ODS)
Based on Deployment
Public Cloud
Private Cloud
Hybrid Cloud
Based on Enterprise
Large Enterprises
Small and Medium Enterprises (SMEs)
Based on Tool
Data Mining
Reporting
Analytics
Visualization
Based on Application
Fraud Detection and Threat Management
Supply Chain Management
Risk and Compliance Management
Based on Industry
Banking, Financial Services, and Insurance (BFSI)
Retail and E-Commerce
Information Technology (IT) and Telecom
Healthcare
Government
Manufacturing
Geographical Analysis
North America
Europe

U.K.
Germany
France
Italy
Russia

Asia-Pacific (APAC)

China
Japan
Australia
South Korea
India

Middle East and Africa (MEA)

Turkey
U.A.E.
Saudi Arabia
South Africa

Latin America (LATAM)