Everywhere on earth, the amount of data being created is rising, in an era when maintaining private data centers is a costly affair. Moreover, the adoption of cloud on-ramp is surging, and several financial benefits can be gained by opting for colocation services. Owing to all these reasons, the global data center colocation market, which valued $42.1 billion in 2019, is projected to grow at a 14.8% CAGR from 2020 to 2030. Data colocation facilities rent out their physical spaces to companies for the storage of their IT servers, which then use the electricity supply and network connection of the data center.
Data Center Colocation Market Segmentation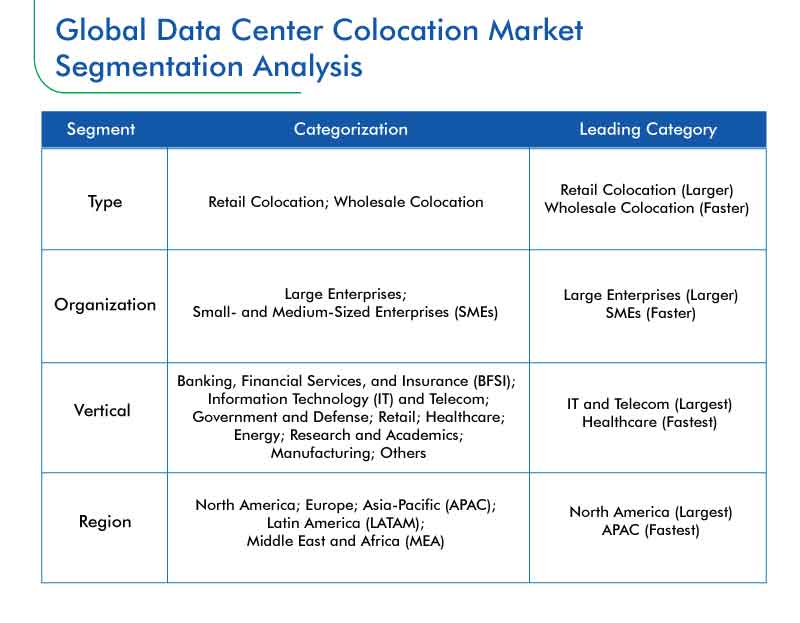 In the years to come, the wholesale colocation bifurcation is expected to witness faster growth in the industry. This is attributed to the rising requirement for large storage space and cloud by large companies, for efficient data storage and management. Strategic colocation, higher bandwidth, reduced total cost of ownership (TCO), and higher power capacity are among the several advantages that such facilities offer. Moreover, with wholesale data colocation services, companies are better able to meet the stringent regulatory requirements regarding data security and privacy.
Large enterprises have made more use of such solutions historically, as data center colocation allows such companies to reduce their operational expenditure and realize their full potential, by focusing on their core operational areas, rather than worrying about data storage. In addition, as large enterprises operate in various countries and regions, they require multiple data centers to store information. Further, big organizations prefer wholesale data colocation services as they cost less than having an on-premises facility and can be opted for multiple locations.
Till 2030, North America would continue being the most lucrative region for companies offering such data center colocation solutions. This would be because of the high number of data centers and colocation service providers in the region. Several of the world's largest technology firms, including Google LLC, Facebook Inc., and Amazon.com Inc., are headquartered and expanding their operations in the continent, which is leading to the generation of massive volumes of data, which needs efficient storage. This is why these companies are availing colocation services for efficiently managing their IT infrastructure and critical business information.
Browse report overview with detailed TOC on "Data Center Colocation Market Research Report: By Type (Retail Colocation, Wholesale Colocation), Organization (Large Enterprises, Small and Medium-Sized Enterprises), Vertical (BFSI, IT and Telecom, Government and Defense, Retail, Healthcare, Energy, Research and Academics, Manufacturing) - Global Industry Analysis and Growth Forecast to 2030" at:https://www.psmarketresearch.com/market-analysis/data-center-colocation-market
Mergers and Acquisitions Allowing Companies to Reduce Competition
In order to reduce the competition as much as possible and consolidate their position in the industry, companies offering data center colocation solutions are engaging in mergers and acquisitions.
For instance, in October 2019, Equinix Inc. entered into an agreement with Axtel S.A.B. de C.V. to acquire three of the latter's data centers, which offer colocation services in the Monterrey and Mexico City metropolitan areas in Mexico. The $175 million all-cash transaction for the acquisition, which was completed in January 2020, expanded the colocation space offered under the data center portfolio of Equinix International Business Exchange (IBX) by 115,000 square feet.
In the same vein, Jiangsu Shagang Group Co. Ltd., a Chinese steel maker, bought a 24.01% stake in British data center company Global Switch Holdings Limited in August 2019. The $2.02 billion stake, acquired from Aldersgate Investments Limited, increased the equity stake of Jiangsu Shagang Group Co. Ltd. in Global Switch Holdings Limited to 49.9%, on a look-through basis. This way, the steel maker has become the largest shareholder in the data center firm.
Digital Realty Inc., Equinix Inc., NTT Communications Corporation Ltd., China Telecom Corporation Limited, China Unicom (Hong Kong) Limited, KDDI Corporation, Cyxtera Technologies Inc., CyrusOne Inc., Global Switch Holdings Limited, CoreSite Realty Corporation, Internap Corporation, InterXion Holding N.V., Keppel Data Centres Pte Ltd., Cogent Communications Holdings Inc., Verizon Enterprise Solutions Inc., and Rackspace US Inc. are the most significant companies in the global data center colocation market.