Customized peptide synthesis market is forecasted to generate revenue of $390.0 million by 2024, according to P&S Intelligence.
The market is mainly driven by increasing investments and funding for protein-based research, technological innovations, growing burden of cancer and infectious diseases, and increasing research activities in the field of synthetic biology.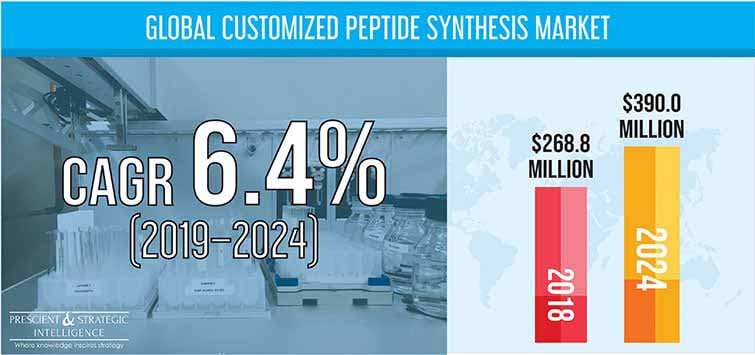 Insights on market segments
The different types of products available in the customized peptide synthesis market are reagents and equipment. Reagents category is expected to observe faster growth in demand, witnessing a CAGR of 6.8% during the forecast period. This growth can be attributed to the high usage of a wide range of reagents including substrates, additives, buffers, precipitation agents, and others for the purpose of peptide synthesis.
Among the various applications, commercial application is the fastest growing category in the customized peptide synthesis industry, demonstrating a CAGR of 6.9% during the forecast period. The recent advancements in chemical peptide synthesis and inclusion of modified amino acids have increased the commercial potential of customized peptides.
Based on technology, SPPS technology is predicted to be the fastest growing technology in the global market in the coming years, advancing at a CAGR of 6.9% during 2019-2024. As compared to SPS, this technology has high efficiency and throughput screening, with greater simplicity and speed for the production of peptides.
Pharmaceutical and biotechnology companies as an end-user category is predicted to witness fastest growth in the customized peptide synthesis market, registering a CAGR of 6.8% during the forecast period. This growth is mainly due to extensive research and large production of peptides by pharma and biotech companies across the globe.
Browse report overview with 347 tables and 54 figures spread through 295 pages and detailed TOC on "Customized Peptide Synthesis Market by Product (Reagents, Equipment [Peptide Synthesizers, Chromatography Equipment, Lyophilizers]), by Application (Commercial [Antibody Production, Disease Research, Enzyme Profiling], Academic Research [Drug Discovery, Biomarker Discovery]), by Technology (SPPS, SPS, Hybrid & Recombinant Technology), by End User (Pharmaceutical & Biotechnology Companies, CMOs & CROs, Academic & Research Institutes), by Geography (U.S., Canada, Germany, France, U.K., Italy, Spain, China, Japan, India, South Korea, Singapore, Brazil, Mexico, Israel, South Africa, Saudi Arabia) – Global Market Size, Share, Development, Growth, and Demand Forecast, 2014–2024" at:https://www.psmarketresearch.com/market-analysis/customized-peptide-synthesis-market
Asia-Pacific (APAC) is expected to be the fastest growing customized peptide synthesis market
During the forecast period, customized peptide synthesis market in APAC is expected to witness the fastest growth, observing a CAGR of 7.9%. The growth in the market is mainly led by the increasing use of peptides in drug discovery, low cost of raw materials, technological advancements, increasing life sciences research activities, and availability of funds for research and development.
Additionally, increase in the sale of drugs derived from peptides has attracted interest of drug manufacturers toward the development of innovative and advanced products for treating chronic diseases. For instance, China Medical System Holdings Limited, developed XinHouSu, a recombinant human brain natriuretic peptide for injection, for treating acute heart failure. XinHouSu, which is currently available only in China, recorded revenue of $62.3 million in 2017, witnessing an 18.9% increase compared to 2016 revenue.
Moreover, new research findings hold a great opportunity for the discovery of drugs derived from peptides. In 2017, scientists at Takeda Pharmaceuticals Company Ltd. reported the anorectic effect of PYY3–36 (a fragment of peptide YY) in rats. Such novel discoveries based on intensive research are anticipated to support the growth of the customized peptide synthesis industry in APAC.
Product launches and advanced research to boost the market growth
Globally, the customized peptide synthesis market is witnessing rapid evolution with the development and launch of new peptide-based products. For instance, in September 2018, Biotage AB launched its new Alstra remote software, which enables the users to program the peptide synthesis setup offline, subsequently import peptide sequences, and then execute the synthesis on Initiator + Alstra.
Moreover, various research institutes are actively involved in advanced research activities related to peptide synthesis. For example, in February 2017, researchers at the Massachusetts Institute of Technology (MIT) designed a machine that can rapidly produce large quantities of customized peptides. The machine can form links between amino acids in about 37 seconds and can generate peptide molecules (containing up to 60 amino acids) in less than an hour. Hence, the market is witnessing evolution on account of new product launches and advanced research.
Some of the other key players operating in the customized peptide synthesis industry are GenScript Biotech Corporation, Bachem AG, Thermo Fisher Scientific Inc., AAPPTec LLC, Advanced ChemTech, AnaSpec Inc., New England Peptide Inc., Rockland Immunochemicals Inc., INTAVIS Bioanalytical Instruments AG, and JPT Peptide Technologies GmbH.
GLOBAL CUSTOMIZED PEPTIDE SYNTHESIS MARKET SEGMENTATION
Market Segmentation by Product
Reagents
Equipment

Peptide synthesizers
Chromatography equipment
Lyophilizers
Market Segmentation by Application
Commercial

Antibody production
Drug discovery
Enzyme profiling
Others

Academic Research

Disease research
Biomarker discovery
Others
Market Segmentation by Technology
Solid-Phase Peptide Synthesis (SPPS)
Solution-Phase Peptide Synthesis (SPS)
Hybrid and Recombinant Technology
Market Segmentation by End User
Pharmaceutical and Biotechnology Companies
Contract Manufacturing Organizations (CMOs) and Contract Research Organizations (CROs)
Academic and Research Institutes
Market Segmentation by Geography
North America Customized Peptide Synthesis Market

By product
By application
By technology
By end user
By country

U.S. customized peptide synthesis market

By product
By application
By technology
By end user

Canada customized peptide synthesis market

By product
By application
By technology
By end user

Europe Customized Peptide Synthesis Market

By product
By application
By technology
By end user
By country

Germany customized peptide synthesis market

By product
By application
By technology
By end user

France customized peptide synthesis market

By product
By application
By technology
By end user

U.K. customized peptide synthesis market

By product
By application
By technology
By end user

Italy customized peptide synthesis market

By product
By application
By technology
By end user

Spain customized peptide synthesis market

By product
By application
By technology
By end user

APAC Customized Peptide Synthesis Market

By product
By application
By technology
By end user
By country

China customized peptide synthesis market

By product
By application
By technology
By end user

Japan customized peptide synthesis market

By product
By application
By technology
By end user

India customized peptide synthesis market

By product
By application
By technology
By end user

South Korea customized peptide synthesis market

By product
By application
By technology
By end user

Singapore customized peptide synthesis market

By product
By application
By technology
By end user

LATAM Customized Peptide Synthesis Market

By product
By application
By technology
By end user
By country

Brazil customized peptide synthesis market

By product
By application
By technology
By end user

Mexico customized peptide synthesis market

By product
By application
By technology
By end user

MEA Customized Peptide Synthesis Market

By product
By application
By technology
By end user
By country

Israel customized peptide synthesis market

By product
By application
By technology
By end user

South Africa customized peptide synthesis market

By product
By application
By technology
By end user

Saudi Arabia customized peptide synthesis market

By product
By application
By technology
By end user