Market Outlook
The customized peptide synthesis market revenue stood at $268.8 million in 2018, and the market is predicted to advance at a CAGR of 6.4% between 2019 and 2024. The increasing incidence of cancer and infectious diseases, surging research activities in the domain of synthetic biology, soaring investments in protein-based research, and rapid technological advancements are the major market growth drivers.
The reagents category held a 69.5% market share in 2018, under the product segment. Furthermore, the peptide synthesizers sub-classification, under the equipment category, is predicted to exhibit rapid growth, with a CAGR of 5.8%, from 2019 to 2024.
The commercial category, within the application segment, is predicted to hold a 62.0% market share in 2024. This is credited to the increasing technological advancements in the domain of peptide synthesis.
The solid-phase peptide synthesis (SPPS) category, under the technology segment, is set to dominate the market for customized peptide synthesis solutions in the forthcoming years, by holding a more than 50.0% share in 2024. This is because this technology has a higher throughput screening and efficiency, and it provides a greater speed and simplicity in peptide production in comparison to other technologies.
The pharmaceutical and biotechnology companies category held the largest share (56.1%) in the customized peptide synthesis market in 2018, under the end user segment. This was primarily due to the extensive research being conducted in this field and large-scale production of peptides by biotech and pharma companies.
Globally, North America led the market, with a revenue contribution of 33.8%, in 2018. This is attributed to the surging usage of peptides for disease research, monoclonal antibody production, and drug discovery, rising incidence of chronic diseases, and availability of huge government funding for peptide research in the region.
Market Dynamics
Peptide production has drastically change in recent years, mainly because of the huge technological developments. Earlier, peptides were produced from natural sources, such as adrenocorticotropic hormone (ACTH) from porcine and bovine pituitary and insulin from bovine and canine pancreas. This method of production was not only time-consuming but also had a low output. However, with rapid technological advancements, manufacturers have started manufacturing synthetic peptides, such as vasopressin, leuprorelin, oxytocin, and octreotide, with the help of the recombinant, hybrid, solution-phase peptide synthesis (SPS), and SPPS technologies.
Additionally, several firms are developing highly advanced platforms for peptide synthesis, thereby propelling the customized peptide synthesis market growth. For example, New England Peptide Inc. (NEP) utilizes its PepTrend system for designing and synthesizing custom peptides.
The increasing participation of private and public research organizations in synthetic biology research is also fueling the expansion of the market. This is causing a sharp rise in the investments being made in the research and development (R&D) activities for advanced bio-based products, for overcoming various global health challenges, such as chronic diseases.
The high capital requirement for R&D activities, contamination problems during peptide synthesis, and no updation in regulatory standards are some of the key factors hampering the progress of the customized peptide synthesis industry.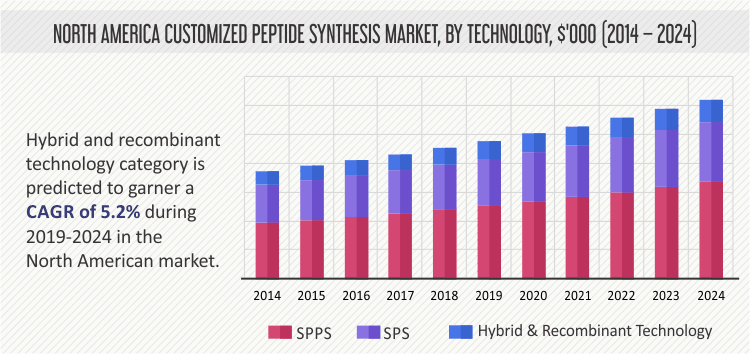 Competitive Landscape
Key players in the customized peptide synthesis market are launching new products, to gain larger share in the market. For instance, in December 2018, JPT Peptide Technologies GmbH launched 72 new antigen peptides and PepMixes peptide pools for antigen-specific stimulation of T cells. This new range of peptides includes several cellular immune response peptides. The PepMixes reproduces a whole protein antigen by a mixture of overlapping peptides.
Some of the other key manufacturers in the customized peptide synthesis industry are GenScript Biotech Corporation, Bachem AG, Thermo Fisher Scientific Inc., AAPPTec LLC, Advanced ChemTech, AnaSpec Inc., New England Peptide Inc., Rockland Immunochemicals Inc., and INTAVIS Bioanalytical Instruments AG.