Customized Peptide Synthesis Market Overview
The global customized peptide synthesis market is estimated a revenue of $268.8 million in 2018 and is predicted to progress at a CAGR of 6.4% during 2019–2024. Technological innovations, increasing research activities in the field of synthetic biology, growing burden of cancer and infectious diseases, and increasing investments and funding for protein-based researches are the major factors driving the market growth.
Based on product, the customized peptide synthesis market has been categorized into reagents and equipment. Reagents category is estimated to hold 69.5% market share in 2018. Furthermore, among the various equipment used for peptide synthesis, the market for peptide synthesizers is expected to witness considerable growth, advancing at a CAGR of 5.8% during the forecast period.
On the basis of application, the customized peptide synthesis market has been bifurcated into commercial and academic research. Customized peptides are largely used for commercial applications and expected to hold 62.0% share in the market by 2024. This can be mainly ascribed to the growing technological advancements in the field of peptide synthesis.
Based on technology, the customized peptide synthesis industry has been categorized into solid-phase peptide synthesis (SPPS), solution-phase peptide synthesis (SPS), and hybrid and recombinant technology. Of all types of technology, SPPS technology is expected to lead the market in the coming years, accounting for more than 50.0% share by 2024. As compared to SPS, this technology has higher efficiency and throughput screening, with greater simplicity and speed for the production of peptides.
Based on end user, the customized peptide synthesis market has been primarily classified into pharmaceutical and biotechnology companies, contract manufacturing organizations (CMOs) and contract research organizations (CROs), and academic and research institutes. Pharmaceutical and biotechnology companies are the largest end-user category in the market, with an estimated share of 56.1% in 2018, mainly on account of extensive research and large production of peptides by pharma and biotech companies across the globe.
Geographically, North America is the largest market with an estimated contribution of 33.8% to the global customized peptide synthesis market in 2018. This growth in the North American market is mainly due to the increasing usage of peptides for drug discovery, disease research, and preparing monoclonal antibodies; increasing government funding for peptide research; and growing prevalence of chronic diseases in the region.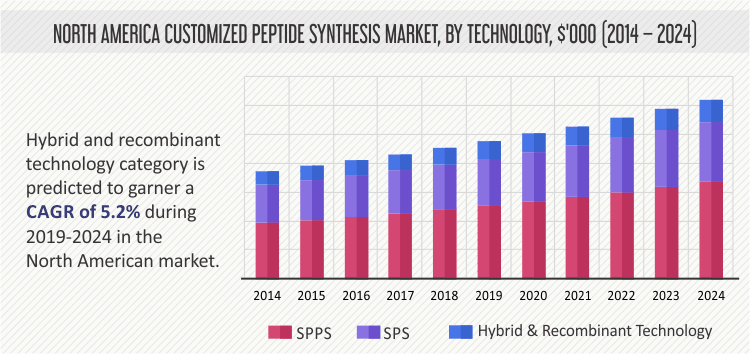 Customized Peptide Synthesis Market Dynamics
Growth Drivers
Peptide utilization in the pharmaceutical industry has undergone a massive change in recent years on account of technological developments. Earlier, peptide production was carried out with the help of natural sources, such as insulin from canine and bovine pancreas, and adrenocorticotropic hormone (ACTH) from bovine and porcine pituitary. This type of production was time-consuming and at the same time, resulted in low production. However, with advancements in technology, manufacturers started synthesizing synthetic peptides, such as oxytocin, vasopressin, octreotide, and leuprorelin with the help of SPPS, SPS, hybrid and recombinant technologies. SPPS is one of the advanced technologies used for the production of synthetic peptides.
Moreover, several companies are developing advanced platforms for the synthesis of peptides. For instance, New England Peptide Inc. (NEP) uses its PepTrend system, a unique software program, to design and synthesize custom peptides.
On the other hand, increasing participation of public and private research entities in synthetic biology research is boosting the growth of the customized peptide synthesis market, globally. Number of public and private entities conducting research in the field of synthetic biology grew exponentially during 2009–2013. The growing participation of research entities has led to an increase in the overall research and development (R&D) investment for the development of innovative and advanced bio-based products to overcome global health challenges, including increasing incidence of chronic diseases.
Restraints
Lack of updation in regulatory standards, contamination issues during peptide synthesis, and high capital requirements for research pose major threats on the customized peptide synthesis industry, which would restrict overall market growth in the coming years.
Customized Peptide Synthesis Market Competitive Landscape
Key players in the customized peptide synthesis market are launching new products, to gain larger share in the market. For instance, in December 2018, JPT Peptide Technologies GmbH launched 72 new antigen peptides and PepMixes peptide pools for antigen-specific stimulation of T cells. This new range of peptides includes several cellular immune response peptides. The PepMixes reproduces a whole protein antigen by a mixture of overlapping peptides.
Some of the other key manufacturers in the customized peptide synthesis industry are GenScript Biotech Corporation, Bachem AG, Thermo Fisher Scientific Inc., AAPPTec LLC, Advanced ChemTech, AnaSpec Inc., New England Peptide Inc., Rockland Immunochemicals Inc., and INTAVIS Bioanalytical Instruments AG.