The global commercial electric vehicle market was valued at $144.5 billion in 2017, and it is expected to reach $362.7 billion by 2025, exhibiting a CAGR of 13.3% between 2018 and 2025. On the basis of propulsion, the battery electric vehicle (BEV) category is expected to register the fastest growth during the forecast period.
China is the largest commercial electric vehicle market, and according to the newly released third phase of the subsidy policy of China, bus operators in the country receive double the amount of subsidies on BEVs as compared to plug-in hybrid electric vehicles (PHEV). Besides, major manufacturers are focusing on adding BEVs to their product portfolios, which is further boosting the market growth.
Long-Term Cost Benefits of Commercial Electric Vehicles to Lead to Market Growth
Despite their high initial cost, commercial electric vehicles have considerably low operating costs, which is a major driver for the global commercial electric vehicle market. This cost advantage, coupled with their long-term environmental benefits, is the reason transit agencies in developing countries are adopting them in their fleet. The establishment of new cities and satellite cities in developing countries is offering significant opportunities to develop the supporting infrastructure for commercial electric vehicles. As per Indian Infrastructure Publishing, a company offering information on the infrastructure sector in India through conferences, magazines, newsletters, and research reports, an electric bus, in its entire life cycle, saves fuel worth $365,000 as compared to a diesel bus, and fuel worth $225,000 as compared to a compressed natural gas (CNG) bus. Moreover, commercial electric vehicles are less noisy and require less maintenance, as compared to their conventional counterparts.
Segmentation Analysis of Commercial Electric Vehicle Market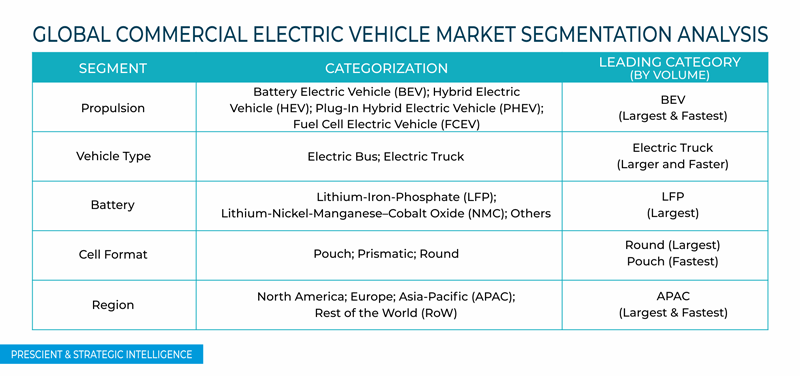 On the basis of vehicle type, electric truck was the larger category during the historical period and it is also expected to be the faster growing category in the commercial electric vehicle market, during the forecast period.
Based on battery, LFP batteries are expected to continue dominating the commercial electric vehicle market in the coming years. LFP batteries are safer than other batteries available in the market and are therefore more preferred for heavy-duty electric buses and trucks. However, during the forecast period, the fastest growth in the market is expected from NMC battery-powered commercial electric vehicles.
Geographical Analysis of LSEV Market
The APAC region is the largest and fastest growing region in the commercial electric vehicle market. China is the leading country in this region, owing to the existence of government support for commercial electric vehicle adoption. Other countries in the region, such as India, are also adopting aggressive policies to include electric buses in the government and private fleets, thereby benefitting the growth of the market. However, reducing subsidies, limited infrastructure, and inefficient value chain ecosystem are the main roadblocks for the growth of the electric bus market in this region.
Competitive Landscape of LSEV Market
In January 2018, Xiamen King Long United Automotive Industry Co. Ltd., a key commercial electric vehicle market player, announced that 1,240 of its electric buses had been put into service in Fujian, China. The buses included the City Light Series XMQ6802, XMQ6850, XMQ6106, and XMQ6127 models. Moreover, in December 2017, Ashok Leyland Ltd. increased its share in its U.K.-based subsidiary, Optare PLC, by 23.20%, to 98.31% from 75.11%, by converting its existing loans (to Optare PLC) into equity. This conversion is expected to strengthen the balance sheet of Optare, while Ashok Leyland would consolidate its holding in the U.K. firm.
Some of the major players in the commercial electric vehicle market, engaged in manufacturing electric buses, are AB Volvo, Alexander Dennis Ltd., Alstom–NTL, Anhui Ankai Automobile Co. Ltd., Ashok Leyland Ltd., Bluebus SAS, Bozankaya A.S., BYD Co. Ltd., Caetanobus - Fabrico De Autocarros E Carrocarias S.A., Chariot Motors, Dongfeng Motor Corp., Ebusco B.V., Nanjing Golden Dragon Bus Co. Ltd., Proterra Inc., and Tata Motors Ltd. The major electric truck manufacturers are Cummins Inc., E-Force One AG, Hino Motors Ltd. Isuzu Motors Ltd., Iveco S.p.A., Nikola Corp., Nissan Motor Co. Ltd., Scania AB, and Workhorse Group Inc.
GLOBAL COMMERCIAL ELECTRIC VEHICLE MARKET SEGMENTATION
By Propulsion
Battery Electric Vehicle (BEV)
Hybrid Electric Vehicle (HEV)
Plug-In Hybrid Electric Vehicle (PHEV)
Fuel Cell Electric Vehicle (FCEV)
By Vehicle Type
Electric Bus
Electric Truck

Light-duty truck (LDT)
Medium-duty truck (MDT)
Heavy-duty truck (HDT)
By Battery
Lithium-iron-phosphate (LFP)
Lithium-nickel-manganese–cobalt oxide (NMC)
Others
By Cell Format
by Geography
North America Commercial Electric Vehicle Market

By propulsion
By vehicle type
By battery
By country – U.S. and Canada

Europe Commercial Electric Vehicle Market

By propulsion
By vehicle type
By battery
By country – Germany, U.K., France, Italy, Spain, Netherlands, Norway, and Rest of Europe

Asia-Pacific (APAC) Commercial Electric Vehicle Market

By propulsion
By vehicle type
By battery
By country – China, Japan, South Korea, and Rest of APAC

Rest of the World (RoW) Commercial Electric Vehicle Market

By propulsion
By vehicle type
By battery
By country – Brazil, U.A.E., and Others