Across the world, the disposable income of people is rising, which is enabling them to procure products that were earlier considered out of reach of the common folk. Additionally, with a surge in the tourist activities and urban population, the construction sector is booming. Due to these reasons, the sales volume in the global commercial air conditioner (AC) market is expected to increase to 25.4 million units by 2030, from 17.6 million units in 2019, experiencing a 3.5% CAGR during 2020–2030 (forecast period).
Commercial AC Market Segmentation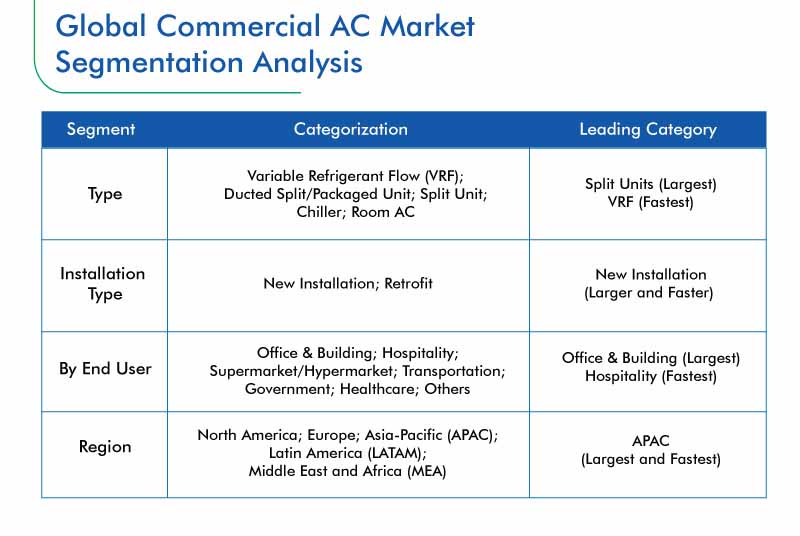 In 2019, split units were the largest category in the commercial AC market, because they can be used independently, with just one outdoor compressor, for effective and appropriate cooling. Compared to other types of ACs, split units are cost-effective and more efficient for cooling commercial spaces. Despite the fact that split ACs are slightly difficult to install, they are easier to maintain and operate, which has made them immensely popular in the past.
The offices & buildings division dominated the market during the historical period (2014–2019), as the investments for the construction of stadia and office buildings are rapidly increasing. Further, World Green Building Council's (WorldGBC) and several European banks are providing energy efficiency mortgage schemes. This is leading to the increasing construction of green buildings, thereby resulting in a high demand for energy-efficient variable refrigerant flow (VRF) systems. Additionally, in several developed countries, buildings and offices are mandated to have heating, ventilation and air conditioning (HVAC) systems for proper airflow and temperature control.
Asia-Pacific (APAC) would observe the highest CAGR in the commercial AC market during the forecast period, as it is home to the world's largest construction sector. Additionally, with the growing population, especially in China and India, the demand for commercial infrastructure is increasing, while the rising disposable income of the people in the region is helping them purchase cooling appliances more frequently, which are needed because of the surging average temperature in the region.
Market Players Launching New Products to Stay Ahead
A range of new products are being introduced by the commercial AC market players, in a bid to stay ahead of the competition. For instance, the Whisen ThinQ line of air conditioners was launched in Seoul, South Korea, by LG Electronics Inc. in January 2020. Priced between $2,456 (KRW 2.85 million) and $4,653 (KRW 5.4 million), the ACs have been launched with the intention of edging out Samsung Electronics Ltd., which is LG's biggest local rival.
Browse report overview with detailed TOC on "Commercial AC Market Research Report: By Type (VRF, Ducted Split/Packaged Unit, Split Units, Chillers, Room ACs), Installation Type (New Installation, Retrofit), End User (Offices & Buildings, Hospitality, Supermarket/Hypermarket, Transportation, Government, Healthcare) - Global Industry Analysis and Growth Forecast to 2030" at:https://www.psmarketresearch.com/market-analysis/commercial-ac-market
On similar lines, in November 2019, room air conditioners with built-in air purifiers were launched by Blue Star Limited in India. This is aimed at catering to the demand for air purifiers in the country, which is rapidly increasing owing to the high levels of air pollution in its major cities.
Samsung Electronics Co. Ltd., Johnson Controls International PLC, United Technologies Corporation, Ingersoll-Rand plc, Mitsubishi Electric Corporation, Daikin Industries Limited, LG Electronics Inc., Toshiba Corporation, Gree Electric Appliances Inc. of Zhuhai, Midea Group Co. Ltd., and Danfoss A/S are the major players in the global commercial AC market.