Variable Refrigerant Flow (VRF) to Witness Fastest Growth in Commercial Air Conditioner (AC) Market
From 17.6 million units in 2019, the total sales in the global commercial air conditioner (AC) market are expected to rise to 25.4 million units by 2030, at a CAGR of 3.5% during the forecast period (2020–2030). The key drivers for the growth of the market are the increasing number of construction projects around the world and surging disposable income of people.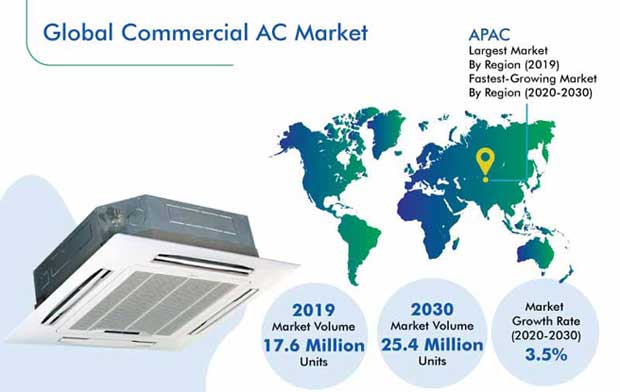 Segmentation Analysis of Commercial AC Market
The variable refrigerant flow (VRF) category is predicted to witness the fastest growth in the commercial AC market during the forecast period, under segmentation by type. This is because such appliances are cost-effective and energy efficient and offer flexibility during installation, which is why they are swiftly replacing chillers in commercial settings.
In 2019, new installations accounted for higher sales volume, based on installation type, as the number of construction projects is rising due to the development of smart cities and FIFA World Cup 2026. With new infrastructure projects being initiated and completed, the demand for the installation of new AC systems is surging.
The hospitality division would hold the largest share in the commercial AC market in 2030, on the basis of vertical, due to the consistent rise in tourist activities. As per the United Nations World Tourism Organization (UNWTO), the international tourism industry grew by 7% in 2016–17. Tourism activities are expected to rise further, with the upcoming FIFA World Cup 2022 in Qatar, Expo 2020 in the U.A.E., and FIFA World Cup 2026 in the U.S., Canada, and Mexico, thereby leading to the construction of hotels, which would, in turn, lead to an increasing demand for commercial cooling systems.
During the historical period (2014–2019), Asia-Pacific (APAC) held the largest share in the market, on account of its huge construction sector, which already generates around 60% of the worldwide construction revenue. This is itself a result of the growing disposable income and migration of people from rural areas into urban pockets. For instance, the World Bank says that in 2011, 27.8% of the population lived in urban area, and this percentage had risen to 34% in 2018.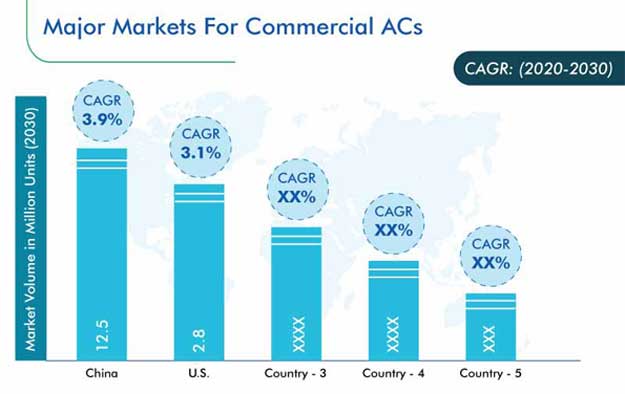 Low-Global-Warming-Potential (GWP) Refrigerants Trending in Market
The key trend in the commercial AC market is the use of refrigerants with a low global warming potential (GWP). Currently, R507, R22, and R404A, which are based on hydrochlorofluorocarbons (HCFC) and chlorofluorocarbons (CFC), are the most widely used refrigerants, owing to their easy availability. But, due to the increasing awareness about their harmful effects on the environment, they are being replaced by R32 and other low-GWP variants. In October 2016, 197 countries signed the Montreal Protocol, under which high-GWP refrigerants are to be phased out by 2020 in developed countries and by 2030 in developing nations.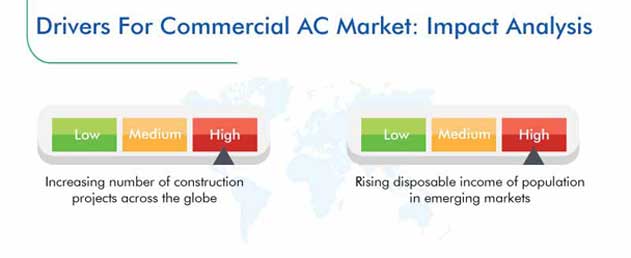 Growing Construction Sector Driving Market for Commercial ACs
Among the numerous factors behind the advance of the commercial AC market, the most important one is the growing construction industry. From $10.5 trillion in 2017, the global construction sector is set to reach $12.8 trillion by 2022. The infrastructure pipeline includes metro rail systems, office complexes, and airports, which will require cooling equipment when complete. For instance, India plans to construct 100 airports in the next 15 years, while China is pursuing 216 airports' completion by 2035. Similarly, an increasing number of skyscrapers are being erected, for instance 42 in Chicago, Illinois, U.S.; and 115 in London, U.K.
Commercial AC Market Report Coverage

| | |
| --- | --- |
| Report Attribute | Details |
| Historical Years | 2014-2019 |
| Forecast Years | 2020-2030 |
| Market Size by Segments | Type, Installation Type, End User |
| Market Size of Geographies | U.S., Canada, Germany, U.K., Greece, Netherlands, Poland, Russia, Switzerland, Italy, France, Spain, China, Japan, India, South Korea, Indonesia, Malaysia, Pakistan, Thailand, Philippines, Australia, Brazil, Mexico, Argentina, Venezuela, Colombia, South Africa, Saudi Arabia, Egypt, Nigeria |
Explore more about this report - Request free sample pages
Product Launch is Most Important Strategic Measure in Market
Players in the commercial AC market are launching new cooling equipment to attract customers and dominate the competition. For instance, in September 2019, a VRF system with the R32 refrigerant was introduced in the U.K. by Mitsubishi Electric Corporation, to cater to the increasing demand for eco-friendly electrical appliances.
In the same vein, in 2019, a new range of single commercial air conditioners was launched by LG Electronics Inc. in the Philippines. These energy-efficient systems have been developed to answer the problem of the high electricity costs in the country. They are suitable for small and medium-sized offices and stores and restaurants.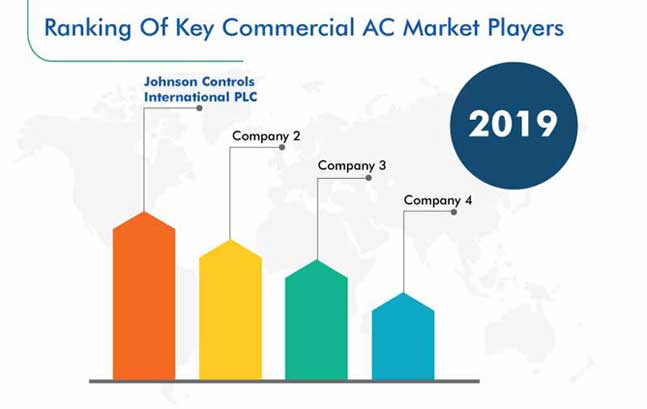 Key companies in the global commercial AC market are Johnson Controls International PLC, Samsung Electronics Co. Ltd., Ingersoll-Rand plc, United Technologies Corporation, Daikin Industries Limited, Mitsubishi Electric Corporation, Toshiba Corporation, LG Electronics Inc., Midea Group Co. Ltd., Gree Electric Appliances Inc. of Zhuhai, and Danfoss A/S.
Market Size Breakdown by Segment
The commercial AC market report offers comprehensive market segmentation analysis along with market estimation for the period 2014–2030.
Based on Type
VRF
Ducted Split/Packaged Unit
Split Units
Chillers
Room ACs
Based on Installation Type
New Installation
Retrofit
Based on End User
Offices & Buildings
Hospitality
Supermarket/Hypermarket
Transportation
Government
Healthcare
Geographical Analysis
North America
Europe

Germany
U.K.
Greece
Netherlands
Poland
Russia
Switzerland
Italy
France
Spain

Asia-Pacific (APAC)

China
Japan
India
South Korea
Indonesia
Malaysia
Pakistan
Thailand
Philippines
Australia

Latin America (LATAM)

Brazil
Mexico
Argentina
Venezuela
Colombia

Middle East and Africa (MEA)

South Africa
Saudi Arabia
Egypt
Nigeria