Since the legalization of marijuana and hemp in numerous countries, companies have begun promoting cannabiodiol as a lifestyle and wellness product. As a favorable outcome, the global CBD oil market size, which was $1,735.1 million in 2019, would grow at a 24.3% CAGR during 2020–2025. Cannabidiol is one of the main chemicals or compounds found in the cannabis plant, which is now being used to treat movement disorders, depression, pain, and anxiety.
CBD Oil Market Segmentation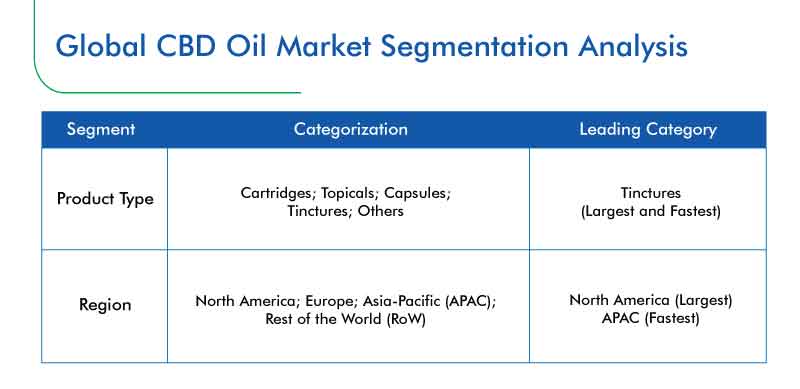 Up till now, tincture has been the most popular form of the compound, primarily owing to the increasing requirement for it among patients. In the coming years, the demand for this compound is projected to swiftly grow among recreational users, thereby benefiting the revenue generation efforts from this product. The rising number of such customers and the surging consumption of cannabidiol tinctures by them are expected to further help the market advance in the coming years. Tinctures can be easily procured through a variety of channels, a less-potent dose of tinctures is required compared to other products containing the chemical, and they do not need to be inhaled; rather can be simply placed under the tongue, to be absorbed by the capillaries.
North America will continue being the largest consumer of cannabidiol in the coming years, primarily driven by its widespread usage in the U.S. Several companies, such as Medical Marijuana Inc., Aroura Cannabis Inc., and Tilray Inc., have already started investing in the U.S., for obtaining the permit for cultivating cannabis, storing it, and distributing the end-products via different channels. Such funding activities are also aimed at mergers and acquisitions with other organizations and at purchase agreements. Additionally, market players are increasing their knowledge hoard on the medical benefits of the compound and the various products containing it and are now promoting their offerings to wellness-conscious customers.
Companies Obtaining Licenses and Certifications to Initiate Supply and Build Brand Image
The global CBD oil market players are strongly pursuing certifications and licensing, to initiate the supply of their cannabidiol-based products and build their image as brands that care about people's wellbeing.
For instance, in February 2020, the European Union Good Manufacturing Practice (EU GMP) certification was received by Aurora Cannabis Inc. With this certification, the company can increase its production capacity by 230%, to serve the rising demand for cannabiodiol-containing products across the world.
In the same vein, in October 2019, Folium Biosciences obtained the active pharmaceutical ingredient (API) license for its cannabiodiol isolate. Being produced by Folium Biosciences Europe B.V., the isolate will be made available to pharmaceutical companies.
Browse report overview with detailed TOC on "CBD Oil Market Research Report: By Product Type (Cartridges, Topicals, Capsules, Tinctures) - Global Industry Analysis and Growth Forecast to 2030" at:https://www.psmarketresearch.com/market-analysis/cbd-oil-market
The key firms engaged in the manufacturing and supply of cannabidiol include CV Sciences Inc., Aphria Inc., Isodiol International Inc., Endoca BV, Canopy Growth Corporation, Aurora Cannabis Inc., Folium Biosciences, Tilray Inc., CBDfx, and Gaia Botanicals LLC.