Across the world, the incidence of genetic diseases is rising, while the tests done to determine whether a person is a carrier are increasing in availability and affordability. Moreover, a range of advanced products are being launched, which are making the tests more accurate and reliable. All these factors are expected to propel the global carrier screening market at a 10.9% CAGR during 2020–2030 (forecast period); the market generated $1,303.6 million in 2019.
Carrier Screening Market Segmentation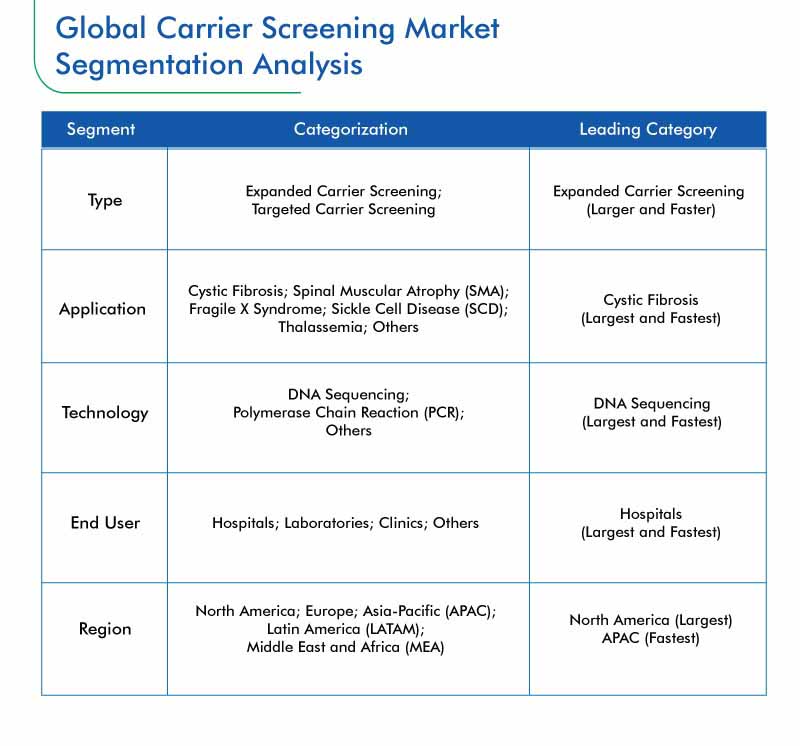 During the forecast period, the expanded carrier screening bifurcation would grow faster in the carrier screening market, as this approach allows medical professionals to test for a number of diseases simultaneously, which is why it is recommended more often during genetic counseling. Additionally, the usage of the next-generation sequencing (NGS) technology for genetic disease screening is increasing around the world.
The deoxyribonucleic acid (DNA) sequencing classification generated largest revenue in the carrier screening market during the historical period (2014–2019). This is ascribed to the user-friendly and cost-effective nature of this technology. Moreover, to use it, no major bioinformatics expertise is required, which makes it more accessible for researchers and diagnostic centers.
Asia-Pacific (APAC) is predicted to display the highest CAGR in the carrier screening market till 2030, on account of the rising awareness about such genetic screening tests in India, China, and Australia and increasing concerns of people about the health of their future children. Additionally, APAC, especially India and China, is a densely populated region, with a high prevalence of genetic diseases. This is further pushing up the demand for screening procedures, and, in turn, the products used to carry out the tests.
Market Witnessing High Number of Mergers and Acquisitions
Players in the carrier screening market are actively merging with or acquiring other companies to consolidate their position and up their industry revenue share.
For instance, in June 2019, Invitae Corporation acquired Singular Bio Inc., a company offering the single-molecule detection technology. With this acquisition, Invitae is providing Singular's technology at affordable prices.
Browse report overview with detailed TOC on "Carrier Screening Market Research Report: By Type (Expanded Carrier Screening, Targeted Carrier Screening), Application (Cystic Fibrosis, Thalassemia, Spinal Muscular Atrophy, Sickle Cell Disease, Fragile X Syndrome), Technology (DNA Sequencing, Polymerase Chain Reaction, Microarray), End User (Hospitals, Laboratories, Clinics) - Global Industry Analysis and Growth Forecast to 2030" at:https://www.psmarketresearch.com/market-analysis/carrier-screening-market
Similarly, in May 2018, Myriad Genetics announced that it will pay $375 million to acquire Counsyl, a genetic screening product company, in order to strongly position itself in the women's health domain. With this acquisition, Myriad Genetics expanded into the carrier screening space with Counsyl's Foresight test, which covers more than 175 clinically actionable conditions across ethnicities. Similarly, with the latter company's Prelude test, the former organization increased its presence in the swiftly growing non-invasive prenatal testing (NIPT) market.
Invitae Corporation, Illumina Inc., Thermo Fisher Scientific Inc., Otogenetics Corporation, Myriad Genetics Inc., Luminex Corporation, Gene By Gene Ltd., MedGenome Inc., Natera Inc., Laboratory Corporation of America Holdings, and Mount Sinai Genomics Inc. are the key global carrier screening market players.