Canada mattress and accessories market is expected to reach $2,689.8 million by 2024, exhibiting a CAGR of 1.7% during 2019–2024. Based on mattress type, the innerspring mattress category is expected to dominate the market during the forecast period. Leading mattress manufacturers, such as Tempur Sealy International, Serta Simmons Bedding LLC, and Spring Air International, are developing hybrid innerspring mattresses, offering electric adjustable beds with temperature and moisture controls. Such innovations are expected to support the growth of the innerspring mattress category in the country.
Rising Disposable Income is Supporting the Market Growth
The growing disposable income, coupled with various favorable government housing policies, has resulted in a rise in the homeownership rate, which, in turn, is supporting the mattress and accessories market growth in the country. According to the Organisation for Economic Co-operation and Development (OECD), in 2017, the average annual growth rate of household disposable income was 3.6%, which encouraged Canadian citizens to buy a premium mattresses and bedding accessories which offer better comfortability, as with the income rise, people can spend more on premium goods like house.
Increasing Number of Health-Conscious Consumer Offering Growth Opportunity
The growing health concern of consumers has been propelling the demand for customized daily-use products, such as mattresses. With the increasing disposable income, consumers are willing to pay extra for health-enhancing products. The busy schedule of individuals is leading to mental exhaustion, thereby making sound sleep a compulsion. It has been found that Canadians get less than seven hours of sleep every day, and it is harming their health and the economy as a whole. Insufficient sleep has been associated with low productivity, which costs the economy $15.80 billion (~CAD 21 billion) annually. Thus, sound sleep is becoming important in the country, which is leading to the increasing demand for more-comfortable mattresses.
Segmentation Analysis of Canada Mattress and Accessories Market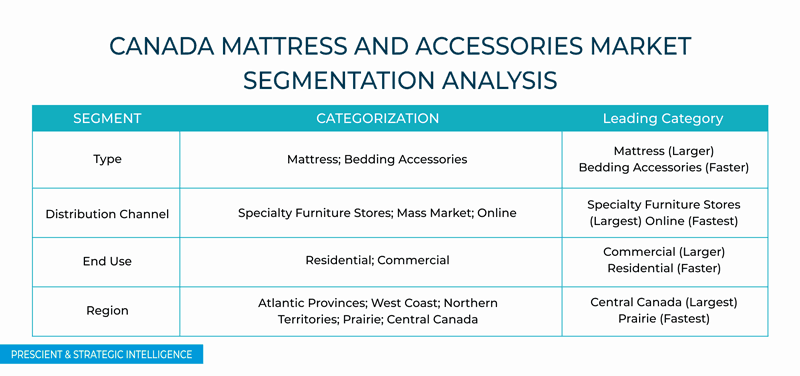 Based on type, mattress category is estimated to hold larger share in the market in 2019 in terms of revenue. On the other hand, bedding accessories category is projected to witness the faster growth in the market during the forecast period.
On the basis of distribution channel, specialty furniture store category is estimated to hold highest revenue share in 2018, while online category is anticipated to record fastest growth in the market during the forecast period. Ease of shopping, emerging new online platforms, personalized content, discounts, and hassle-free delivery are some of the prime factors supporting the growth in this category.
Based on end use, commercial is estimated to be the larger revenue generating category in 2019; owing to growing hotel sector in the country. However, residential category is expected to witness faster growth in the market during the forecast period.
Regional Analysis of Canada mattress and Accessories Market
Together, Central Canada and Prairie region are expected to account for over 75% share in the Canada mattress and accessories market by 2024. Among these, Central Canada is projected to hold maximum share. This can be primarily attributed to the high population in major provinces, such as Ontario and Quebec. Around 65% of the country's population resides in this region; therefore, majority of the specialty furniture stores of chains, such as IKEA and Brault & Martineau, are located here.
Consumer Behavior Analysis of Canada Mattress and Accessories Market
A survey of total 500 respondents was conducted and their responses were recorded via online survey forms and telephonic conversations. The interviewed sample was designed to be gender-balanced, with 55% of male respondents and 45% of female respondents to understand the tastes and preferences, decision-making factors, buying patterns, and spending analysis of each gender category when they purchase or intend to purchase mattresses and bedding accessories.
In terms of decision process and buying pattern, the outcome of the survey depicts that the majority of the consumers get their information from online advertisements. Word of mouth also plays a significant role when it comes to the source of information as a consumer tends to rely on the information provided by a trusted source.
Competitive Landscape of Canada Mattress and Accessories Market
The overall mattress and accessories market in Canada is highly fragmented, with the presence of a large number of market players. Some of the prominent market players include Tempur Sealy International Inc., Serta Simmons Bedding LLC, GoodMorning.com Inc., Casper Inc., CleanBrands LLC, Bedgear LLC, Malouf, and Phoenix A.M.D. International Inc.
Browse report overview with detailed TOC on "Canada Mattress and Accessories Market Research Report: By Type (Mattress, Bedding Accessories), Distribution Channel (Online, Mass Market, Specialty Furniture Stores), End Use (Residential, Commercial), Geographical Outlook (Atlantic Provinces, West Coast, Northern Territories, Prairie, Central Canada) - Industry Size, Share Analysis and Growth Forecast to 2024" at:https://www.psmarketresearch.com/market-analysis/canada-mattress-and-accessories-market
In recent years, major players in the market have taken several strategic measures such as mergers & acquisitions and product launches to gain a competitive edge in the industry. For instance, in October 2019, Lunazen Sleep Inc., a Vancouver-based mattress company, launched a hybrid mattress, featuring springs as well as memory foam. The company delivers the mattress in an uncompressed form, as the company claims the compression of the mattress damages its foam. The company launched the hybrid mattress to counter the temperature issues arising in pure-memory-foam mattresses.
Moreover, in February 2019, Endy Sleep, in collaboration with Urban Barn, opened 37 showrooms in Canada to extend its consumer reach across the country. Now, consumers can check out Endy's products at Urban Barn's stores as well.
Canada Mattress and Accessories Market Segmentation
Market Segmentation by Type
Mattress

By type

Innerspring
Memory foam
Latex
Others (include gel, hybrid, water, air)

By size

Bedding Accessories

By type

Bed linen

Bedsheets
Mattress pads
Protectors
Coverlets
Others (include bed skirts, feather beds)

Blankets

Quilts
Duvets
Comforters
Others (include throw blankets, electric blankets, fleece blankets)

Pillows

Material

Foam
Memory foam
Latex
Cotton/wool
Other (include bamboo, water, gel, air, feather)

Pillow accessories

Pillow covers
Pillow protectors
Market Segmentation by Distribution Channel
Online
Mass Market
Specialty Furniture Stores
Market Segmentation by End Use
Market Segmentation by Region
Atlantic Provinces
West Coast
Northern Territories
Prairie
Central Canada