Canada mattress and accessories market is estimated to reach $2,468.7 million in 2019, and is further expected to generate $2,689.8 million by 2024, exhibiting a CAGR of 1.7% during 2019–2024. Rising disposable income, favorable government housing policies, increasing immigration rate, and growing hotel sector are the key factors supporting the growth of the mattress and accessories market in the country.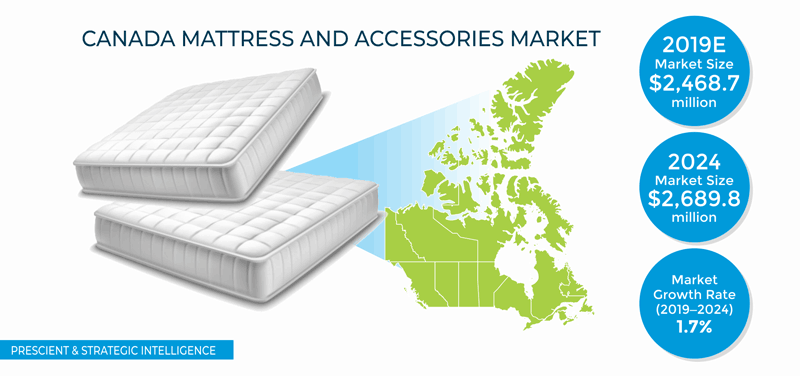 Factors Governing Canada Mattress and Accessories Market
The growing preference for innerspring mattresses is one of the major trends being observed in the Canadian mattress market. Among the various types of mattresses, innerspring mattresses are more preferred in the country, primarily due to their durability. Such mattresses maintain their level of support longer as compared to other types of mattresses. Additionally, consumers also prefer innerspring mattresses as they maintain an even, comfortable surface for a long time.
The rising number of immigrants in Canada is one of the major factors driving the mattress and accessories market in the country. Immigration makes an important contribution to Canada's economy and society, with short-term as well as long-term outcomes. Presently, the country faces a shortage of labor force due to its aging population and declining birth rate, and immigrants have helped address the issue by working for the country's economic growth. This is why the Canadian government is welcoming immigrants with open arms. The increasing immigration rate leads to a rise in the number of housing facilities, which is further fueling the demand for mattresses and bedding accessories in the country.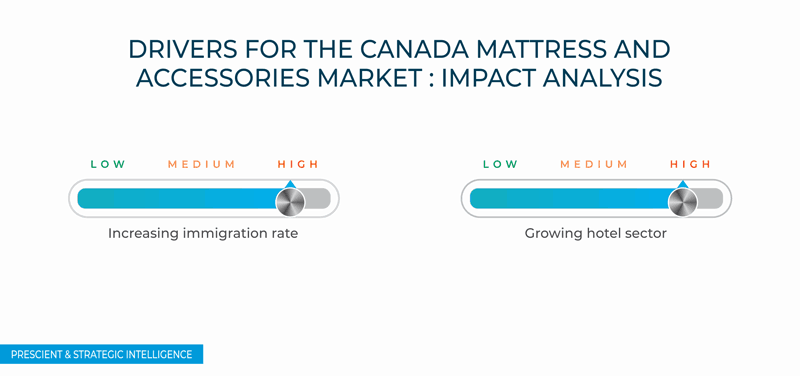 The shifting consumer inclination toward online shopping is providing growth opportunities to the mattress and accessories market players in the country. Mattress-in-a-box is a revolutionary way to buy and ship a mattress, which is primarily shaping the online mattress shopping scenario. Born out of new manufacturing and packing processes, the mattress-in-a-box model allows consumers to purchase a mattress from e-commerce platforms and have it delivered at their doorstep in a conveniently sized box, which removes the hassle of delivery that comes with traditional shopping. Moreover, greater variety, better offers, 24x7, hassle-free shopping, easy price comparison, and rising number of e-commerce platforms are influencing Canadian consumers to shift toward online shopping.
Canada Mattress and Accessories Market Segmentation Analysis
Based on type, Canada mattress and accessories market is bifurcated into mattresses and bedding accessories. The mattress market is estimated to record larger share in the market, while bedding accessories category is estimated to exhibit faster growth during the forecast period.
Based on distribution channel, the market has been classified into specialty furniture stores, mass market, and online. The specialty furniture stores category is the prime place for consumers to buy mattresses and related accessories. In 2019, Canadian mattress and accessory sales via specialty furniture stores are estimated to be valued at $1,360.4 million. This is attributed to the presence of major specialty furniture store chains in the country, such as Sleep Country Canada, Leon's Home Furnishings, IKEA, and Brault & Martineau.
On the basis of end use, the market has been bifurcated into residential and commercial. Of these, commercial category is estimated to be the larger revenue generating category in the Canadian mattress and accessories market in 2019. Canada's hotel industry is witnessing prolific growth, primarily in the luxury and upscale hotel segments. In the hotel industry, mattresses have a lifecycle of 3–4 years, whereas accessories have a lifecycle of 2–3 years. This has been a major driving factor for the growth of the commercial mattress and accessories market in Canada.
Regional Analysis of Canada Mattress and Accessories Market
Among all regions of the country, Central Canadian region is the largest mattress and accessories market and is expected to hold the largest revenue share during the forecast period. This can be primarily attributed to the high population in major provinces, such as Ontario and Quebec. Around 65% of the country's population resides in this region.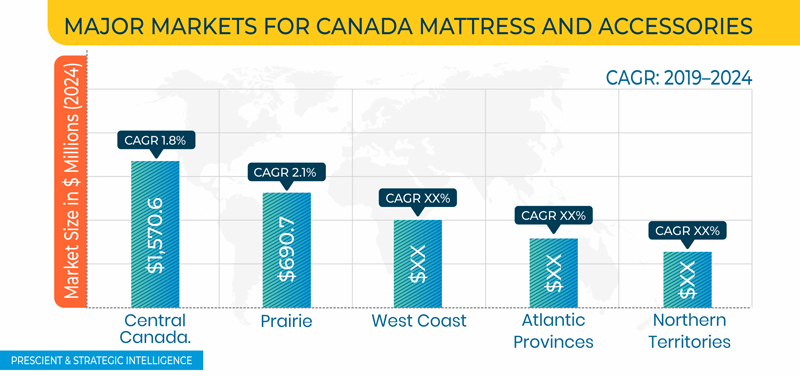 Consumer Behavior Analysis of Canada Mattress and Accessories Market
A survey of total 500 respondents was conducted and their responses were recorded via online survey forms and telephonic conversations. The interviewed sample was designed to be gender-balanced, with 55% of male respondents and 45% of female respondents to understand the tastes and preferences, decision-making factors, buying patterns, and spending analysis of each gender category when they purchase or intend to purchase mattresses and bedding accessories.
For consumer preferences and spending analysis, show that Canadian respondents largely prefer a mattress or accessories that are fulfilling their tastes and needs. It has been found that a significant proportion of the respondents are willing to pay more if the product conforms to high standard of durability. In terms of buying channels, a large portion of the respondents largely prefer specialty furniture stores, closely followed by the mass market. In the contrast, growing popularity of online mattresses and accessories shopping has been observed.
Competitive Landscape of Canada Mattress and Accessories Market
The market for mattress and accessories in the country is demonstrating a highly fragmented landscape, with no company achieving a strong share in 2018. This can be attributed to the presence of a large number of companies with similar products. Some of the prominent market players include Tempur Sealy International Inc., Serta Simmons Bedding LLC, GoodMorning.com Inc., Casper Inc., CleanBrands LLC, Bedgear LLC, Malouf, and Phoenix A.M.D. International Inc.
Recent Strategic Developments of Major Canada Mattress and Accessories Market Players
In recent years, major players in the market have taken several strategic measures such as mergers & acquisitions and product launches to gain a competitive edge in the industry. For instance, in April 2019, DirectBed launched a new line of mattresses, named Pure Zee Mattress Collection, which includes three types of mattresses: Hudson Suite, Logan Suite, and Louise Suite. The new mattresses are manufactured using natural materials, such as bio-foam, cool gel, gel foam, and latex. The mattresses are priced between $376 (CAD 500) and $1053 (CAD 1400).
Furthermore, in February 2019, Owen & Company, a part of Kingsdown Inc., acquired Zedbed Inc., a Quebec, Canada-based ecofriendly memory foam mattress manufacturer, for an undisclosed amount. This is part of Kingsdown Inc.'s strategic plan to increase its market penetration as well as its luxury goods offerings in North America.
Key Questions Addressed/Answered in the Report
What is the current scenario of the Canada Mattress and Accessories market?
What is the historical and the present size of the market segments and their future potential?
What are the major catalysts for the market and their impact during the short, medium, and long terms?
What are the evolving opportunities for the players in the market?
Which are the key geographies from the investment perspective?
What are the key strategies adopted by the major players to expand their market share?