The call center AI market was valued at $914.5 million in 2018 and is projected to reach $2,990.1 million by 2024, progressing at a CAGR of 22.6%, during the forecast period. Based on solution, by type, chatbot category held the largest share in the market in 2018. The market is also expected to register fastest growth in the category of intelligent virtual assistant (IVA), exhibiting a CAGR of 23.0% during 2019–2024. This is due to factors such as omnichannel deployment, productive conversation with customer, 24x7 availability through voice or text, and providing personalized experience for its customers.
Increasing preference for omnichannel communication with customers
Increasing focus toward omnichannel communication with the customer is one of the key trends exhibited in the market. Call center AI solutions such as chatbot and IVA provides variety of choices to customers for engaging with the company through social media, email, chat, and website. With these solutions, complete omnichannel experience becomes more interactive in ways such as follow-up of any conversation and searches for a specific consumer. Omnichannel deployment of call center AI solutions also offer several benefits to the company such as real-time engagement with the customer, improved customer service, increase in revenue, and gaining customer insights.
Segmentation Analysis of Call Center AI Market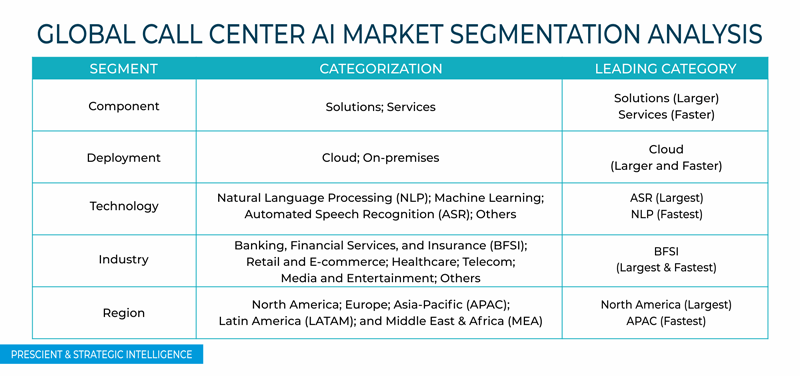 Solutions category held the larger share in the market in 2018; wherein chatbots sub-category contributed majorly to the market. This is mainly due to high demand for chatbots in every industry including media & entertainment, retail & e-commerce, telecom, BFSI, and telecom.
Based on technology, automatic speech recognition (ASR) category held the largest share in the market in 2018. This technology allows for customer self-service, optimize complex process of IVR, create customer database with accurate insights, and improved quality monitoring.
BFSI category is projected to register major growth in the coming years, due to increasing need for automated call operations in banks, financial institutions, enhancing customer support experience, reduction in operational expenses, and providing valuable information to the customers related to service offerings.
Geographical Analysis of Call Center AI Market
Together, North America and Europe are projected to account for over 43.4% share in the global call center AI market in 2018. This can be attributed to rising investments in leveraging AI to automate operations in call centers, advancements in voice recognition technology, presence of established players in the region, providing better customer experience, increasing work productivity of agents, and in order to have a competitive edge over its competitors.
Other regions including Asia-Pacific (APAC) and Latin America (LATAM) are seen as markets with strong growth potential, owing to factors such as increasing rate of innovation, improvement in employee productivity, evolving customer expectations, and the presence of large number of call centers in the region. China held the largest share in APAC call center AI market, generating revenue of $54.5 million in 2018. This can be mainly attributed to high investment in technologies such as voice recognition and speech analytics, increasing need for transformation in call center industry, and reduction in cost for companies.
Competitive Landscape of Call Center AI Market
The call center AI market is fragmented in nature. The market players have adopted strategies including products launches, acquisitions, partnerships, and agreements to meet the rising demand for call center AI solutions and strengthen their position in the market. For instance, in October 2018, Lenovo Group Limited signed multi-year agreement with International Business Machines Corporation to deploy call center AI solutions in markets including North America, LATAM, and Middle East & Africa (MEA), for an amount of $240 million; the solutions include Virtual Assistant for Technical Support, Weather Alerting, and Augmented Reality (AR).
Browse report overview with detailed TOC on "Call Center AI Market Research Report: By Component (Solutions, Services), Deployment (On-Premises, Cloud), Technology (Natural Language Processing, Machine Learning, Automatic Speech Recognition), Industry (BFSI, Retail and E-Commerce, Healthcare, Telecom, Media and Entertainment), Geographical Outlook (U.S., Canada, U.K., Germany, France, Russia, Italy, China, Japan, India, South Korea, Australia, Brazil, Mexico, U.A.E., Saudi Arabia, Turkey, South Africa) – Global Industry Trends and Growth Forecast to 2024" at:https://www.psmarketresearch.com/market-analysis/call-center-ai-market
The major players included in the market are Microsoft Corporation, International Business Machines Corporation, Google LLC, Amazon Web Services Inc., and Oracle Corporation. The market also comprises of other significant players such as Cogito Corporation, SmartAction LLC, Five9 Inc., Twilio Inc., Zendesk Inc., Avaya Inc., NICE inContact, Talkdesk Inc., Haptik Inc., and Avaamo Inc.
Call Center AI Market Segmentation
Market Segmentation by Component
Solutions

Chatbot
Intelligent virtual assistant (IVA)
Intelligent interactive voice response (IVR) system

Services
Market Segmentation by Deployment
Market Segmentation by Technology
Natural Language Processing (NLP)
Machine Learning
Automatic Speech Recognition (ASR)
Others (Computer Vision, Video Recognition, Image Processing, and Cognitive Computing)
Market Segmentation by Industry
Banking, Financial Services, and Insurance (BFSI)
Retail and E-commerce
Healthcare
Telecom
Media and Entertainment
Others (Energy & Utilities, Oil & Gas, Education, Government, and Automotive)
Market Segmentation by Region
North America Call Center AI Market

By component
By deployment
By technology
By industry
By country – U.S. and Canada

Europe Call Center AI Market

By component
By deployment
By technology
By industry
By country – U.K., Germany, France, Russia, Italy, and Rest of Europe

Asia-Pacific (APAC) Call Center AI Market

By component
By deployment
By technology
By industry
By country – China, Japan, India, South Korea, Australia, and Rest of APAC

Latin America (LATAM) Call Center AI Market

By component
By deployment
By technology
By industry
By country – Brazil, Mexico, and Rest of LATAM

Middle East & Africa (MEA) Call Center AI Market

By component
By deployment
By technology
By industry
By country – U.A.E., Saudi Arabia, Turkey, South Africa, and Rest of MEA