The adoption of bromine compounds is rising, as they help reduce the emission of mercury. Additionally, with the increasing oil and gas drilling activities, the demand for clear brine fluids is surging. Similarly, the adoption of polymer-based flame retardants is also increasing. All these factors are together driving the global bromine market at a 5.7% CAGR during 2020–2030 (forecast period); the market reached $1,864.3 million in 2019.
Bromine Market Segmentation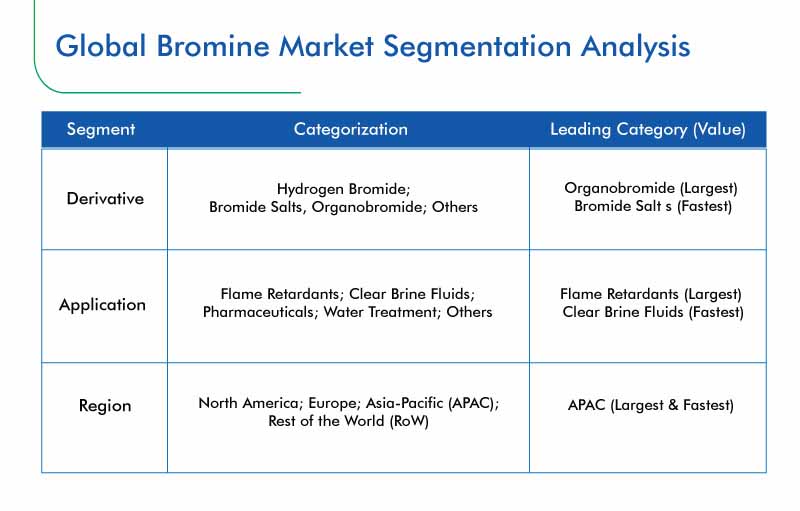 During the forecast period, the bromide salt division is predicted to experience the fastest advance in the bromine market, owing to the increasing consumption of these compounds in the production of clear brine fluids, which are themselves witnessing a growing demand with the rising oil and gas exploration and production (E&P) activities.
The flame retardants division dominated the market in 2019, as the compounds of the gas, including allyl bromide, ethyl bromide, ammonium bromide, and vinyl bromide, are widely used in fire retardants and extinguishers. Not only do these chemicals help put out the fire, but they also make the products containing them less flammable.
Till 2030, Asia-Pacific (APAC) would continue holding the largest share in the bromine market, because the rising urban population and disposable income in India, China, Japan, South Korea, and Thailand are creating a high demand for plastic and electronic products and insulation, in which bromine-based flame retardants find wide application. Additionally, China has abundant reserves of elemental bromine, along with a large consumer base and cost-effective labor, which is why an increasing number of bromine and derivative production plants are being set up here.
Market Players Expanding their Production Capacity for Higher Revenue
A lot of bromine market players are pursuing production capacity expansion, so they can provide a higher volume of bromine and its derivatives and edge out their competitors. For instance, in July 2018, LANXESS AG announced plans to invest $56 million (EUR 50 million) for increasing the bromine production at its El Dorado, Arkansas, plant in the U.S.
Browse report overview with detailed TOC on "Bromine Market Research Report: By Derivative (Hydrogen Bromide, Bromide Salts, Organobromide), Application (Flame Retardants, Clear Brine Fluids, Pharmaceuticals, Water Treatment) - Global Industry Analysis and Growth Forecast to 2030" at:https://www.psmarketresearch.com/market-analysis/bromine-market
Similarly, in May 2017, LANXESS completed a production capacity augmentation project for its Emerald Innovation 3000 flame retardant, from 10,000 tons to 14,000 tons, annually.
LANXESS AG, Gulf Resources Inc., Hindustan Salts Limited, Jordon Bromine Company Limited, Tosoh Corporation, Tetra Technologies Inc., Albemarle Corporation, Israel Chemicals Limited, Tata Chemicals Limited, and Perekop Bromine are the major players in the global bromine market.