Market Outlook
The bromine market revenue stood at $1,864.3 million in 2019, and it is projected to witness a CAGR of 5.7% during 2020–2030. The key factors behind this growth are the surging usage of bromine compounds to reduce mercury emissions, increasing adoption of eco-friendly polymeric flame retardants, and soaring consumption of clear brine fluids while drilling for oil and gas.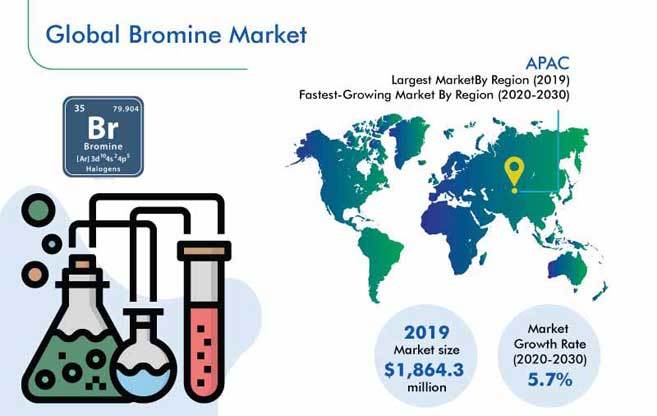 Segmentation Analysis of Bromine Market
The organobromide category, under the derivative segment of the bromine industry, accounted for the largest share in 2019. This was due to the high-volume consumption of organobromides, such as ethylene dibromide, propylene bromide, vinyl bromide, and allyl bromide, in the production of fumigants, solvents, gasoline antiknock agents, catalysts, intermediates for organic synthesis, flame retardants, and pesticides.
In the coming years, the clear brine fluids category, within the application segment, will record the fastest growth due to the increasing consumption of this material during oil and gas drilling activities.
During 2014–2019, the Asia-Pacific (APAC) market for bromine generated the highest revenue on account of the high-volume production and consumption of bromine in China. The leading position of China can be owed to the growing number of derivative manufacturing plants in the country on account of the abundant availability of bromine in nature, cost-effective labor, and a large customer base.
Moreover, the APAC bromine market growth is driven by the wide-scale consumption of bromine-based flame retardants in insulation and plastic and electronic products in the region. The high demand for these products can be ascribed to the high disposable income of the people and rapid urbanization in APAC.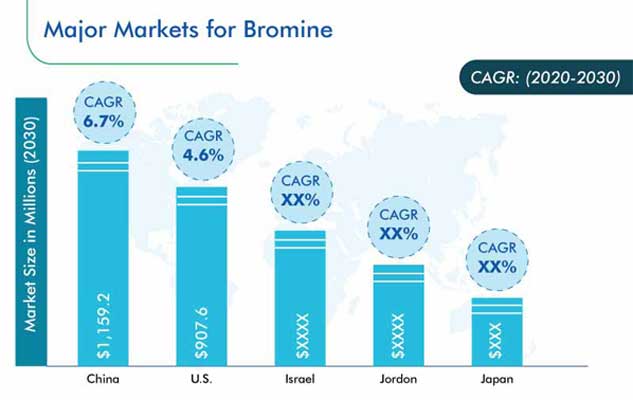 Increasing Usage of Clear Brine Fluids in Oil and Gas Drilling Activities Fueling Market Advance
Clear brine fluids are used in oil and gas drilling activities as they can reduce the bottom hole pressure and temperature in the borewells. Several soluble salts are added to these fluids after considering the freezing points, clarity, densities, and temperature/pressure freeze points of the wells. Brines display faster shale penetration, improved wellbore stability in the salt, and lesser fine-hole formation, gauge, and fill damage, as compared to other fluids. Moreover, the usage of brine reduces the initial cost of setting up the casting for the mud, for drilling.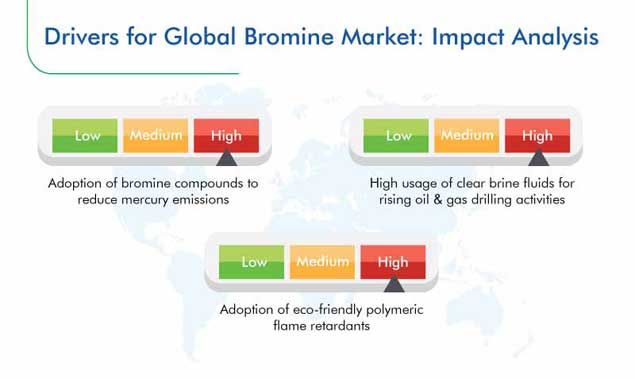 Rising Adoption of Bromine-Based Storage Technology for Grids Widening Growth Opportunities
The requirement for efficient energy storage technologies is rising due to the surging production of non-conventional energy. Bromine-based technology has emerged as a cost-effective solution for storing clean energy owing to the continuous research and development (R&D), which is propelling the bromine market advance. This technology is being widely adopted in grids because batteries powered by it does not require a change in their electroactive materials for recharging.
Bromine Market Report Coverage

| | |
| --- | --- |
| Report Attribute | Details |
| Historical Years | 2014-2019 |
| Forecast Years | 2020-2030 |
| Market Size by Segments | Derivative, Application |
| Market Size of Geographies | U.K., Ukraine, Germany, Belgium, France, U.K., Spain, China, India, Japan, Israel, Jordan |
Explore more about this report - Request free sample pages
Capacity Expansion is Strongest Strategic Move in Market
To increase their revenue by catering to the rising demand for the gas and its derivatives, bromine market players are radically expanding their manufacturing capacity. For instance, in September 2019, the Industrial Products division of Israel Chemicals Limited announced its intentions to increase the annual production capacity of the gas and its derivatives, such as tetrabromobisphenol A, to around 25,000 tons by 2021.
Similarly, LANXESS AG announced capacity expansion plans for phosphorus- and bromine-based flame retardants, in December 2018, to strengthen its bromine asset base.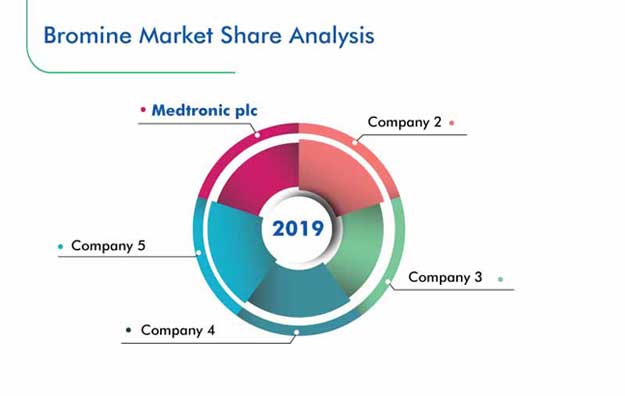 Major players in the global bromine market are Gulf Resources Inc., LANXESS AG, Jordon Bromine Company Limited, Hindustan Salts Limited, Tetra Technologies Inc., Tosoh Corporation, Israel Chemicals Limited, Albemarle Corporation, Perekop Bromine, and Tata Chemicals Limited.
Market Size Breakdown by Segment
The bromine market report offers comprehensive market segmentation analysis along with market estimation for the period 2014–2030.
Based on Derivative
Hydrogen Bromide
Bromide Salts
Organobromide
Based on Application
Flame Retardants
Clear Brine Fluids
Pharmaceuticals
Water Treatment
Geographical Analysis
North America
Europe

U.K.
Germany
France
Spain
Belgium
Ukraine

Asia-Pacific (APAC)
Rest of World (ROW)