The global breast biopsy devices market was valued at $761.2 million in 2017, and it is further projected to generate $1,426.2 million revenue by 2023, witnessing a CAGR of 11.1% during the forecast period (2018–2023). Biopsy needles/guns are expected to witness the fastest growth during the forecast period, in the process, outgrowing guidance systems by 2020.
Liquid Biopsy is Trending in Breast Biopsy Market
The study of circulating tumor deoxyribonucleic acid (ctDNA) or liquid biopsy, which is a low-risk and non-invasive process, is used not only to analyze the genetic profile associated with cancer, but also for keeping a record of the therapeutic responses exhibited by patients over a period of time and help detect cancer tumors. As cancer cells proliferate and die, some of the DNA is released in the circulatory system, thereby making it easier for doctors to detect the disease, which is why liquid biopsy is a growing breast biopsy devices market trend. Various medical centers are adopting this technique to diagnose breast cancer, due to the fact that it assists in detecting the disease in the early stages. In December 2017, Oncocyte Corporation presented data from its study, conducted using its breast cancer diagnostic test, at the 2017 San Antonio Breast Cancer Symposium (SABCS). The data revealed that this test allows for the non-invasive and sensitive detection of breast cancer in BI-RADS category 4 patients.
Technological Advancements Sparking Growth of Breast Biopsy Devices Industry
Breast imaging equipment has witnessed considerable technological advancements over the years. With the development of modern technology, the emergence of novel breast biopsy devices has been witnessed. These novel technologies include excisional breast biopsy, mammography- and ultrasound-guided biopsy, fine-needle aspiration biopsy, and core-needle biopsy. The development of the 3D mammography-guided biopsy technology has brought innovation to diagnosis of breast cancer, as 3D mammography produces more-accurate images, which is important for the early detection of cancer, and it also decreases the rate of false-positive results. Hence, these novel devices and technology have sparked the growth of the breast biopsy devices market.
Segmentation Analysis of Breast Biopsy Devices Market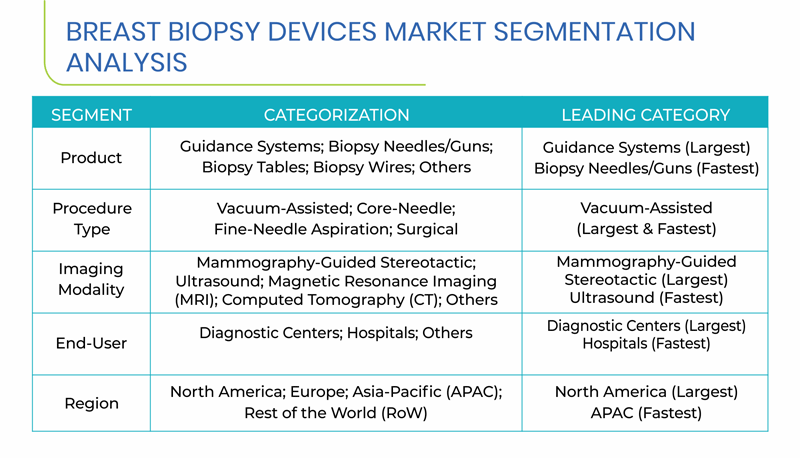 Guidance systems held the largest share of the global market for breast biopsy devices, in 2017, based on product. This was due to the fact that there are options for stereotactic breast biopsy and tomosynthesis in one single guidance system, which is required in almost all breast biopsy procedures. Biopsy needles/guns are expected to observe the fastest growth in demand, at a CAGR of 12.1%, during the forecast period.
During the forecast period, the vacuum-assisted biopsy category is projected to witness the fastest growth, owing to the fact that it allows for the easy extraction of samples from the area of interest, by precisely identifying the area with the abnormal growth.
Mammography-guided stereotactic biopsy category held the largest share in the breast biopsy devices market in 2017, based on imaging modality, owing to the minimally invasive characteristic of this biopsy and the needle used in this procedure prevents the breast tissue from distorting
Hospitals, as an end user, are expected to witness the fastest growth throughout the forecast period, mainly attributed to the rising number of hospitals, worldwide.
Geographical Analysis of Breast Biopsy Devices Market
North America and Europe together accounted for 78.7% of the global breast biopsy devices market, in 2017. The use of these devices in the U.S. is quite high, largely due to the growing aging population, increasing prevalence of breast cancer, rapid economic growth, high healthcare expenditure, and expanding private healthcare sector. In addition, pharmaceutical and biotechnology firms, federal agencies, research institutions, public health associations, professional societies, and state and local governments are increasingly investing in the country's medical and health-related research and development programs, which is expected to further lead the North American market to a bright future.
Similarly, growth of the European breast biopsy devices market is mainly driven by the growing geriatric population and increasing prevalence of breast cancer. According to Eurostat, the share of the population aged 65 years and above is increasing in every European Union (EU) member state, European Free Trade Association (EFTA) countries, and candidate countries. The share of people, aged 80 years and above, in EU-28's population is projected to more than double between 2016 and 2080, from 5.4% to 12.7%.
The APAC region is projected to witness the fastest growth during the forecast period, primarily led by the increasing incidence of breast cancer, rising geriatric population, increasing healthcare expenditure and per capita income, rising awareness about breast cancer, and increasing research in breast biopsy devices.
In 2017, Japan held the largest share in the APAC breast biopsy devices market, mainly on account of the technological advancements in these products by various players. For instance, in October 2017, Myriad Genetics Inc. submitted BRACAnalysis CDx to the Japanese Pharmaceutical Medical Devices Agency, under the Ministry of Health, Labour and Welfare, for review and marketing approval. The company estimated that in Japan, each year, there are more than 10,000 cases of HER2-negative metastatic breast cancer, eligible for testing with BRACAnalysis CDx.
Brazil held the largest share in the RoW breast biopsy devices market, accounting for a share of 71.8%, in 2017.
Competitive Landscape of Breast Biopsy Devices Market
The breast biopsy devices market is consolidated in nature, with several companies operating in it, including Argon Medical Devices Inc., Becton, Dickinson and Company, Scion Medical Technologies LLC, Medtronic plc, Danaher Corporation, Sterylab S.R.L., Cook Medical LLC, Hologic Inc., and Planmed Oy.
In recent years, the aforementioned breast biopsy devices market players have taken several strategic measures, including obtaining the CE Mark approval, to gain a competitive edge in the market. For instance, in January 2018, Hologic Inc. obtained the CE Mark, in Europe, for the Brevera breast biopsy system with the CorLumina imaging technology, a real-time breast biopsy and verification system that improves the patient experience and streamlines the biopsy process from start to finish.
Browse Report Summary with Deailed TOC on "Breast Biopsy Devices Market by Product (Guidance Systems, Biopsy Needles/Guns, Biopsy Tables, Biopsy Wires), by Procedure Type (Vacuum-Assisted, Core Needle, Fine Needle Aspiration, Surgical), by Imaging Modality (Mammography Guided Stereotactic, Ultrasound, MRI, CT), by End-User (Diagnostic Centers, Hospitals), by Geography (U.S., Canada, Germany, France, U.K., Italy, Spain, Japan, China, India, Australia, Brazil, Mexico) – Global Market Size, Share, Development, Growth and Demand Forecast to 2023" at: https://www.psmarketresearch.com/market-analysis/breast-biopsy-devices-market
Similarly, in April 2016, Planmed Oy received the CE approval for the Planmed Clarity 3D digital breast tomosynthesis system and Planmed Clarity 2D full-field digital mammography system, both of which were made available for sale in the EU and other countries, where the CE Mark is legal. The Planmed Clarity systems provide improved image quality and enable a fast and reliable workflow in all situations, from screening to diagnostic imaging and biopsy procedures.