The stringent regulations aimed at checking blood contamination, rising number of blood donors, surging incidence of chronic, infectious, and respiratory diseases, technological advancements, and escalating healthcare expenditure are the key reasons behind the rapid adoption of the blood screening process. These factors are expected to together drive the global blood screening market, which generated $2,402.3 million in 2019, at an 8.1% CAGR during 2020–2030 (forecast period).
Blood Screening Market Segmentation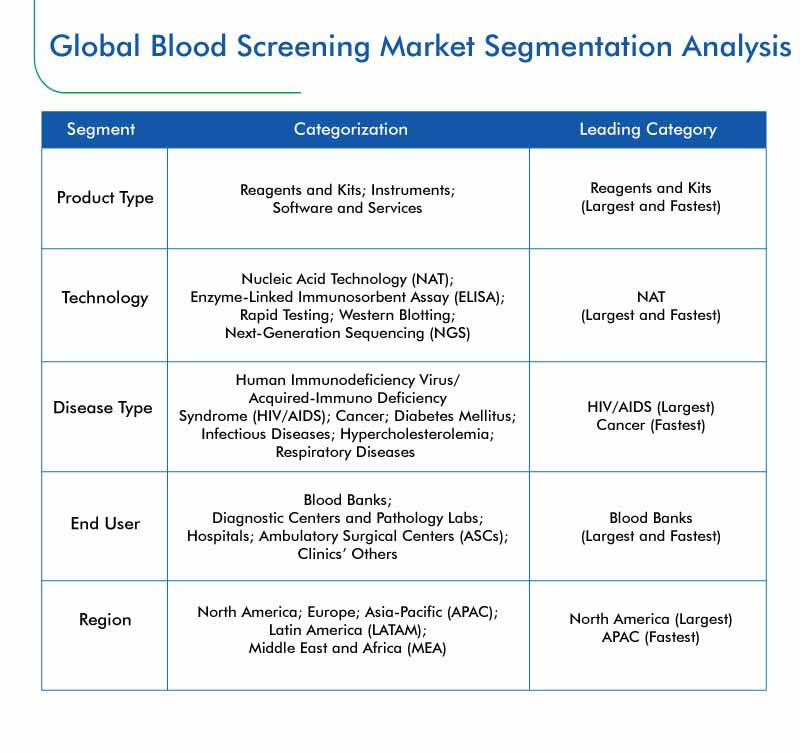 The reagents & kits category would continue dominating the blood screening market till 2030, because these products are used in the first stage during blood screening. With the heavy consumption of kits & reagents for the quick and effective detection of transfusion-transmissible diseases (TTD), the demand for these products is continuously rising.
During the historical period (2014–2019), nucleic acid technology (NAT) held the largest share in the blood screening market, as this technology displays higher sensitivity in comparison to others, which makes it popular among centers testing blood for quality.
Asia-Pacific (APAC) is predicted to experience the highest CAGR in the blood screening market during the forecast period, due to the rising presence of major market players, cost-effective labor, and increasing prevalence of cancer and other chronic diseases here. For instance, as per the Global Cancer Observatory (GLOBOCAN), Southeast Asia recorded 2,003,789 new cancer cases in 2018.
Market Competitive Landscape Characterized by Product Launches
The blood screening market is witnessing a rising number of product launches, as an effort by the players to target customers with new and better solutions for blood testing.
For instance, in February 2020, Bio-Techne Corporation announced the release of the Quantikine QuicKit ELISA product line. The next-generation ELISA portfolio expands the capabilities of Quantikine ELISA kits, enabling researchers to accomplish more, without compromising quality. The assay is intended to provide accurate quantitation of proteins in serum, plasma, and cell supernates in just 90 minutes.
Browse report overview with detailed TOC on "Blood Screening Market Research Report: By Product Type (Reagents and Kits, Instruments, Software & Services), Technology (NAT, ELISA, Rapid Testing, Western Blotting, Next-Generation Sequencing), Disease Type (HIV/AIDS, Cancer, Diabetes Mellitus, Infectious Diseases, Hypercholesterolemia, Respiratory Diseases), End User (Blood Banks, Diagnostic Centers and Pathology Labs, Hospitals, Clinics, ASCs) - Global Industry Size, Share, Growth and Demand Forecast to 2030" at:https://www.psmarketresearch.com/market-analysis/blood-screening-market
The key players in the global blood screening market are Bio-Rad Laboratories Inc., Abbott Laboratories, General Electric Company, Becton, Dickinson and Company, Merck KGaA, Thermo Fisher Scientific Inc., Grifols S.A., Siemens AG, DiaSorin S.p.A, Ortho-Clinical Diagnostics Inc., Bio-Techne Corporation, J. Mitra & Co. Pvt. Ltd., Gesellschaft zur Forschung, Trinity Biotech plc, F. Hoffmann-La Roche Ltd., Entwicklung und Distribution von Diagnostika im Blutspendewesen mbH (GFE), PerkinElmer Inc., Danaher Corporation, and bioMérieux SA.