The global blockchain devices market was valued at $0.3 billion in 2019 and is projected to reach $23.5 billion by 2030, exhibiting a CAGR of 48.7% during the forecast period (2020–2030). Among the types, crypto hardware wallets held the largest market share in 2019. However, crypto automated teller machines (ATMs) are expected to register fastest growth rate, of 54.8%, during the forecast period. Owing to the favorable government regulations regarding the installation of crypto ATMs, the demand for these ATMs is expected to increase in the coming years. North America and Europe are the major adopters of the Bitcoin ATMs; however, APAC is expected to generate high demand for crypto ATMs during the forecast period.
Growing Demand for Wireless Blockchain Devices
One of the major trends observed in the blockchain devices market is the use of wireless communication technology. To reduce the hassle of using wire, cryptocurrency solution providers such as Ledger SAS and FuzeW launched wireless hardware wallet. Also, Lamassu Industries AG and GENERAL BYTES s.r.o. provide wireless crypto ATMs and ethernet ports. Also, the retail sector has started adopting blockchain point of sales (POS) terminals, which are being launched in the wireless variant, providing mobility to the retailer in terms of receiving payments. The wireless connectivity category is expected to showcase a growth rate of 57.6% between 2020 and 2030.
Growing Adoption of Cryptocurrencies
One of the major factors driving the growth of the global blockchain market is the increasing demand for cryptocurrencies. A cryptocurrency is digital currency without any central authority regulating it. Historically, cryptocurrency became renowned after the launch of Bitcoin, which saw an unprecedented growth in 2017. Following this, companies started launching new cryptocurrencies, such as Ethereum, Ripple, Litecoin, Dash, and Monero. Corporate users in government offices and banking, financial services, and insurance (BFSI) sector are increasingly adopting the cryptocurrency transactions. A decentralized system is in place to check and validate every transaction.
Increasing Usage of Cryptocurrency as a Mode of Payment
In the near future, cryptocurrency is expected to rise as one of the promising payment modes for various retail applications, which, in turn, will drive the demand for blockchain hardware wallets and POS terminals. Currently, a number of companies, such as Subway Restaurants Inc., Virgin Group Ltd., Kentucky Fried Chicken Canada Company, Whole Foods Market Inc., Expedia Group Inc., RE/MAX LLC London, and Deutsche Telekom AG (T-Mobile Poland), accept or have previously accepted cryptocurrency as a mode of payment. According to organization CoinMap (division of SatoshiLabs s.r.o), there are over 13,000 active stores accepting cryptocurrency as a mode of payment. Several companies instantly convert the cryptocurrency into fiat currency (e.g., USD, GBP, and EUR) to tackle the fluctuations in prices of the cryptocurrency.
Segmentation Analysis of Blockchain Devices Market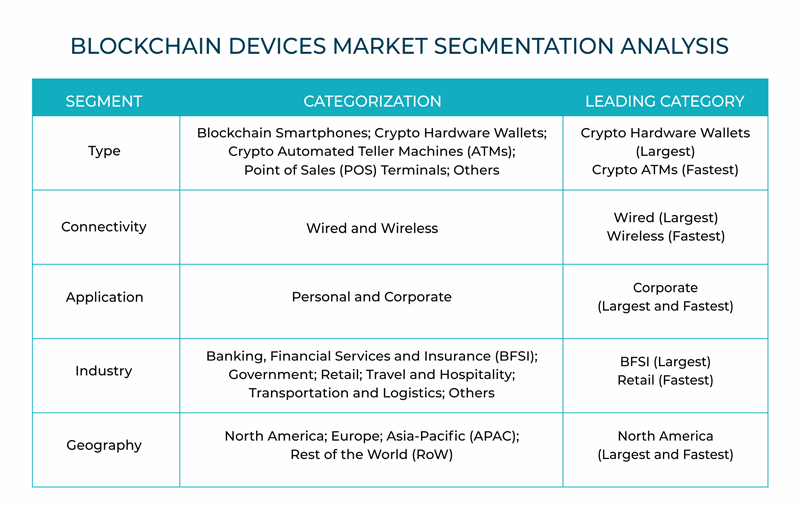 On the basis of connectivity, the wireless category is anticipated to witness the fastest CAGR during forecast period, owing to increasing demand for wireless hardware wallets and crypto ATMs. With the launch of wireless crypto hardware wallets by the company Ledger SAS, the demand for these devices increased rapidly in 2019. Consumers using mobile phones for cryptocurrency trading find wireless crypto hardware wallet easier to use.
Based on industry, the BFSI category held the largest revenue share in the North American blockchain devices market in 2019, due to growing adoption of blockchain technology. Bank of America Corporation considers blockchain technology a revolutionary technology that can change the banking sector. It filed a number of patents and trademarks related to blockchain technology during 2014–2018. Further, companies, such as JP Morgan Chase & Co. and Goldman Sachs Group Inc., are also investing in the development of blockchain technology.
Geographical Analysis of Blockchain Devices Market
Together, North America and Europe are expected to account for over 85.6% share in the global blockchain devices market by 2030. This can be owing to the fact that new players are entering the market due to favorable government policies in terms of blockchain and emerging technologies. Attributed to this, the adoption rate of the blockchain technology is highest in North America and Europe as compared to other regions. Awareness plays a major role in the blockchain devices market. The U.K., Germany, France, Switzerland, the Netherlands, and several other European countries are at the forefront in terms of adopting cryptocurrencies. Hereby, Europe is one of the largest contributors to the total number of cryptocurrency exchanges.
The APAC blockchain devices market is gaining traction in countries, including Japan, South Korea, and Singapore, due to the favorable government regulations.However, in APAC, China and India are niche markets for blockchain devices, owing to strict government policies citing ban or restrictions on the trading of cryptocurrencies. Indian government has already announced that cryptocurrency cannot be used for any trading within country in any circumstances and no banks would support buying and selling of crypto currencies. Similar regulations are being enforced by the government of China.
Browse report overview with detailed TOC on "Blockchain Devices Market Research Report: By Type (Blockchain Smartphones, Crypto Hardware Wallets, Crypto ATMs, POS Terminals), Application (Personal, Corporate), End User (BFSI, Government, Retail, Travel and Hospitality, Transportation and Logistics) - Industry Trends Analysis and Growth Forecast to 2030" at:https://www.psmarketresearch.com/market-analysis/blockchain-devices-market
Competitive Landscape of Blockchain Devices Market
The blockchain devices market is fragmented in nature with key players, including Ledger SAS, General Bytes s.r.o., and Pundi X Labs Private Limited, engaged in product launches, geographic expansions, partnerships, and technology upgrades. In January 2019, Ledger SAS launched Ledger Nano X, which is a crypto hardware wallet. The new product is a wireless version of its predecessor Ledger Nano S, which works on Bluetooth connectivity and can be controlled via mobile application.
Some other important players operating in the blockchain devices market are SatoshiLabs s.r.o., Sirin Labs AG, HTC Corporation, Samsung Electronics Co. Ltd., Lamassu Industries AG, Blockchain Luxembourg S.A., RIDDLE&CODE GmbH, and GENERAL BYTES s.r.o.