The global BFSI security market was valued at $31.3 billion in 2019, which is projected to reach $175.1 billion by 2030, advancing at a CAGR of 16.9% during the forecast period (2020–2030). On the basis of security type, the physical security category held larger market share in 2019. This is attributed to the huge cost associated with implementing of physical security solutions, such as flame detectors, metal detectors, closed-circuit television (CCTV) cameras, and monitors.
Banks held the largest revenue share, based on end user, in the BFSI security market in 2019, due to one of the prime targets of cyber-attackers and hackers, who make use of malware and spear-phishing attacks to breach security of banks.
Growing Inclination Toward Integrated Security Services
Rising emphasis toward integrated security services is one of the key trends observed in the BFSI security market. The focus toward the adoption of integrated security services is increasing, owing to the factors such as cost efficiency, rising demand for next-generation security solutions, growing requirement for security solutions through a single user interface, and surging need for maintaining security, data intelligence, and managing data in a complex network infrastructure. As a result, players in the market are focusing on providing integrated security services to banks and financial institutions, to cater to the growing demand.
Increasing Adoption of Security Solutions by Banks to Support Digitization
Surging implementation of security solutions by banks, in order to support digitization and protect their assets from upcoming threats, is a major key driver witnessing in the BFSI security market. With increasing exposure of banks toward digital and personalized banking, it becomes important for them to understand the increasing effect of threats and cyberattacks on their confidential information. As a result, numerous banks are focusing toward the deployment of advanced security solutions. For instance, in May 2018, InvestBank P.S.C. deployed a security solution from Cisco Systems Inc., to support its digital transformation strategy. The solution included Cisco advanced malware protection (AMP) for endpoints, for the prevention and detection of advanced threats.
Segmentation Analysis of BFSI Security Market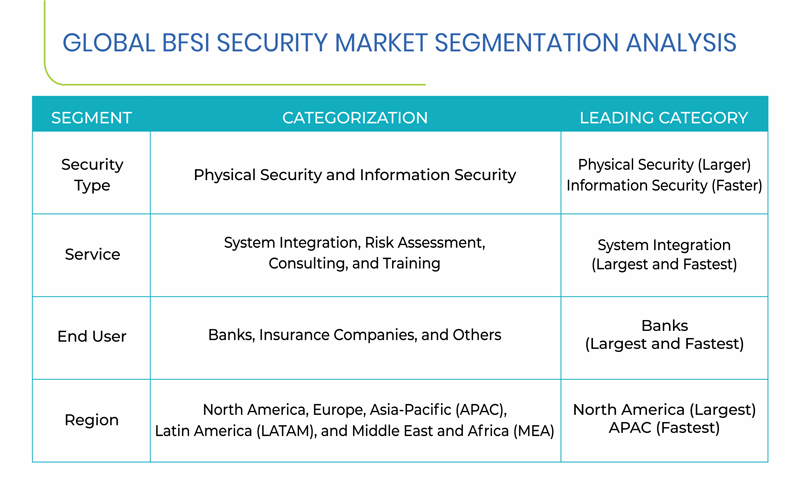 The information security category is expected to witness faster growth during the forecast period. The category is further classified into antivirus, data loss prevention, encryption, unified threat management, risk and compliance management, identity and access management, and others. Of these, the encryption category held the largest share in the BFSI information security market in 2019. This is due to increasing volume of electronic payments across the globe, which has led to rise in fraudulent activities in the payment area. Unauthorized transactions, lost or stolen merchandise, and false requests for a refund or bounced cheques are regular affairs at a number of financial institutions. This has placed a strong emphasis on data encryption methods to secure the financial interests of customers.
The system integration category held the largest share in the BFSI security market in 2019, and is also expected to register fastest growth during the forecast period.
The banks category is projected to witness the fastest growth during the forecast period.
Geographical Analysis of BFSI Security Market
Geographically, North America and Europe are expected to account for a combined share of over 50% in the global BFSI security market. This can be majorly attributed to the stringent data policies and regulations that have placed a strong emphasis on data security and data protection, increase in focus of banks and financial institutions toward digitization, adoption of cloud-based data storage solutions, and occurrence of a large number of data breaches and frauds. Moreover, the growth of the market in Europe can also be attributed to organizations in European Union (EU), which need to follow data privacy rules as per General Data Protection Regulation (GDPR) compliance. GDPR is a regulation that requires businesses and financial institutions to protect privacy and personal data of EU citizens.
Competitive Landscape of BFSI Security Market
The BFSI security market is fragmented in nature, characterized by the presence of a large number of global and regional players. Major players in the market include McAfee LLC, Honeywell International Inc., Accenture plc, Broadcom Inc., IBM Corporation, Cisco Systems Inc., Trend Micro Incorporated, DXC Technology Company, Booz Allen Hamilton Holding Corporation, and Dell Technologies Inc.
Browse report overview with detailed TOC on "BFSI Security Market Research Report: By Security Type (Physical Security, Information Security), Service (System Integration, Risk Assessment, Consulting, Training), End User (Banks, Insurance Companies) – Industry Share, Growth, Trends and Demand Forecast to 2030" at:https://www.psmarketresearch.com/market-analysis/bfsi-security-market
In recent years, the major players in the BFSI security market have taken several strategic measures, such as mergers & acquisitions, partnerships, product launches, and client wins, to gain a competitive edge in the industry. For instance, in November 2019, Broadcom Inc. acquired enterprise security business of Symantec Corporation, for $10.7 billion in cash. With this acquisition, the company aims to expand its security business footprint, globally, and strengthen its differentiated portfolio license agreement (PLA) strategy. Furthermore, In January 2019, Konica Minolta Business Solutions U.S.A. Inc., a subsidiary of Konica Minolta Inc., launched MOBOTIX Intelligent Video Security Solution, which comprises internet of things (IoT) technology, multiple on-board sensors, and programmable microprocessors. The MOBOTIX solution is the video network analysis for intelligent internet protocol (IP) video systems for early monitoring and detection of hardware issues.