The global BFSI security market stood at $31.3 billion in 2019 and is projected to reach $175.1 billion in 2030, registering a CAGR of 16.9% during the forecast period (2020–2030). Surging number of data breaches in the financial services industry is one of the major factors for the growth of the market.
Geographically, the Asia-Pacific (APAC) BFSI security market is projected to witness the fastest growth during the forecast period. This can be attributed to the emergence of cloud-based technologies, rise in number of commercial banks, increase in number of cyberattacks, and mandatory government regulations. For instance, as per China Banking Regulatory Commission article 40, commercial banks should put in place appropriate risk warning and monitoring systems to mitigate all business risks.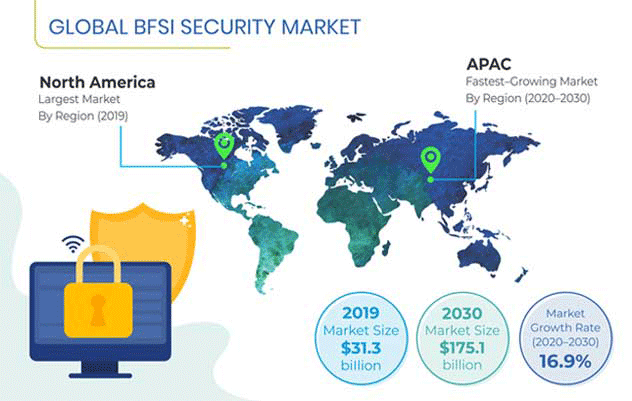 Fundamentals Governing BFSI Security Market
Banks and financial institutions are in the process of moving their core applications over cloud network, owning to the factors such as personalized banking experience, mitigating risk associated with traditional technologies, growing need for real-time analysis of vast amount of data, better operational control of platforms, and reduction in capital expenditure. The adoption of cloud infrastructure increases the risk of cyberattacks, as the data is being stored at remote locations over the cloud network. Thus, it becomes important for the BFSI industry to deploy cloud-based security solutions, in order to manage and control security operations over the cloud network.
The financial services industry has been one of the topmost lucrative targets for cybercriminals, owing to the involvement of financial assets and massive unstructured data generated. Moreover, with increasing technological advancements, such as shift toward digital transformation and adoption of online banking, which increase the chances for data breaches, resulting in huge losses to the industry. The U.S. has witnessed more expensive data breaches as compared to other countries, with total average cost of $8.19 million in 2019. Hence, with rapid increase in data breaches, the demand for security solutions is rising, thereby resulting in positive growth of the BFSI security market, globally.
Internet of things (IoT) technology plays a significant role in the security of banking and financial operations, as it helps in tracking the location of financial crime, identifying the type of devices used for transmitting vulnerabilities, and remotely monitoring surveillance devices for early detection of fraudulent activities. It becomes imperative for banks and other financial institutions to deploy smart security solutions, which are providing centralized management systems, detecting potential issues pertaining to cyberattacks, proactively assessing risks, and automating work operations. Thus, it becomes an opportunity for players operating in the BFSI security market to introduce intelligent security solutions for banks and financial institutions.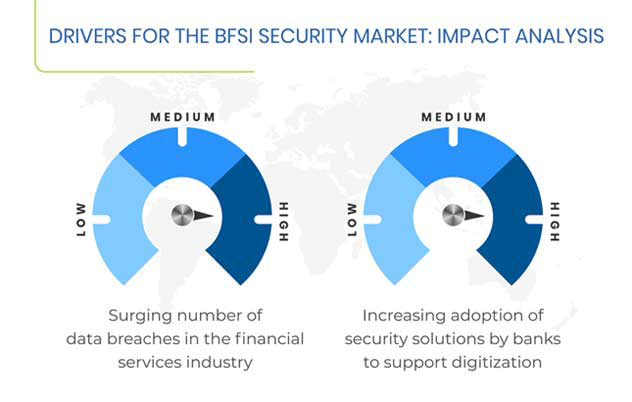 BFSI Security Market Segmentation Analysis
The physical security category held larger share, based on security type, in 2019 BFSI security market. In terms of physical security, the video surveillance category held the largest share, in 2019. This is attributed to the increasing adoption of closed-circuit television (CCTV) cameras in banks to monitor and track activities of suspected individuals or disgruntled employees. Further, emerging technologies and analytical solutions for video surveillance are driving the market growth in this category.
Whereas, based on service, the system integration category is projected to witness fastest growth, during the forecast period in the BFSI security market.
On the other hand, banks held the largest share in the BFSI security market in 2019, on the basis of end user. Further, the category is expected to witness the fastest growth throughout the forecast period. This can be attributed to the increasing number of cyberattacks, along with complying to strict regulatory requirements pertaining to the banking industry. By deploying optimal security solutions, the banking sector can monitor and eliminate vulnerabilities that pose a threat in the ecosystem on a regular basis.
Geographical Analysis of BFSI Security Market
Globally, North America held the largest share in 2019 and is projected to dominate the BFSI security market throughout the forecast period. In the region, the U.S. held larger market share in 2019, and is also projected to hold larger share in 2030. This can be attributed to the fact that banking and financial organizations based in the U.S. are actively deploying vulnerability management solutions and are actively investing toward upgradation of their physical and information security infrastructure and toward the deployment of cyberattack mitigation solutions. Additionally, as per a report by the Federal Bureau of Investigation's (FBI) Internet Crime Complaint Center (IC3), the internet-based thefts, frauds, and instances of cybercrimes costed $2.7 billion of financial losses in 2018, while the number of complaints stood at 351,936.
On the other hand, during the forecast period, the APAC BFSI cyber is expected to witness the fastest growth, mainly on account of the accelerated IT investments in developing countries, such as China and India, increase in fraudulent activities, and proliferation of technological advancements among banks and financial institutions. In the region, China held the largest market share in 2019. The market players in China are focusing on expanding their foothold from video surveillance systems to broader security systems, by providing intruder alarm systems, access control systems, and other physical security information management (PSIM) systems. Moreover, an increased inclination of the BFSI sector in the country toward video-centered intelligent IoT solutions and big data services is also being observed for maximizing security and profitability.
Recent Strategic Developments of Major Market Players
Major players in the global BFSI security market are focusing on product launches, merger & acquisitions, and partnerships, to sustain and improve their position in the industry. For instance, in September 2019, Honeywell International Inc. launched a cybersecurity platform, Honeywell Forge Cybersecurity Platform, which aims to improve cybersecurity performance across an enterprise. The platform supports in increasing the visibility of vulnerabilities and threats, mitigating risks, and improving the efficiency of cybersecurity management. Moreover, the platform also helps in transferring of data safely and utilizes operations data, in order to improve cybersecurity compliance.
Moreover, in August 2019, U.S.-based security provider, McAfee LLC announced the acquisition of NanoSec Co. for an undisclosed amount. Through this acquisition, McAfee aims to strengthen the container security capabilities of McAfee MVISION, which would enable customers to speed up the application delivery, along with enhancing security and compliance of hybrid and multi-cloud deployments.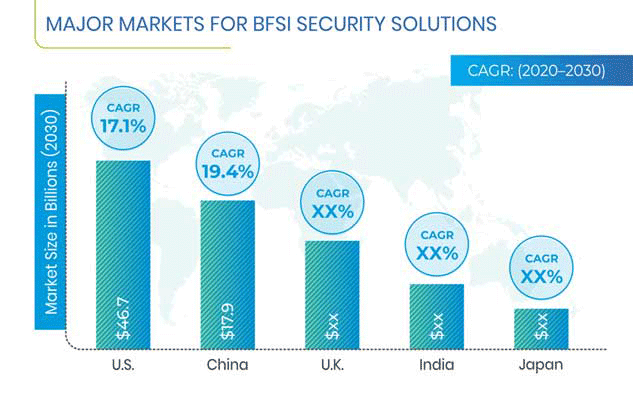 Competitive Landscape of BFSI Security Market
The BFSI security market is fragmented with the presence of numerous players. Some of the major companies include McAfee LLC, Honeywell International Inc., Accenture plc, Broadcom Inc., IBM Corporation, Cisco Systems Inc., Trend Micro Incorporated, DXC Technology Company, Booz Allen Hamilton Holding Corporation, and Dell Technologies Inc.
Market Size Breakdown by Segment
The BFSI security market report offers comprehensive market segmentation analysis along with market estimation for the period 2014–2030.
Based on Security Type
Physical Security

Video surveillance
Access control
Intrusion and fire detection
Physical security information management (PSIM)

Information Security

Antivirus
Encryption
Unified threat management
Risk and compliance management
Data loss prevention
Identity and access management
Based on Service
System Integration
Risk Assessment
Consulting
Training
Based on End User
Banks
Insurance Companies
Geographical Analysis
North America
Europe

U.K.
France
Germany
Russia
Switzerland

Asia-Pacific (APAC)

China
Japan
India
Australia
South Korea
Singapore
New Zealand

Latin America (LATAM)
Middle East & Africa (MEA)

South Africa
Saudi Arabia
U.A.E.