The global autonomous mobile robots (AMRs) market is valued at $29.3 billion in 2019, and is projected to reach $220.6 billion by 2030, advancing at a CAGR of 18.3% during the forecast period (2020–2030). Under segmentation by offering, the market is expected to exhibit faster growth in the service category. This can be attributed to the rising demand for these robots' services globally, particularly in the U.S., China, Japan, South Korea, Germany, and India.
Among various end users, logistics category held largest market share in the autonomous mobile robots market in 2019. This can be ascribed to the growing e-commerce industry; wherein these robots are being utilized for enhancing the warehouse capacity. In order to automate warehouses, e-commerce companies have started to acquire AMR manufacturing companies, wherein Amazon.com Inc. sparked the race by automating the warehouse by acquiring Kiva Systems in 2012; as of 2019, over 200,000 robots have been deployed in these warehouses.
Surging Demand for Automation Solutions to Escalate the Market Growth
Surging demand for automation solutions is a key factor driving the autonomous mobile robots market. On account of increasing complexity in manufacturing operations, lack of labors, higher labor costs, along with increasing focus toward higher productivity, demand for automation solutions is increasing globally. For instance, an automotive OEM requires use of robots for performing complex assembly processes like those involving use of flexible parts. Similarly, logistics and warehouses require these robots for undertaking tasks such as loading and transportation activities.
Growing Demand for AMRs in Agriculture Application
Growing demand for these robots in agriculture application is a key opportunity observed in the market. With increasing implementation of technology in agriculture application, farming practices are increasingly becoming more modernized and sophisticated. Further, with rising population, lack of availability of farm workers, and growing automation in the agriculture industry, the demand for these robots in agriculture application is increasing positively year-over-year (Y-o-Y). Moreover, with rising focus toward improving efficiencies and producing greater yields with fewer inputs in the agriculture field, the demand for AMRs is creating opportunity for the market players.
Limited Load Capacity and High Cost Impacting the Market Growth
Limited load capacity coupled with high cost associated with these robots is a key factor hindering the growth of the market. The functioning of an AMR depends on the operation it handles. Although, the load capacity of this robot varies by its provider and model name, still these robots are not able to carry heavy loads as compared to the automated guided vehicles (AGVs).
Hence, for handling heavy products or materials in the operations. AGVs or an automated storage and retrieval system is mostly preferred and is a better choice for heavy material loading applications as compared to these robots. Apart from this, these robots are quite costly as compared to the other traditional material handling vehicles. As a result, due to limited load capacity and high cost of these robots, the autonomous mobile robots market is hindered.
Segmentation Analysis of Autonomous Mobile Robots Market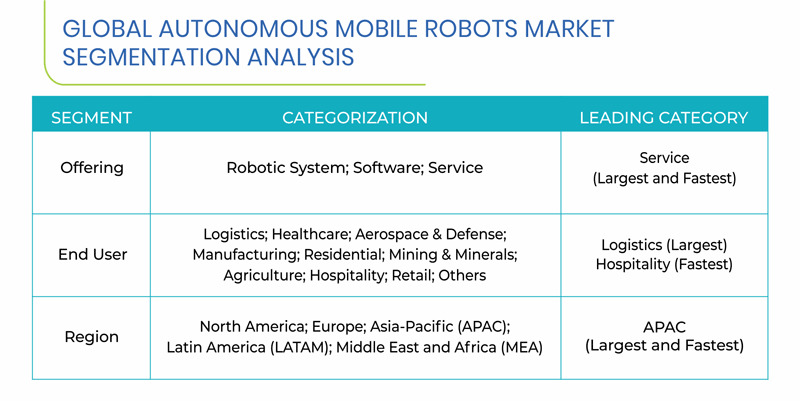 Based on robotic system, unmanned ground vehicle (UGV) category contributed the largest revenue to the market in 2019. This can be majorly attributed to the deployment of these robots for logistics and field expedition application. In logistics sector, these robots are deployed to automate the process of placement and storage of products in warehouses and storage facilities. These ground-based robots are easy to control, and it can work longer period of time when compared to manual labor resulting in increased productivity, time saving, and profitability.
The hospitality category is expected to register the fastest growth in the autonomous mobile robots market during the forecast period. Robots are touted to offer better customer experience and operational efficiency. In 2019, ST Engineering Aethon Inc., launched Aethon T4G, designed in accordance to the needs of hospitality end user, streamlining housekeeping operations by automating luggage and food deliveries to the rooms and public area within the hotel. As awareness pertaining to the benefits offered by these robots are expected to increase within the hospitality industry, adoption is projected to spike during the forecast period.
Geographical Analysis of Autonomous Mobile Robots Market
During the forecast period, the autonomous mobile robots market is expected to witness the fastest growth in Asia-Pacific (APAC) region. This can be ascribed to the growing e-commerce industry in countries like China, India, Japan, and South Korea. With rising e-commerce industry, supply chain network is getting more complex and sophisticated. Thus, to streamline the supply-chain, e-commerce companies such as Amazon.com Inc., Alibaba Group, JD. Com Inc., Rakuten Inc, are anticipated to adopt these robots significantly in coming years.
Competitive Landscape of Autonomous Mobile Robots Market
The autonomous mobile robots market is highly fragmented in nature, characterized by the presence of a large number of global and regional players. Major players in the market includes KUKA AG, Omron Corporation, Teradyne Inc., Clearpath Robotics Inc., and Fetch Robotics Inc. The major players in the market are focusing on product launches, mergers & acquisitions, facilities expansion, and partnerships to increase their presence in the market.
Browse report overview with detailed TOC on "Autonomous Mobile Robots Market Research Report: By Offering (Robotic System, Software, Service), End User (Logistics, Agriculture, Retail, Mining & Mineral, Manufacturing, Aerospace & Defense, Healthcare, Residential, Hospitality) - Global Industry Size, Share and Trends Analysis, Forecast to 2030" at:https://www.psmarketresearch.com/market-analysis/autonomous-mobile-robots-market
For instance, in November 2019, OMRON Corporation launched a new AMRs named as LD-250, with a payload capacity of 551 lb for logistics. This new robot has a high payload capacity and can be used for the transporting of large number of automobile components such as voluminous packaging materials and transmission blocks. Some of the other prominent players operating in the market are 6 River Systems Inc., inVia Robotics Inc., Geekplus Technology Co. Ltd., Grey Orange Pte. Ltd., IAM Robotics, and Cobalt Robotics Inc.