Around the world, the number of vehicles as well as their average age is increasing, requiring regular maintenance and servicing. Further, repair shops are focusing on quicker service and better communication with the customer. These factors are expected to propel the global automotive repair software market at a 10.3% CAGR during 2020–2030 (forecast period); the market valued $1,264.2 million in 2019.
Automotive Repair Software Market Segmentation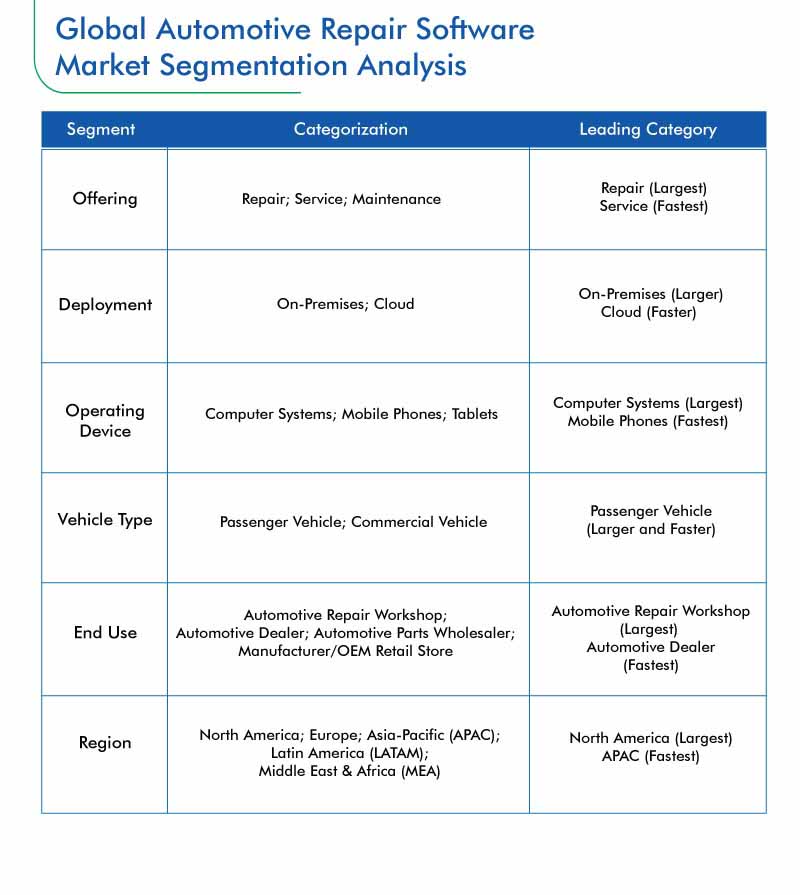 The service category would grow the fastest in the automotive repair software market during the forecast period, with service centers rapidly adopting such solutions for shop management services, with the aim of raising the productivity, saving time, and making the operations more efficient.
Till 2030, higher CAGR in the automotive repair software market is expected to be experienced by the cloud bifurcation. This is attributed to the fact that cloud-based solutions result in a better communication between the repair shop staff and customers. Further, cloud allows the software and all of its features to be accessed from anywhere, anytime, by multiple technicians at once, which leads to significant time saving.
North America had been the most productive automotive repair software market over the historical period (2014–2019), due to the increasing average age of vehicles in the continent. To own vehicles longer and extract optimum mileage out of them, regular servicing and repairs are essential, which is resulting in the rapid uptake of automotive repair software by repair shops in the region, for increased efficiency and lower operational time and expenditure. Other reasons behind the dominance of North America on the industry are technological advancements and high disposable income.
Product Launches are Strongest Strategic Measure in Market
In the recent years, product launches have been the most important strategic measure in the automotive repair software market, owing to the continued efforts of solution providers to dominate the competition.
For instance, in December 2019, Mitchell Repair Information Company LLC introduced a new online appointment feature with its SocialCRM auto shop marketing service. This feature was designed to make it easier for vehicle owners and repair firms to schedule maintenance and servicing appointments. Integrated with Mitchells' Manage SE shop management system, the solution lets customers book an appointment directly on the company's website or via an email, which has been sent from the repair shop.
On similar lines, Total Auto Business Solutions Inc. unveiled the new AutoFluent Support Portal in January 2018. This solution lets service centers receive the company's support more easily and swiftly, by letting them schedule vehicle repair appointments, request support, view latest training topics, and manage bills.
Browse report overview with detailed TOC on "Automotive Repair Software Market Research Report: By Offering (Repair, Service, Maintenance), Deployment (On-Premises, Cloud), Operating Device (Computer Systems, Mobile Phones, Tablets), Vehicle Type (Passenger Vehicle, Commercial Vehicle), End Use (Automotive Repair Workshop, Automotive Dealer, Auto Part Wholesaler, Manufacturer/OEM Retail Store) - Global Industry Analysis and Growth Forecast to 2030" at:https://www.psmarketresearch.com/market-analysis/automotive-repair-software-market
Auto Repair Bill Software Solutions Ltd., SB Technologies Inc., Shopmonkey Inc., Winworks Software Inc., Mitchell Repair Information Company LLC, AutoRepair Cloud LLC, Fullbay Inc., Palmer Products Inc., Identifix Inc., Total Auto Business Solutions Inc., Shoptech Industrial Software Corporation, ALLDATA LLC, CarMD.com Corp., Autodata Limited, Mitchell International Inc., CCC Information Services Inc., Autodesk Inc., asTech, Workshop Software Pty Ltd., Autotracker Inc., Shop-Ware Inc., Nexsyis Collision Inc., GaragePlug Inc., Progressive Automotive Systems LLC, Scott Systems, Reach Process Outsourcing PTE LTD., Amcom, Autino Ltd., Auto Care Software, Kukui Corporation, Deutsche Automobil Treuhand GmbH, and Cognitran Limited are the major global automotive repair software market players.