Repair Category to Hold Largest Share in Automotive Repair Software Market
From $1,264.2 million in 2019, the global automotive repair software market is predicted to grow at a CAGR of 10.3% during the forecast period (2020–2030). The major factors driving the market are the time saving and better communication advantages of such software and increasing number of vehicles in operation and their average age.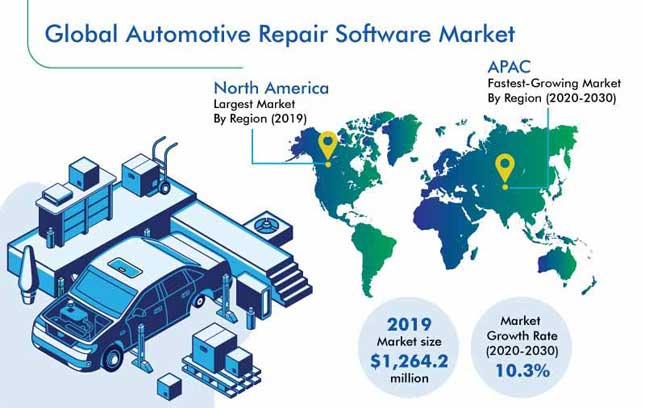 Segmentation Analysis of Automotive Software Market
The repair category would contribute the highest revenue to the automotive repair software market in 2030, under segmentation by offering, on account of the high adoption of this software for automobile diagnostics and repair. These solutions offer insights from experienced technicians, repair information provided by the automaker, and colored diagram of the wiring, for easy understanding. Further, they also help repair technicians, with varying experience levels, in vehicle issue diagnosis and increasing the efficiency of the process.
During the historical period (2014–2019), the on-premises bifurcation dominated the automotive repair software market, based on deployment, as, being small and independent businesses, most auto repair firms opt for low-cost software, because their low budget does not allow them to spend on advanced technologies. Additionally, major tasks, such as inventory management, customer data entry, and appointment scheduling, can be accomplished from the shop, and on-premises software also doesn't have data privacy concerns, on account of its integration with the local server.
The mobile phones category is expected to witness the fastest growth in the automotive repair software market during the forecast period, on the basis of operating device, as solution vendors are increasingly offering mobile-based software. Being handy and easily portable, mobile phones save technicians the trouble of having to walk between their computer and work area repeatedly. This not only saves time and increases the efficiency, but repair shops need not procure computer systems for all individual technicians, which helps bring down operating costs.
Passenger vehicle was the larger bifurcation in the automotive repair software market in 2019, under the vehicle type segment, owing to the huge uptake of automobiles by individual users. Further, with a high number of repair shops offering maintenance and other services for passenger cars, the adoption of automotive repair software for such vehicles has been higher.
Till 2030, the automotive repair workshop classification, based on end use, will keep holding the largest share in the automotive repair software market, as a huge number of such independent automobile servicing establishments exist around the world.
The automotive repair software market is predicted to witness the most rapid advance in Asia-Pacific (APAC) in the coming years, as a result of the fact that of all the regions, APAC accounts for the largest number of vehicles in operation. In addition to this, with the increasing spending on advanced technology, enabled by the increasing disposable income of the regional population, the demand for such software would surge rapidly here.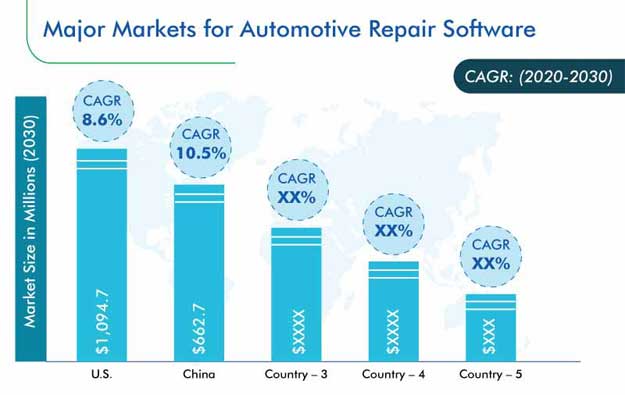 Mobile Platforms are a Key Market Trend
A prominent trend in the automotive repair software market is the integration of mobile platforms at service centers. Not only do mobile phones do away with the requirement for technicians to walk back and forth between their work station and computer, but these devices are also more cost-effective than laptops and desktops, have a longer battery life, and are especially designed for mobility. This enables the technicians to spend more time on vehicle repair, which makes the process more efficient. Moreover, with mobile phones, customers can be contacted faster for repair approvals, thereby enabling better time management.
Need for Time Saving and Better Communication is an Important Market Driver
Among the major drivers for the automotive repair software market is the requirement to save time and communicate better. With automobiles becoming more complex, repair shops are also becoming more sophisticated. With customers demanding higher accuracy and faster service, computerization has become the key solution. By utilizing the available technology fully, repair firms can save time, better organize their business, and better interact with the customer. For higher efficiency, tasks such as inventory and parts management, vehicle repair, appointment scheduling, and back-office operations must be completed quickly. A software-based model aids in decluttering the system, quickening up the operations, and tracking historical records.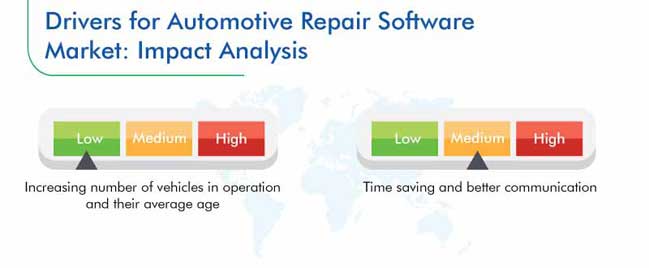 Self-Driving Cars to Offer Lucrative Growth Opportunities
A key opportunity area for the automotive repair software market is the deployment of self-driving cars in future. Such vehicles would have numerous advanced features, such as speech recognition, eye tracking, driver monitoring, virtual assistance, and natural language interfaces, as well as camera-based machine vision systems, driver condition evaluation systems, sensor fusion engine control units, and radar-based detection units. For repairing them, extensive diagnostic knowledge would be required, which would mean interacting with the automaker for complete automobile facts. To accomplish all this, advanced automotive repair software would be needed, which would provide lucrative opportunities to solution vendors in the coming years.
Automotive Repair Software Market Report Coverage

| | |
| --- | --- |
| Report Attribute | Details |
| Historical Years | 2014-2019 |
| Forecast Years | 2020-2030 |
| Market Size by Segments | Offering, Deployment, Operating Device, Vehicle Type, End Use |
| Market Size of Geographies | U.S., Canada, U.K., Germany, France, Italy, Spain, China, Japan, South Korea, India, Australia, Brazil, Mexico, South Africa, Saudi Arabia, U.A.E. |
Explore more about this report - Request free sample pages
Market Witnessing Increasing Number of Product Launches
Automotive repair software market players are rapidly introducing new solutions, to target maintenance and servicing establishments with the prospects of more efficient operations.
For instance, in February 2020, Mitchell Repair Information Company LLC integrated interactive wiring diagrams in its ProDemand auto repair information software. These diagrams are directly linked with the information of that particular component, which saves technicians the trouble of performing secondary research, by providing them with the component information from the diagram itself.
Similarly, Total Auto Business Solutions Inc. introduced AutoInspect, its new vehicle inspection tool, in January 2018. It enables vehicle inspection via pictures and videos, from android, iOS, Windows, and Mac OS devices. The tool is designed to speed up vehicle diagnosis and customer check-in, via vehicle identification number (VIN) barcode scanning, license plate image recognition, and numerous other features.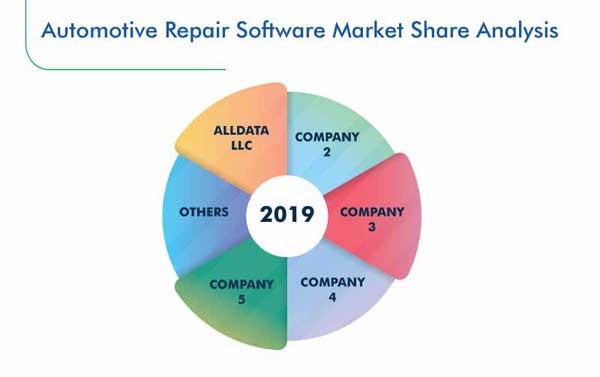 The major players in the global automotive repair software market are SB Technologies Inc., Auto Repair Bill Software Solutions Ltd., Winworks Software Inc., Shopmonkey Inc., AutoRepair Cloud LLC, Mitchell Repair Information Company LLC, Palmer Products Inc., Fullbay Inc., Total Auto Business Solutions Inc., Identifix Inc., ALLDATA LLC, Shoptech Industrial Software Corporation, Autodata Limited, CarMD.com Corp., CCC Information Services Inc., Mitchell International Inc., asTech, Autodesk Inc., Autotracker Inc., Workshop Software Pty Ltd., Nexsyis Collision Inc., Shop-Ware Inc., Progressive Automotive Systems LLC, GaragePlug Inc., Reach Process Outsourcing PTE LTD., Scott Systems, Autino Ltd., Amcom, Kukui Corporation, Auto Care Software, Cognitran Limited, and Deutsche Automobil Treuhand GmbH.
Market Size Breakdown by Segment
The automotive repair software market report offers comprehensive market segmentation analysis along with market estimation for the period 2014–2030.
Based on Offering
Repair
Service
Maintenance
Based on Deployment
Based on Operating Device
Computer Systems
Mobile Phones
Tablets
Based on Vehicle Type
Passenger Vehicle
Commercial Vehicle
Based on End Use
Automotive Repair Workshop
Automotive Dealer
Auto Part Wholesaler
Manufacturer/Original Equipment Manufacturer (OEM) Retail Store
Geographical Analysis
North America
Europe

U.K.
Germany
France
Italy
Spain

Asia-Pacific (APAC)

China
Japan
South Korea
India
Australia

Latin America (LATAM)
Middle East and Africa (MEA)

South Africa
Saudi Arabia
U.A.E.