Due to the rising demand for autonomous vehicles, the incorporation of advanced driver-assistance systems (ADAS) is increasing. Additionally, several policies are being implemented and financial incentives are being offered by governments for the integration of radars. Both these factors are expected to together drive the global automotive radar market at an 8.4% CAGR during 2020–2030 (forecast period); the market generated $5,839.0 million revenue in 2019.
Automotive Radar Market Segmentation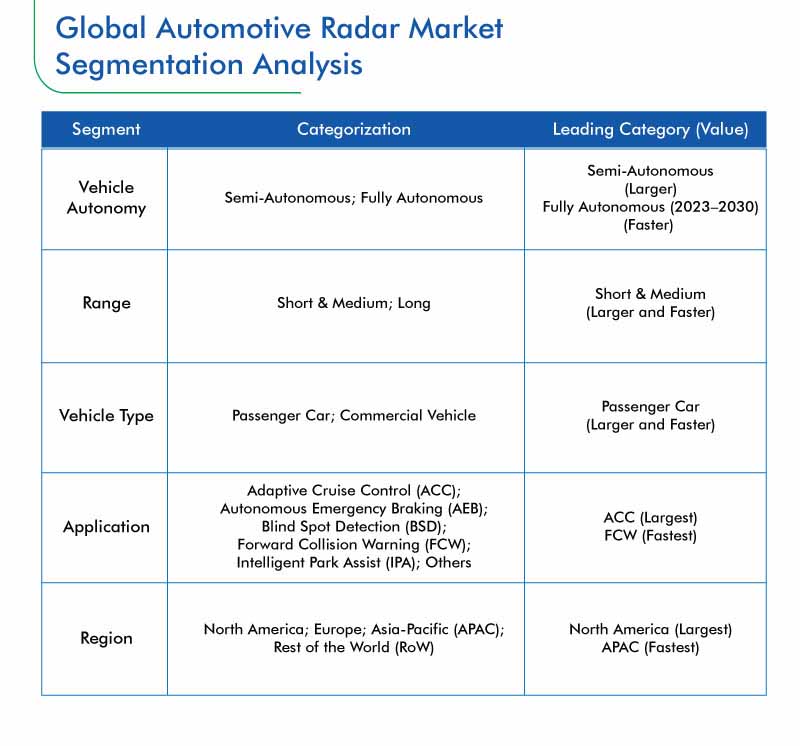 During the 2023–2030 period, the fully autonomous bifurcation is predicted to grow faster in the automotive radar market, on account of the wide deployment of such automobiles in shared mobility services, especially those offered via robotaxis. This is why, during this period, the procurement rate of fully autonomous vehicles would be higher than semi-autonomous variants; therefore, the integration rate of radars will also be higher in the former type of automobiles.
The short & medium bifurcation held the larger share in the automotive radar market in 2019, as, compared to long-range radars, more short- & medium-range radars are incorporated in autonomous vehicles. For instance, in level 3 semi-autonomous vehicles, only two long-range radars are integrated, compared to four short- & medium-range radars.
Till 2030, the highest CAGR in the automotive radar market would be seen in Asia-Pacific (APAC). This is attributed to the high production of vehicles and continuous advancements in their technology, especially in China. Further, with the increasing investments for the development of enhanced vehicle safety features and rising disposable income in developing countries, such as India and China, the sale of premium automobiles is surging, thereby driving the demand for radars in the region.
Market Witnessing a High Number of Product Launches
Players in the automotive radar market are launching an array of improved products, to target a wider customer pool and augment their profit.
For instance, in February 2020, a new 77 gigahertz (GHz) radar technology was launched by HELLA Automotive Sales Inc., to enable autonomous driving. While, initially, these radars will be produced in Hamm, Germany, later, the production will also start at the firm's manufacturing plants in the U.S. and China.
In the same vein, in October 2019, Infineon Technologies AG introduced the TC3A microcontroller for 77 GHz automotive radar applications, to support ADAS and autonomous driving functionalities. The microcontroller consists of a large static random-access memory (SRAM), a signal processing unit, four TriCore processors running at 300 megahertz (MHz), and two additional lockstep cores.
Browse report overview with detailed TOC on "Automotive Radar Market Research Report: By Vehicle Autonomy (Semi-Autonomous, Fully Autonomous), Range (Short & Medium, Long ), Vehicle Type (Passenger Car, Commercial Vehicle), Application (Adaptive Cruise Control, Autonomous Emergency Braking, Blind Spot Detection, Forward Collision Warning, Intelligent Park Assist) - Global Industry Analysis and Growth Forecast to 2030" at:https://www.psmarketresearch.com/market-analysis/automotive-radar-market
Analog Devices Inc., Continental AG, Delphi Technologies PLC, DENSO CORP., Infineon Technologies AG, NXP Semiconductors N.V., ON Semiconductor Corp., Robert Bosch GmbH, TE Connectivity Ltd., and Valeo SA are the major companies in the global automotive radar market.