Semi-Autonomous Vehicle Radar Hold Larger Share in Automotive Radar Market
The global automotive radar market reached $5,839.0 million in 2019, and it is expected to grow at a CAGR of 8.4% during the forecast period (2020–2030). The major factors driving the advance of the industry are the rising integration of advanced driver-assistance systems (ADAS) in vehicles and supportive government regulations for the usage of radars.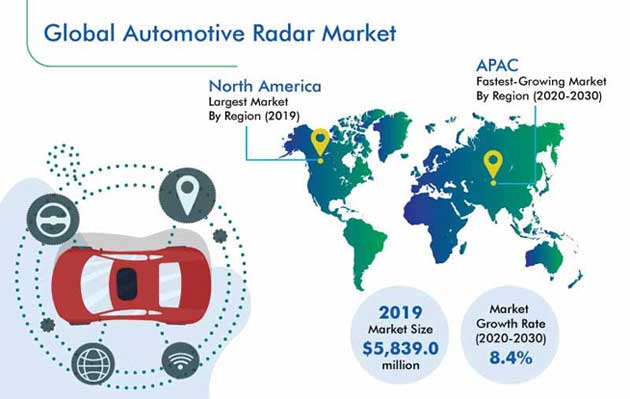 Segmentation Analysis of Automotive Radar Market
In 2019, the semi-autonomous bifurcation dominated the automotive radar market, on the basis of vehicle autonomy, as up till now, only level 1, 2, and 3 autonomous vehicles have been available for purchase, while fully autonomous vehicles would be launched by 2023 onward.
The short & medium bifurcation would witness the higher CAGR in the automotive radar market, under the range segment, during the forecast period, as automobiles with level 1 autonomy features are equipped with two short- & medium-range radars and only one long-range radar. Similarly, level 2 autonomous vehicles have three short- & medium-range radars and one long-range radar, while level 3, 4, and 5 autonomous vehicles comprise four short- & medium-range and two long-range radars.
During the historical period (2016–2019), the automotive radar market was led by the passenger car bifurcation, based on vehicle type, because over 70% of the automobiles manufactured in 2019 were passenger cars. Further, most of the technological advancements brought about in the automotive domain are first implemented and tested on passenger cars, which is why they account for the higher integration of radars.
The adaptive cruise control (ACC) category, under segmentation by application, is predicted to continue holding the largest share in the market till 2030. This is ascribed to the increasing demand for radar-equipped ACC systems in semi-autonomous vehicles, as radars can function in adverse weather.
North America was the largest automotive radar market during the historical period, and it is expected to continue on this path till 2030, due to the rising development activities for autonomous vehicles, which are leading to a high demand for radars in the continent. Along with the major regional automakers focusing on technological improvements, governments are implementing a number of policies and offering financial incentives for the adoption of such devices.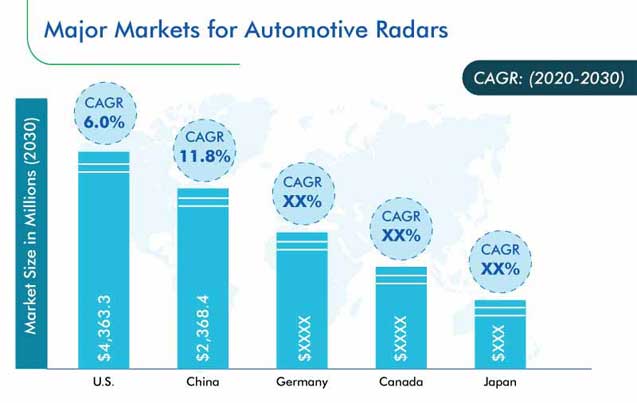 Adoption of Long-Range Radars Is a Key Market Trend
The most prominent trend in the automotive radar market is the usage of long-range radars (LRRs). This is because such devices can detect vehicles and other objects in their path, up to 150 meters away, which is significantly more than short- & medium-range radars. Thus, the enhanced object detection capabilities of LRRs are leading to their increasing adoption in autonomous vehicles, as they help make the driving experience safer.
Rising Demand for ADAS Features Is Most Important Market Driver
The key factor driving the growth of the automotive radar market is the rising requirement for vehicles to be equipped with ADAS features. With the increasing sale of autonomous vehicles, radars are rising in demand too, as they enable several automobile functions, including eye tracking, speech recognition, virtual assistance, driver monitoring, natural language interface, and gesture recognition, which are highly dependent on advanced radar systems for their performance. Further, the development of the ADAS, which includes radar-enabled detection units, is resulting in the high demand for automotive radar solutions in the market.

Deployment of Autonomous Vehicles in Mobility as a Service (MaaS) Model Is a Lucrative Opportunity Area
Lucrative opportunities for the automotive radar market are being created by the surging deployment of autonomous vehicles under the mobility as a service (MaaS) model. From $197.8 billion in 2019, the MaaS market would expand to $346.9 billion by 2024, as this model is quickly becoming a crucial cog in the public transportation ecosystem. Moreover, a large number of autonomous vehicles would be pressed into shared mobility services, as the rides offered on such vehicles will be more cost-effective than those offered via conventional automobiles. This is why automakers and technology companies are coming forward to test autonomous taxis, known as robotaxis. For instance, Continental AG tested its CUbE (continental urban mobility experience) robotaxi in Frankfurt, Germany, in 2017.
Automotive Radar Market Report Coverage

| | |
| --- | --- |
| Report Attribute | Details |
| Historical Years | 2016-2019 |
| Forecast Years | 2020-2030 |
| Market Size by Segments | Vehicle Autonomy, Range, Vehicle Type, Application |
| Market Size of Geographies | U.S., Canada, Germany, Spain, U.K., France, Italy, China, Japan, India, Brazil, Mexico |
Explore more about this report - Request free sample pages
Market Players Expanding their Production Capacity for Higher Sales
In recent years, several companies operating in the automotive radar market have engaged in facility expansions, to increase their production capacity and cater to the rising demand for such automobile components.
For instance, in September 2019, DENSO CORP. announced that it will invest $100.9 million (JPY 11 billion) by 2025 to expand the capacity of its Hokkaido manufacturing plant. While the construction of the plant is scheduled to begin in July 2020 and complete in June 2021, the production will be increased in stages, beginning October 2021. With this expansion, the company aims to meet the rising requirement for semiconductor sensors for radars and other automotive components.
Similarly, in April 2019, Infineon Technologies AG revealed its decision to expand the capacity of its production facility in Linz, Austria, where 77 gigahertz (GHz) radar chips for ADAS systems are manufactured. The expansion of the plant is planned to be completed in the summer of 2020.
The key players in the global automotive radar market are Analog Devices Inc., Continental AG, Delphi Technologies PLC, DENSO CORP., Infineon Technologies AG, NXP Semiconductors N.V., ON Semiconductor Corp., Robert Bosch GmbH, TE Connectivity Ltd., and Valeo SA.
Market Size Breakdown by Segment
The automotive radar market report offers comprehensive market segmentation analysis along with market estimation for the period 2016–2030.
Based on Vehicle Autonomy
Semi-Autonomous
Fully Autonomous
Based on Range
Based on Vehicle Type
Passenger Car
Commercial Vehicle
Based on Application
Adaptive Cruise Control (ACC)
Autonomous Emergency Braking (AEB)
Blind Spot Detection (BSD)
Forward Collision Warning (FCW)
Intelligent Park Assist (IPA)
Geographical Analysis
North America
Europe

Germany
Spain
U.K.
France
Italy

Asia-Pacific (APAC)
Rest of the World (RoW)