The automotive lithium-ion battery market was valued at $24.2 billion in 2018 and is projected to reach $74.3 billion by 2024, progressing at CAGR of 15.9% during the forecast period (2019-2024).
Historically, the industry witnessed the fastest growth from passenger car segment. The market growth is mainly driven by the high sales of electric cars worldwide and the increased government push in various countries in the form of subsidies and monetary incentives for the adoption of electric cars.
Increased usage of NMC batteries in electric cars for increased effectiveness is the key trend observed in the automotive lithium-ion battery market. It is mainly due to tremendous decline in the prices of NMC batteries in recent years. Additionally, the demand for higher range per charge is rising, and these batteries offer a greater energy density and thus offers a higher vehicle range.
The growing production and demand of electric vehicles is acting as a major driver in the growth of automotive lithium-ion battery market. People preference is shifting towards using more alternative energy vehicles, especially electric vehicles, due to fluctuating fuel prices and concern over environmental protection due to rising pollution levels from conventional vehicles. Additionally, rapidly reducing prices of lithium-ion battery components are further supporting the demand of automotive lithium-ion battery.
Segmentation Analysis of Automotive Lithium-Ion Battery Market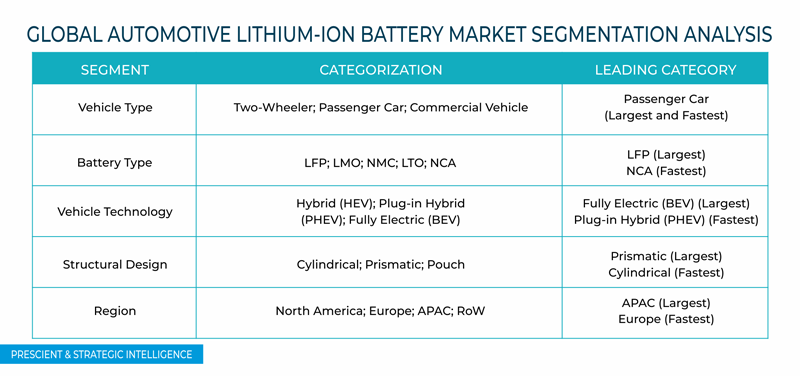 LFP battery constituted the largest share in the automotive lithium-ion battery market. The high sale is driven by its higher life-span and high use by majority of the Chinese electric vehicle manufacturers. Additionally, manufacturers use LFP batteries in the production of commercial vehicles, which constitutes significant share in the overall market.
The battery electric vehicles (BEVs) contributed the largest revenue in the industry. This is mainly due to the highest average battery capacity requirements in BEVs, when compared to hybrid (HEVs) and plug-in hybrid vehicles (PHEVs). For instance, the average battery capacity in fully electric car was over 40 kWh in the U.S., in 2018. Additionally, increasing concerns over environmental protection are encouraging governments in various countries to offer subsidies and incentives for rapid production and adoption of BEVs mainly.
The automotive lithium-ion battery with cylindrical cells witnessed fasted growth in the market. Its demand was driven by high mechanical efficiency and greater heat dissipation properties of these cells and their lower cost of production. Several manufacturers are focusing on using these cells in battery packs for manufacturing of their electric vehicles.
Geographical Analysis of Automotive Lithium-Ion Battery Market
The APAC region was the largest automotive lithium-ion battery market in the historical period. The high share of APAC region is due to the heavy production and sales of electric vehicles in China. China alone accounted for around 80.0% share in the APAC automotive lithium-ion batteries market in value terms, in 2018. The large size of the Chinese market is led by the support of government authorities, such as providing infrastructural support including charging station spaces, offering incentives and subsidies, and pouring huge money in the electric vehicle industry.
However, Europe is expected to witness fastest growth during the forecast period, owing to the target set by the government to increase sales of electric vehicles. Moreover, the European Union has planned its joint efforts with battery manufacturers and commercial lenders to build an ecosystem with a huge investment to become self-sufficient in battery production, for the purpose of powering electric vehicles. For instance, the European Investment Bank (EIB) provided primary approval for $392.0 million loan this year to Northvolt Ett, to set up a battery Gigafactory in Sweden. Also, the German government is planning to ramp up its domestic production of battery cells for electric vehicles. Such factors are supporting the demand of automotive lithium-ion batteries in the European region.
Browse report overview with detailed TOC on "Automotive Lithium-Ion Battery Market Research Report: By Vehicle Type (Two-Wheeler, Passenger Car, Commercial Vehicle), Battery Type (Lithium-Iron Phosphate, Lithium-Manganese Oxide, Lithium-Nickel-Manganese-Cobalt, Lithium Titanate Oxide, Lithium-Nickel-Cobalt-Aluminum Oxide), Vehicle Technology (Hybrid, Plug-in Hybrid, Fully Electric), Structural Design (Cylindrical, Prismatic, Pouch), Geographical Outlook (U.S., Canada, Germany, France, U.K., Norway, Sweden, Netherlands, China, Japan, South Korea, India, Mexico, Brazil) – Global Trends Analysis and Growth Forecast to 2024" at:https://www.psmarketresearch.com/market-analysis/automotive-lithium-ion-battery-market
Competitive Landscape of Automotive Lithium-Ion Battery Market
In the global automotive lithium-ion battery market, most of the leading players are present in the APAC region, especially in China, Japan, and South Korea currently. Some of the major players of the industry are LG Chem Ltd., BYD Co. Ltd., Contemporary Amperex Technology Co. Ltd. (CATL), Panasonic Corp., Tesla Inc., and Automotive Energy Supply Corp. (AESC).
In June 2019, Volkswagen Group announced joint venture with Northvolt AB for setting up lithium-ion battery plant in Germany. The construction of this plant is scheduled to start in 2020 in Salzgitter and production of the battery will start by 2023. The plant will have an annual production capacity of nearly 16GWh. This agreement will help Volkswagen to fulfil battery demand in its electric vehicles. Moreover, in February 2019, CATL announced to scale up EV battery production of its lithium-ion battery production plant in Germany, as part of its expansion plans based on expected high sales of EVs in coming years. The company also announced that by 2026, this capacity will be expanded to 60 GWh.
Other leading players operating in the automotive lithium-ion battery market are Samsung SDI Co. Ltd., OptimumNano Energy Co. Ltd., Tianjin Lishen Battery Joint-Stock Co. Ltd., and Shenzhen BAK Battery Co. Ltd.
Market Segmentation by Vehicle Type
Two-Wheeler

Bike
Scooter/ Motorcycle
Kick scooter

Passenger Car

Hatchback
Sedan
Sports utility vehicle (SUV)

Commercial Vehicle
Market Segmentation by Battery Type
Lithium-Iron Phosphate (LFP)
Lithium-Manganese Oxide (LMO)
Lithium-Nickel-Manganese-Cobalt (NMC)
Lithium Titanate Oxide (LTO)
Lithium-Nickel-Cobalt-Aluminum Oxide (NCA)
Market Segmentation by Vehicle Technology
Hybrid
Plug-in Hybrid
Fully Electric
Market Segmentation by Structural Design
Cylindrical
Prismatic
Pouch
Market Segmentation by Region
North America Automotive Lithium-Ion Battery Market

By vehicle type

Two-wheeler

Bike
Scooter/Motorcycle
Kick-scooters

Passenger car
Commercial vehicle

By battery type
By vehicle technology
By structural design
By country – U.S. and Canada

Europe Automotive Lithium-Ion Battery Market

By vehicle type

Two-wheeler

Bike
Scooter/Motorcycle
Kick-scooters

Passenger car
Commercial vehicle

By battery type
By vehicle technology
By structural design
By country – Germany, France, U.K., Norway, Sweden, Netherlands, and Rest of Europe

Asia-Pacific (APAC) Automotive Lithium-Ion Battery Market

By vehicle type

Two-wheeler

Bike
Scooter/Motorcycle
Kick-scooters

Passenger car
Commercial vehicle

By battery type
By vehicle technology
By structural design
By country – China, Japan, South Korea, India, and Rest of APAC

Rest of the World (RoW) Automotive Lithium-Ion Battery Market

By vehicle type

Two-wheeler

Bike
Scooter/Motorcycle
Kick-scooters

Passenger car
Commercial vehicle

By battery type
By vehicle technology
By structural design
By country – Mexico, Brazil, and Others