The global automotive light detection and ranging (LiDAR) market was valued at $289.3 million in 2019, and it is expected to generate revenue of $14,754.7 million by 2030, growing with a CAGR of 26.1%% between 2020–2030 (forecast period). The semi-autonomous vehicle category dominated the market during the historical period (2014–2019), in terms of vehicle autonomy.
During the forecast period, the automotive LiDAR market is expected to witness faster growth in the fully-autonomous category, owing to the greater estimated deployment of such automobiles in the public shared mobility services.
Inflow of Investments is a Major Trend in the Market
The automotive LiDAR market is witnessing the inflow of substantial investments from major firms. Over the last three years, the market has successfully gathered over $1 billion investments, distributed across over 70 startups, worldwide. For instance, in December 2019, Volkswagen AG's subsidiary, Porsche Automobil Holding SE, invested a hefty undisclosed amount in a LiDAR startup company, Aeva Inc. Further, in March 2019, an Israel-based startup, Innoviz Technologies Ltd., received an investment of $132 million from several major Chinese financial institutions, as part of its Series C funding round.
Superior Detection Capacity of LiDAR is a Major Driver for the Market
The superior detection capacity of LiDAR sensors, compared to other sensors, is a major driver contributing to the growth of the automotive LiDAR market. The LiDAR sensor technology is an airborne technology that allows for faster and more accurate data collection than other available advanced driver-assistance system (ADAS) sensors. Moreover, other additional features of LiDAR, including higher sample density, day and night usage ability, the capacity to be integrated with other data sources, and minimum human dependency, make it a superior sensor technology for vehicles, thereby making it the preferred choice for adoption.
Segmentation Analysis of Automotive LiDAR Market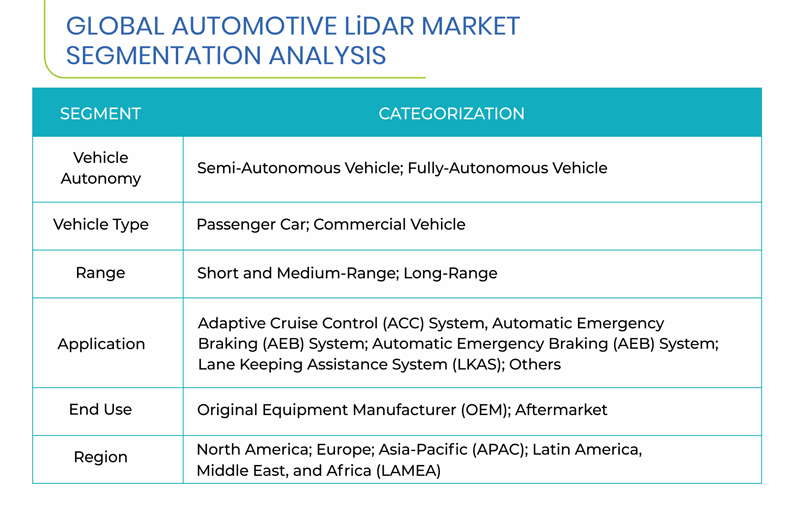 Semi-autonomous vehicles were the larger category in the automotive LiDAR market during the historical period, on the basis of vehicle autonomy. This is because during the historical period, only level 1, 2, and 3 semi-autonomous vehicles were in use, whereas fully autonomous vehicles would be launched by 2023.
Passenger car was the larger category during the historical period, in terms of vehicle type. This is because passenger cars accounted for over 70% of the total vehicles produced in the world, in 2019, and the trend has been the same in the previous years. Thus, the higher production of these vehicles contributes to the higher demand for LiDAR sensors for these vehicles.
Long-range LiDAR is expected to advance at the higher rate than short- and medium-range LiDAR, based on range, during the forecast period. The introduction of higher-level autonomous vehicles is expected to fuel the growth of this category in the automotive LiDAR market, as advanced autonomous vehicles would be more dependent on LiDAR sensors, to ensure accurate data detection, for greater vehicle safety.
Geographical Analysis of Automotive LiDAR Market
APAC is expected to be the fastest growing region in the automotive LiDAR market during the forecast period, driven by the increasing development of autonomous technologies in this region. The autonomous technology is a trend in the transportation sector, and self-driving vehicles are already on APAC's streets today, with tests and pilot projects being rolled out in China. For instance, in August 2019, Beijing Xiaoju Technology Co. Ltd. (DiDi Chuxing) launched a pilot project for testing robo-taxis, in Shanghai. As a part of the project the company will deploy 30 different models of level 4 autonomous cars.
Competitive Landscape of Automotive LiDAR Market
Some of the key strategic measures taken by the major players in the automotive LiDAR market are Sony Corp.'s January 2020 announcement that it is looking forward to developing LiDAR sensors, in the coming years, for autonomous vehicles. Similarly, in December 2019, Yandex N.V. announced that it has begun to test its own LiDAR laser technology and cameras. The sensors used in these devices, which would be used in the company's delivery robot, the Yandex.Rover, would be able to detect whether an object is a pedestrian, bicycle, or something else, at a distance of up to 200 meters.
Browse report overview with detailed TOC on "Automotive LiDAR Market Research Report: By Vehicle Autonomy (Semi-Autonomous Vehicle, Fully-Autonomous Vehicle), Vehicle Type (Passenger Car, Commercial Vehicle), Range (Short and Medium-Range, Long-Range), Application (ACC System, AEB System, BSD System, LKAS) - Industry Size, Share, Growth and Demand Forecast to 2030" at:https://www.psmarketresearch.com/market-analysis/automotive-lidar-market
Some of the major players operating in the global automotive LiDAR market are Velodyne Lidar Inc., Innoviz Technologies Ltd., Quanergy Systems Inc., ZF Friedrichshafen AG, Infineon Technologies AG, Luminar Technologies Inc., Texas Instruments Inc., LeddarTech Inc., and Valeo SA.