The global automation as a service (AaaS) market was valued at $2.9 billion in 2017, and is further expected to generate $10.9 billion by 2023, exhibiting a CAGR of 23.9% during the forecast period. The sales and marketing category in terms of business process is expected to register the fastest growth during the forecast period. Sales and marketing processes, such as vendor management, incentive claim, sales order, collection, trend tracking, communication record keeping, and lead distribution, are being automated by the organizations to focus on more productive tasks.
Advancements in Artificial Intelligence (AI) and Cognitive Computing
Advancements in AI and cognitive computing is one of the key trends observed in the automation as a service market. These technologies show significant growth in their adoption for AaaS. In current scenario, cognitive computing technology, which includes adaptive learning, speech recognition, and pattern identification algorithm, transforms business processes and enables organizations to achieve set goals.
Greater Ease of Doing Business
Greater ease of doing business is a key factor fueling the growth of the automation as a service market across the globe. AaaS facilitates integration of automation capabilities that imitate human interaction with websites, portals, excel worksheets, and emails. It enables businesses to shift their focus from repetitive tasks to the complex tasks requiring emotional intelligence and sound reasoning and judgment. AaaS also enables enterprises to focus more on innovative strategies instead of operations, thereby resulting in greater ease of doing business.
Segmentation Analysis of Automation as a Service Market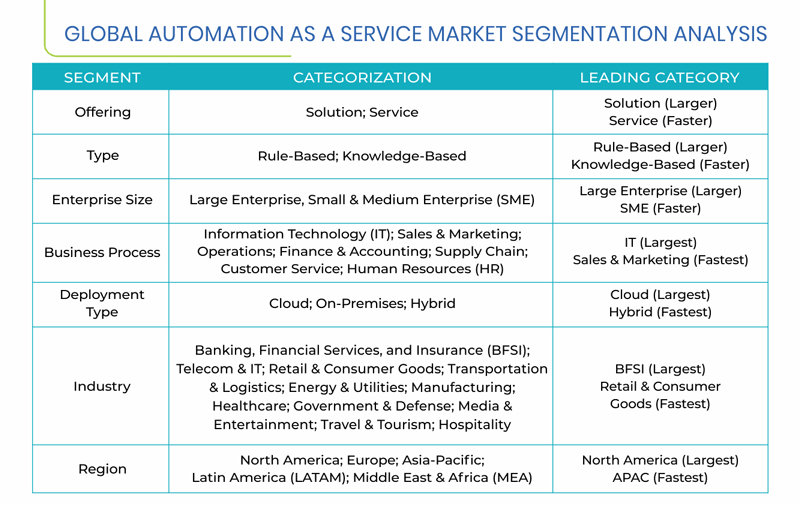 The service offering category is expected to witness faster growth in the market during the forecast period. This can be attributed to consulting services and increasing demand for integration and implementation of AaaS solutions.
The knowledge-based category is projected to witness faster growth in the automation as a service market during the forecast period. This can be attributed to the greater ability of knowledge-based automation to deal with a large amount of unstructured data.
The large enterprise category in terms of size held the larger share in the market in 2017. Large enterprises have more complex processes that need to be automated to reduce redundancies as well as errors occurring manually.
The cloud deployment category held the largest share in the automation as a service market in 2017. Cloud deployment of AaaS is the most viable choice due to the several advantages, including easy scalability, replicability, and quick deployment.
The retail & consumer goods category in terms of industry is expected to witness fastest growth in the automation as a service market during the forecast period. Retailers are increasingly using automation software to offer better customer service and reduce lead times for products. In addition, automation also offers better cost control, improved process control, and higher productivity, which further drive the adoption of AaaS software in this category.
Geographical Analysis of Automation as a Service Market
Together, North America and Europe are expected to account for over 60% share in the global automation as a service market by 2023, owing to the technological advancement, strong digitalization, increasing government initiatives toward the adoption of AI, huge presence of large enterprises, surging IT spending, and growing services industry in the region. Other geographies, which include APAC, LATAM, and MEA, also hold considerable shares in the market. Among these, APAC is expected to witness the fastest growth in the market during the forecast period. This can be attributed to the rising economic growth, increasing investment in IT infrastructure, and significant adoption of emerging technologies.
Competitive Landscape of Automation as a Service Market
The automation as a service market is fragmented in nature with the presence of a large number of market players, including Nice Ltd., Kofax Inc., Automation Anywhere Inc., Pegasystems Inc., and Accenture plc.
In recent years, major players in the market have taken several strategic measures, such as mergers & acquisitions, partnerships, product launches, and geographical expansions, to gain a competitive edge in the industry. For instance, in August 2018, Accenture plc acquired Pillar Technology, a smart embedded software company, for an undisclosed amount. This acquisition targets the expansion of Accenture's Industry X.0 in North America. Industry X.0 enables companies to shift to digital products and services through enterprise digitization.
Moreover, in August 2018, Kofax Inc. launched 9.2 version of ReadSoft where it adds simplified self-service registration and onboarding and provisioning capabilities for cost-effective and convenient access to Kofax software as a service (SaaS)-based invoice accounts payable and processing solution.
Apart from the aforementioned companies, other players offering AaaS software and services across the globe include International Business Machines Corporation, HCL Technologies Ltd., Microsoft Corporation, Micro Focus International plc., Blue Prism Ltd., UiPath Inc., and Hewlett Packard Enterprise Company.