Across the world, the prevalence of cancer is increasing and people are becoming more aware about the various diagnostic and treatment techniques available. Additionally, minimally invasive surgeries are becoming rapidly popular among people, spending on healthcare is surging, and the devices used for diagnosis are undergoing technological advancements. All these factors are collectively expected to push the revenue generated in the aspiration and biopsy needles market to $1,717.9 million by 2030, from $801.5 million in 2019. Further, during the forecast period (2020–3030), the market is projected to witness a CAGR of 7.2%.
Aspiration and Biopsy Needles Market Segmentation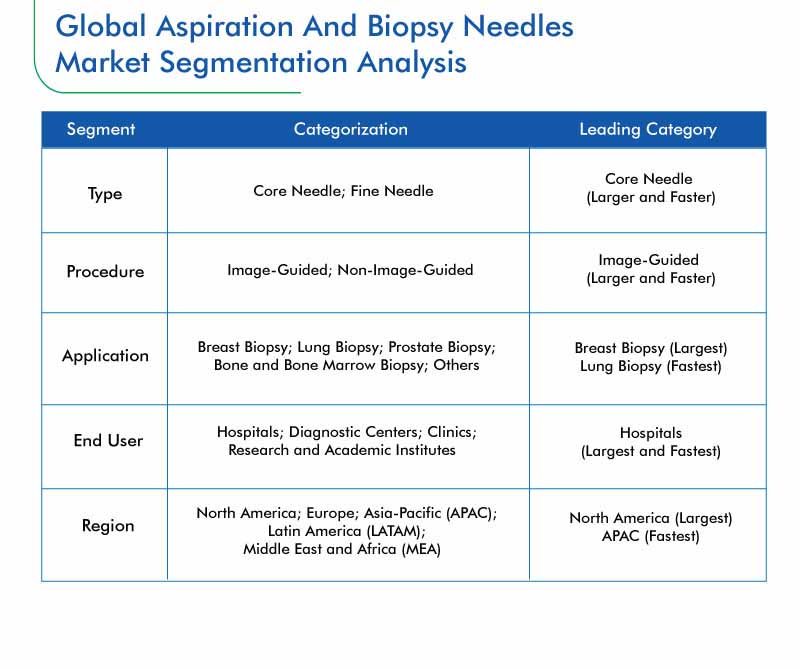 During the historical period (2014–2019), core needle held the larger aspiration and biopsy needles market share, on account of the ability of this type of procedure to easily diagnose benign lesions. Additionally, this can also be used to differentiate between in situ and invasive malignant tumors of the mammary tissue.
The lung biopsy category is expected to witness the highest CAGR in the aspiration and biopsy needles market, in the coming years, due to the increasing number of people, in all age groups, falling prey to lung cancer. Additionally, the awareness about the disease, detection methods, and treatments is also rising around the world.
In 2019, North America dominated the aspiration and biopsy needles market, owing to the high healthcare expenditure and increasing awareness about early cancer detection. Additionally, several new devices are getting approvals from the U.S. Food and Drug Administration (USFDA), which is encouraging market players to up their research and development (R&D) efforts in the field.
Browse report overview with detailed TOC on "Aspiration and Biopsy Needles Market Research Report: By Type (Core Needle, Fine Needle), Procedure (Image-Guided, Non-Image-Guided), Application (Breast Biopsy, Lung Biopsy, Prostate Biopsy, Bone and Bone Marrow Biopsy), End User (Hospitals, Diagnostic Centers, Clinics, Research and Academic Institutes) - Industry Size, Share, Development and Demand Forecast to 2030" at:https://www.psmarketresearch.com/market-analysis/aspiration-and-biopsy-needles-market
Product Launches being Extensively Pursued by Market Players
To target a wider customer base with advanced offerings, companies in the aspiration and biopsy needles market are launching new and improved products. For instance, in September 2018, Olympus Corporation extended its EZ Shot 3 Plus product line via the addition of the EZ Shot 3 Plus 25 G EUS needle. These needles are suitable for fine-needle aspiration (FNA) as well as fine-needle biopsy (FNP) procedures.
Boston Scientific Corporation, Olympus Corporation, Stryker Corporation, Medtronic plc, Argon Medical Devices Inc., Becton, Dickinson and Company, Merit Medical Systems Inc., CONMED Corporation, Cook Medical LLC, Sterylab s.r.l., and Cardinal Health Inc. are some of the biggest aspiration and biopsy needles market players.