Core Needle to Witness Faster Growth in Aspiration and Biopsy Needles Market during 2020–2030
From $801.5 million in 2019, the global aspiration and biopsy needles market size is projected to increase to $1,717.9 million by 2030, at a CAGR of 7.2% during 2020–2030 (forecast period). The key factors propelling the market are the rising incidence of cancer and awareness about the disease and treatment options, patient preference for minimally invasive surgeries, surging healthcare spending, and technological enhancements in image-guided biopsy systems.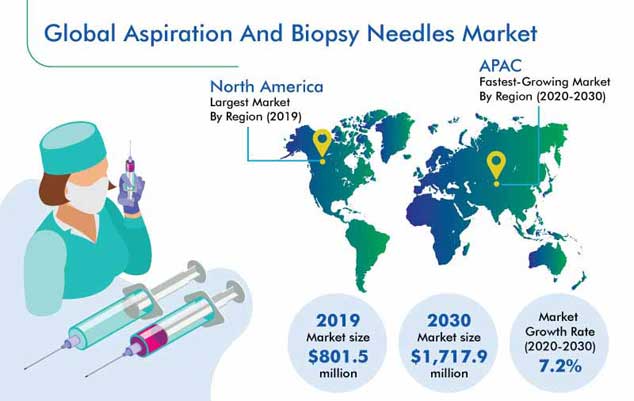 Aspiration and Biopsy Needles Market Segmentation Analysis
Core needle, under the type segment, is expected to witness the higher CAGR in the aspiration and biopsy needles market during the forecast period. This is because via core-needle biopsies, invasive and in situ breast tumors can be easily distinguished and benign lesions identified.
In 2019, image-guided was the larger bifurcation in the market, on the basis of procedure, as image-guided biopsies lead to minimal chances of diagnosis errors. Additionally, this technique allows for effective diagnosis in less number of procedures, and it is also minimally invasive.
Breast biopsy would be the highest revenue generating category in the aspiration and biopsy needles market, based on application, till 2030. This is attributed to the increasing prevalence of breast cancer, which according to the Institute for Health Metrics and Evaluation (IHME), killed 611,625 people in 2017, compared to 600,762 in 2016.
Hospitals, as an end user, held the largest share in the market during the historical period (2014–2019), and the situation is expected to be the same in the coming years. This is because compared to diagnostic centers and clinics, hospitals provide service to a considerably higher number of patients.
In 2019, North America was the largest region in the industry, due to the increasing awareness about early cancer diagnosis, high healthcare spending, and receipt of U.S. Food and Drug Administration (USFDA) approval by a rising number of devices. During the forecast period, the fastest aspiration and biopsy needles market growth is expected to be seen in Asia-Pacific (APAC), on account of the rising pool of cancer patients and surging awareness about the ways to diagnose the disease.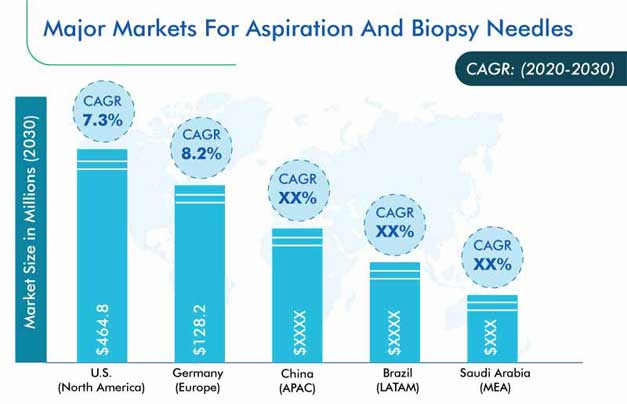 Product Approvals the Biggest Trend in the Market
The key development being witnessed in the aspiration and biopsy needles market is the regulatory and safety approval being received by the products. For instance, in September 2018, EZ Shot 3 Plus 25 G EUS single-use needle, developed by Olympus Corporation for fine-needle biopsy and aspiration, received the FDA approval. The needle can be used to study submucosal and extramural lesions, found in various sections of the gastrointestinal tract. That month, Merit Medical Systems Inc. launched five new manual bone biopsy systems for upper-spine, deep-bone, and narrow-access procedures.
Increasing Prevalence of Cancer the Major Market Driver
The most important factor powering the growth of the aspiration and biopsy needles market is the rising incidence of cancer. As per the World Health Organization (WHO), compared to 12.7 million in 2008, 21.4 million new patients will be diagnosed with malignant tumors in 2030. Additionally, in 2018, cancer accounted for 9.6 million deaths around the world. Biopsy and aspiration are extensively performed to study the nature of tumors, by taking a piece of the tissue or fluid under question and then analyzing it. With the rising cancer burden, healthcare firms and government bodies are stepping up efforts to provide better diagnostic facilities, thereby resulting in an increasing demand for biopsy and aspiration needles.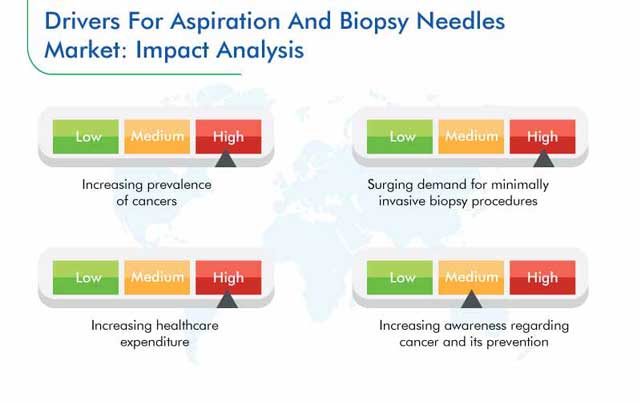 Untapped Market in Emerging Economies Offers Lucrative Market Opportunities
Increasing their presence in the untapped market of emerging economies is an area of opportunity for the aspiration and biopsy needles market players. The geriatric population and cancer prevalence in the Middle East and APAC are increasing rapidly, but biopsies here are still majorly done using the conventional surgical approach. Thus, companies here have started enhancing the procedure and reducing its cost for patients, by integrating various imaging modalities. Further, with people here rapidly becoming knowledgeable about effective cancer diagnosis methods, the market players have an opportunity to grow, by targeting customers in developing countries.
Aspiration and Biopsy Needles Market Report Coverage

| | |
| --- | --- |
| Report Attribute | Details |
| Historical Years | 2014-2019 |
| Forecast Years | 2020-2030 |
| Market Size by Segments | Type, Procedure, Application, End User |
| Market Size of Geographies | U.S. and Canada, Germany, France, Italy, U.K., Spain, Japan, China, India, Australia, Brazil, Mexico, Saudi Arabia, South Africa |
Explore more about this report - Request free sample pages
Acquisitions are Strongest Strategic Measure Taken by Market Players
In the last few years, players in the aspiration and biopsy needles market have acquired other companies, in an effort to expand their portfolio and consolidate the competition. For instance, in December 2017, C.R. Bard Inc. was acquired for $16.0 billion by Becton, Dickinson and Company (BD). BD is leveraging the extensive innovation pipeline and product portfolio of C.R. Bard to grow in non-U.S. markets and fast-expanding clinical areas.
The major global aspiration and biopsy needles market players include Olympus Corporation, Boston Scientific Corporation, Medtronic plc, Stryker Corporation, Becton, Dickinson and Company, Argon Medical Devices Inc., CONMED Corporation, Merit Medical Systems Inc., Sterylab s.r.l., Cook Medical LLC, and Cardinal Health Inc.
Market Size Breakdown by Segment
The aspiration and biopsy needles market report offers comprehensive market segmentation analysis along with market estimation for the period 2014–2030.
Based On Type
Based on Procedure
Image-Guided

Stereotactic-guided
Ultrasound-guided
Magnetic resonance imaging (MRI)-guided
Others

Non-Image-Guided
Based On Application
Breast Biopsy
Lung Biopsy
Prostate Biopsy
Bone and Bone Marrow Biopsy
Based On End User
Hospitals

Outpatient settings
Inpatient settings

Diagnostic Centers
Clinics
Research and Academic Institutes
Geographical Analysis
North America
Europe

Germany
France
Italy,
U.K.
Spain

Asia-Pacific (APAC)

Japan
China
India
Australia

Latin America (LATAM)
Middle East & Africa (MEA)

Saudi Arabia
South Africa